CES 2015: Bluetooth-protected column Braven BRV-PRO with solar battery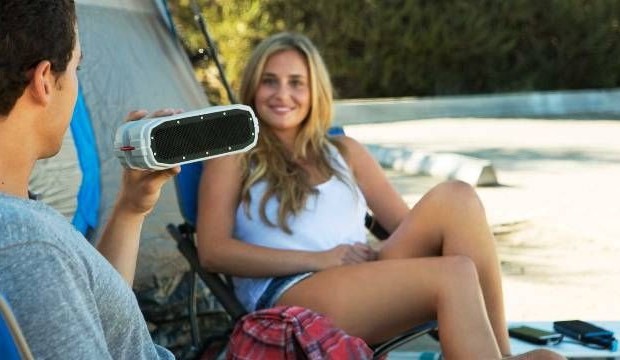 To all lovers relax in nature with music, sooner or later the question arises purchase reliable enough for field use Bluetooth-acoustics, which would have not only a powerful and high-quality audiosostavlyayuschuyu, but would have a capacious battery for hours of continuous playback of songs. The company brought Braven at CES 2015 wireless speaker system, which should attract the attention of potential buyers a solid set of options for the kind of "tuning" for specific cases and personal needs.
Model Braven BRV-PRO is a portable Bluetooth-speaker, able to please you and your friends playing audio away from civilization for 20 hours. Achieve such a result allows the built-in battery with 2200 mAh, which can be increased an additional battery 2800 mAh when ordering corresponding complete.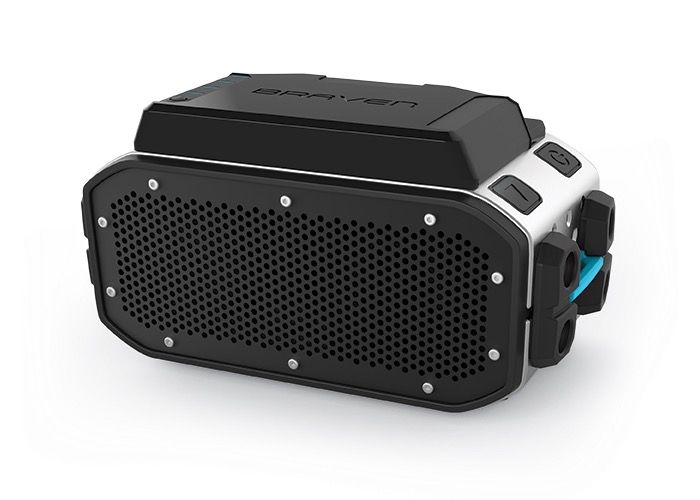 However, this is not the only feature products from the developers of Braven. BRV-PRO is able to simultaneously charge and also due to the conversion of solar energy into the design of embedded graphic panels, which significantly prolong the duration of the system. Besides Braven BRV-PRO can be used as a backup battery for charging mobile devices using the USB-interface.
Important feature BRV-PRO is also belonging to the category of electronics Ultra-Rugged. This means that the audio system has a maximum degree of protection against water and dust, the appropriate standard IPX7, and without consequences will transfer immersion in fresh water to a depth of 1.5 m.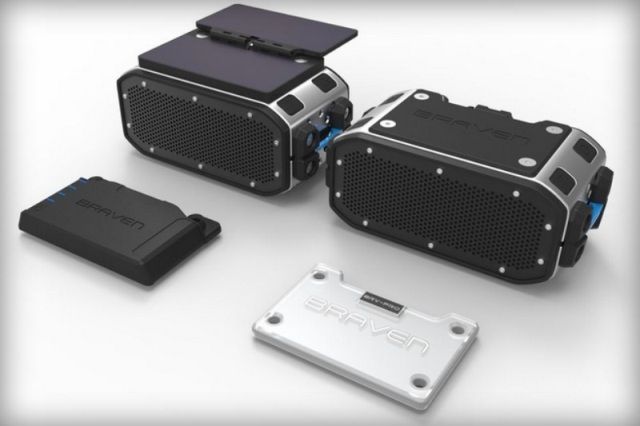 The manufacturer offers a choice of several modifications of its acoustics, among which there are versions:
BRV Battery Pack – an additional battery capacity of 2800 mAh, increases the duration of the work column almost 2.5 times;
BRV Folding Solar Panel – photovoltaic panels for solar energy;
BRV Glow Deck – end panel with LED-lighting;
BRV Stack Plate Multiplier – «adapter" allows you to connect multiple speakers Braven BRV-PRO into a full audio system;
GoPro compatible action mount – accessory for attachment to the acoustics action camera GoPro;
Qi Wireless Charging Pad – to be connected to Braven BRV-PRO surface for wireless charging of mobile devices.
Cost Braven BRV-PRO as standard without a solar module is $ 150, and the device goes on sale in the near future. Modules are the same that can be equipped with Bluetooth-column, the average increase in the total amount of purchase $ 30- $ 50 for each improvement.
The color palette of models offered on the website of the developer, rather boring: column becomes available or in matt black performance, or in the black version with silver accents. On news of audio virtually nothing is known, and the manufacturer is limited in describing only the wording "crystal clear sound."
theverge.com
CES 2015: Bluetooth-protected column Braven BRV-PRO with solar battery
updated:
January 8, 2015
author: