Review Bluetooth-speaker JBL Charge 2 with capacious battery to charge external devices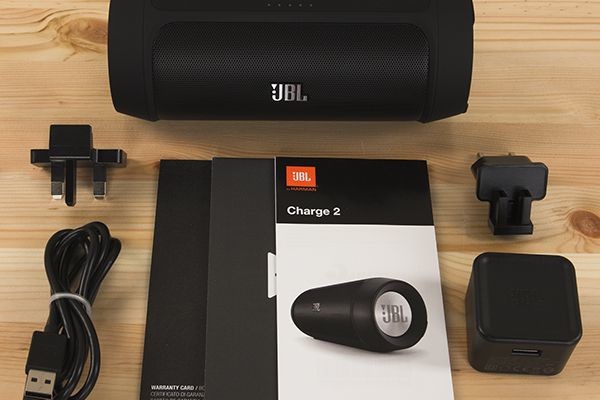 Brand JBL, created in 1946 by American James Bullough Lansing (James Bullough Lansing), for most of its history is part of the concern Harman International. JBL products are present in many market segments of audio equipment – from earbuds to car subwoofers. In 2003, we met with the products JBL speaker system on the example of the format 2.1 – JBL Creature . Today we focus on the segment of portable solutions and a closer look at the device JBL Charge 2.
JBL Charge 2: Technical characteristics
Wireless protocol Bluetooth 3.0 with support for A2DP 1.3, AVRCP 1.5, HFP 1.6 and HSP 1.2 (up to three devices at once)
Wired connection via the TRS 3,5 mm
Working in a wireless headset
Two full-range speakers, two passive radiator
Claimed signal / noise ratio:> 80 dB
Stated frequency response: 75 Hz – 20 kHz
Built-in battery (3.7 V, 6000 mAh) with the ability to charge external devices via USB-connector (5 V, 2.1 A)
Size: 184 × 76 × 76 mm
Weight: 602 g
JBL Charge 2: Options
Together with the speaker system supplied instructions and a power supply (5 V, 2.3 A) with a pair of removable plugs. No additional accessories box is not burdened.
JBL Charge 2: Design
JBL Charge 2 differs from its predecessor only in the details, and continue to focus on mobile use.Due to the fact that it is shaped like a beer can, acoustics easy to fasten, e.g., using a standard holder on the bicycle frame.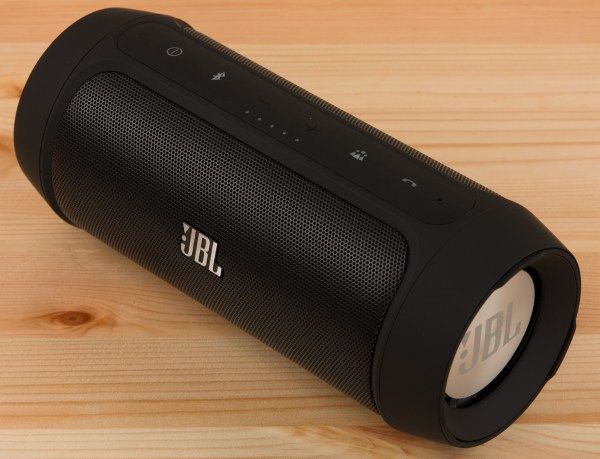 Due to the large mass of the device battery has passed for a pound, and it is perhaps the only characteristic that can cause discomfort.
The main body is made of rubberized plastic. Form 2 JBL Charge thought so that the dynamics are protected: plastic lattice broadband speakers recessed. They both placed by the manufacturer's logo, another lattice only retains the symmetry in the design.
Lattice separated from the top panel with illuminated buttons. They are not touch-sensitive, and pressed. The absence of protruding parts – it is certainly an advantage in "extreme" use cases.Buttons are distinguishable by touch blindly, the volume buttons are relief. The opening near the tube – is a microphone.
At the ends of the speaker we see passive radiators. Additional protection for them is not provided, but they are at a sufficient depth to minimize the likelihood of physical impact. When working emitters effectively vibrate.
To install the speakers in a vertical position on the right side provides little legs (they can be seen on one of the photos). Indicator for the volume button shows the level of battery charge Charge 2.
In a recess under the rear grille are three device connector: Micro-USB for charging, TRS 3,5 mm wired high current source and a USB input for charging external devices.
Elongated base column does not provide great stability, acoustics easily knocked over. But it is unlikely to harm – after a few wiggles main speakers will just straight up.
JBL Charge 2 has been both stylish and user-friendly device, perfect for active use. In addition to black, this speaker system is available in white, blue, red and purple.
JBL Charge 2: Measurement
We carried out measurements of frequency response speaker system on the main axis of the speakers.
Acceptable acoustic class for this response uniformity is ensured in the graph range from 75 Hz to 2 kHz, and further from 5 kHz to approximately 12 kHz. These segments recession divides amplitude that a small gap is below -6 dB. On the positive side, we note an early exit schedule at an acceptable level.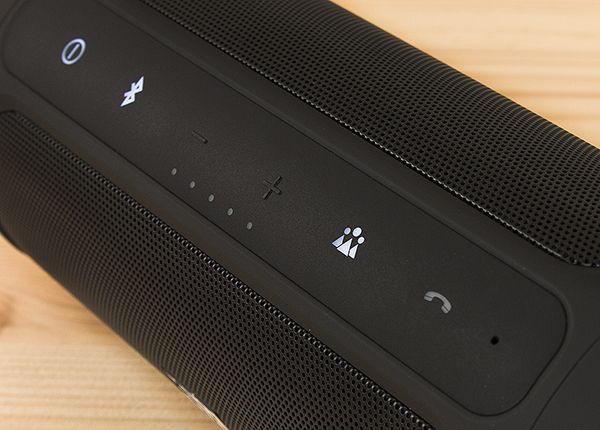 With this review, we begin to measure such an important parameter of portable speakers, the maximum sound pressure. Measurements are in an acoustically isolated room. The test device is installed on the table of particle board so that the main speakers were directed toward measuring microphone (if the table is not otherwise specified). Measurement microphone is attached to the same height at a distance of 1 meter from the speaker system is connected to the sound level meter, spectrum analyzer Octave-110A-Eco .
Then carried out via Bluetooth speaker paired with a smartphone Sony Xperia Z1 Compact . On the speaker and the smartphone are set the maximum volume level. Through a standard Walkman player with disabled "uluchshayzer" run in repeat mode pink noise , and the table is recorded in dBA average about half a minute played.
Sound system
The maximum sound pressure, dBA
JBL Charge 2
81.2
Creative Sound Blaster Roar
(Roar mode off. / Incl.)
79.1 / 80.4
Philips BT3500W
(Speakers are pointing straight up / right on the microphone)
81.1 / 87.3
As you can see, according to the measurements, JBL Charge 2 is slightly louder Sound Blaster Roar.In preparing the article at the right time and in the right place and was inexpensive portable speakers Philips, and in its basic position on the sound pressure level it was almost identical to our hero (which, incidentally, can not be said about the quality of the sound, where the difference is significant).
JBL Charge 2: Sounding
Comparative listening JBL Charge 2 and the reference Creative Sound Blaster Roar revealed competitive advantages of each of the speakers. JBL sound seems much more open and often louder than the Sound Blaster Roar. Creative product meets the best detail of the lower and upper case, which allows Sound Blaster quality transfer nuances of many instruments.
An additional feature JBL Charge 2 is the possibility of simultaneous pairing of up to three devices.According to our observations, in co-operation priority is given to that which was connected first: while playing on it not suspended, other "participating parties" will not start. When you click on a column priority goes to the device connected at the moment.
JBL Charge 2 has been tried as a wireless headset. The main drawback in this scenario was the low sensitivity of the microphone: to the source heard we had to move up almost close to the column.But the tone of voice was reproduced with virtually no distortion, although the maximum volume was small.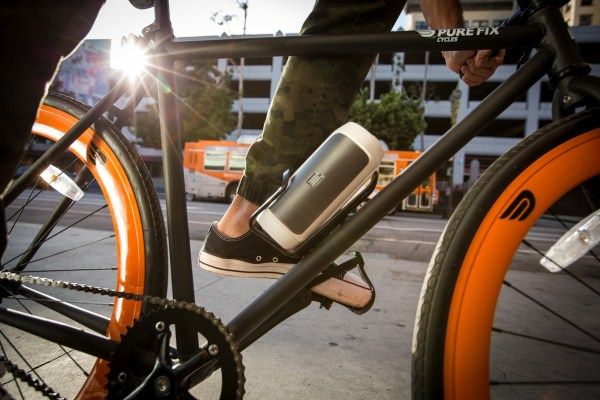 JBL Charge 2: Work Offline
We hooked up the speaker to the plate and play the music continuously varying the volume of the area average. In this mode, the column lasted until fully discharged about 18 hours. From this review, we will reduce for the convenience of data on measurements of battery life "decorative acoustics" in a single table.
| | | | |
| --- | --- | --- | --- |
| Sound system | The approximate volume | Runtime | Charging time staff adapter |
| JBL Charge 2 | medium | about 18 hours. | about 2 hours. |
| Sven PS-1000BL | maximum | 28-29 hours. | – |
| Creative Sound BlasterAxx Axx 200 | medium | 18 hours. | about 2 hours. |
| Microlab MD310-BT | medium | about 15 hours. 30 min. | about 3 hours. |
| Pioneer FreeMe XW-LF1 | medium | about 12 hours. 20 min. | little over 2 hours. |
| Denon Envaya | medium | about 10 hours. | 2 hr. 30 min. |
| Luxa2 GroovyW | medium | about 12 hours. 20 min. | little over 2 hours. |
| Arctic S113BT | medium | 19 hours. | 3 h. |
Due to the large battery JBL Charge 2 shows the excellent performance of battery life, second only to a pair of more modest budget systems.
JBL Charge 2: Conclusion
As a dozen years ago, JBL products made us a very good impression. For portable acoustics it offers excellent sound, while having fun and thoughtful design. In travel can be extremely helpful charging other devices. This set of advantages price JBL Charge 2 does not look overpriced, as is often the case with portable acoustics known manufacturers.
Review Bluetooth-speaker JBL Charge 2 with capacious battery to charge external devices
updated:
February 7, 2015
author: