ASUSTOR started selling the new NAS-server AS5002T and AS5004T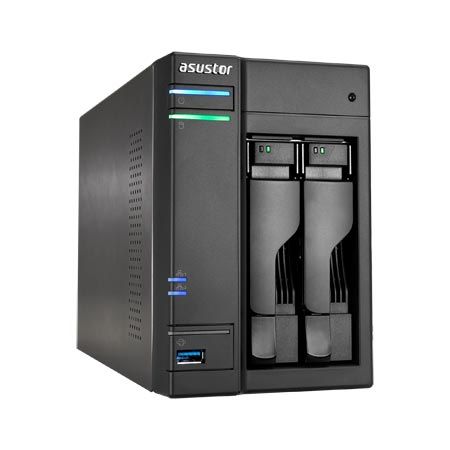 The Taiwanese company ASUSTOR, specializing in the production of network storage systems, has started selling the new NAS-server received a new family name AS 5 Series. New items were named AS5002T and AS5004T, designed for two and four-wheel disc, respectively, with a maximum capacity of 12 and 24 terabytes. Drives can be grouped into the following types of arrays: JBOD, RAID 0, RAID 1, RAID 5, RAID 6, and RAID 10.
NAS-servers AS5002T and AS5004T have a vertical design, based on the dual-core processor Intel Celeron, running at a clock frequency of 2.41 GHz. Both models received 1 GB of RAM standard DDR3L (maximum up to 8 GB), three-port USB 3.0 (5 Gbit / s) and two USB 2.0, HDMI 1.4a port, two Gigabit Ethernet ports, S / PDIF and an infrared port. In addition, there is support volume management RAID, hot-swappable HDD and online RAID migration.
For cooling the hard drives in AS5002T meets one 70-mm fan with a noise level of 33 dB, or at AS5004T one 120-mm "propeller" having a maximum noise level of 24 dB equal.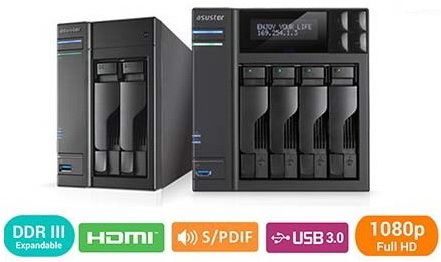 NAS-device Asustor AS 5 running the operating system ADM 2.3. The drives also support Cloud Connect, energy-saving technology Energy Saver, have built-in firewall. In addition there is a possibility encryption algorithm AES-256 support programs LooksGood and its mobile version AiVideo. With this software, you can view digital TV, record TV programs, and play video from the NAS on the mobile device.
Product Warranty ASUSTOR – 3 years. On the value of new products is not reported.
ASUSTOR started selling the new NAS-server AS5002T and AS5004T
updated:
December 20, 2014
author: