CES 2015: Allwinner introduced a 64-bit chip A64 cost $ 5 for tablets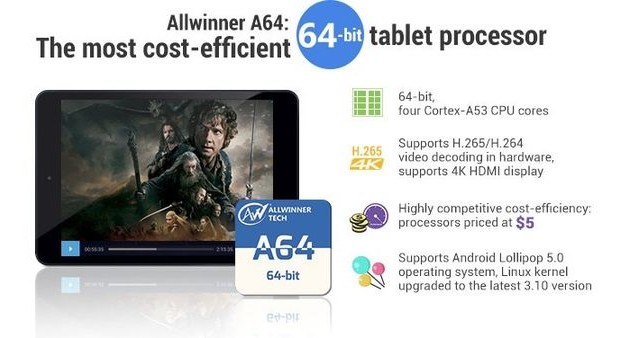 Allwinner at CES 2015 announced a mobile processor A64, for use in the budget tablet computers.
The chip contains four energy-efficient computing core Cortex-A53. Among them may be mentioned features support for 64-bit instructions, and various types of memory (LPDDR3 to DDR4), multimedia NEON SIMD-engine and a math coprocessor.
On the type of the applied in A64 graphics controller is not reported. But we know that the processor provides the opportunity to work with ultra-high resolution video (4K) and allows you to decode the material in formats H.265 / H.264.
In the processor implemented proprietary technology SmartColor, which allows you to improve color rendering without any negative impact on the correction of skin in the image.
The chip is designed for use in tablets running Android, including Android 5.0 Lollipop.
For deliveries in bulk cost of A64 will be $ 5.
CES 2015: Allwinner introduced a 64-bit chip A64 cost $ 5 for tablets
updated:
January 9, 2015
author: