NEC will start selling 98″ monitor MultiSync X981UHD next month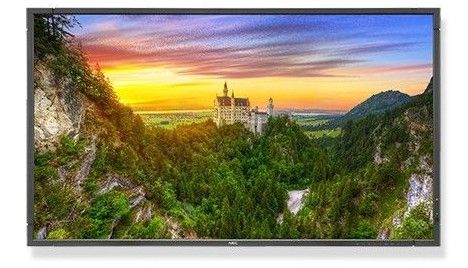 The Japanese company NEC is preparing to launch on the market of the "monster" available today UHD-panels. NEC MultiSync X981UHD model boasts a 98-inch matrix type S-IPS with a resolution of 3840 × 2160 pixels, 16: 9 and 60 Hz. However, to achieve the maximum refresh rate at 4K, you must connect the monitor MultiSync X981UHD via DisplayPort. In other cases, it will be possible to do the HDMI or DVI.
As for the other technical features of new items, among other parameters, the use of 10-bit matrix may be noted the maximum brightness of 500 cd / m2 and contrast marginal 1300: 1.
Manufacturer considers your device as a professional graphic displays, as evidenced by the stated specification and a set of useful in the making. So, for example, thanks to technology SpectraView Engine owner becomes available the ability to set individual settings for individual sections of the screen.
In addition, the function UHD Upscaling, responsible for image scaling, provides the user with a mechanism of converting the image of Full HD in standard UHD due to pixel interpolation algorithm Bicubic 4 × 4. This ensures that, despite the initially low resolution, smooth color transitions and extremely clear picture.
NEC provides a 98-inch monitor UHD-three-year warranty, and the cost model MultiSync X981UHD, which should go on sale in February of this year, will be $ 40 thousand.
NEC will start selling 98″ monitor MultiSync X981UHD next month
updated:
January 9, 2015
author: