AllWinner A64: begins mass production budget 64-bit platform for tablets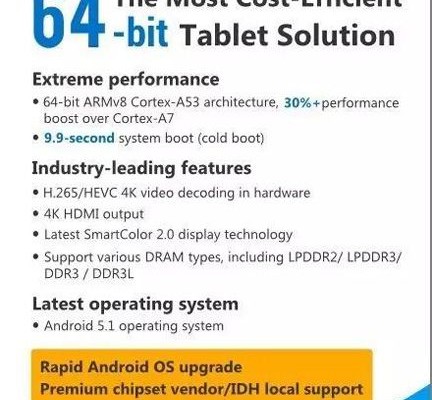 This year the company has already AllWinner show some interesting hardware platforms. And now the company announced its readiness to begin mass production of affordable AllWinner A64 chipset for a very "tasty" price of $ 5.
AllWinner A64 is built on a 64-bit architecture and is designed for use in tablets. At the heart of the chipset are energy efficient core Cortex A53. However, despite this, the plates are built on a platform AllWinner A64, will be able to reboot just 9.9 seconds.
At present AllWinner A64 hardware decoding support 4K video formats H.264 / H.265. The chipset can be used in the company RAM LPDDR2, LPDDR3 and DDR3L. And support for eMMC 5.0 interface provides high capacity platform.
We should also note another important advantage of the hardware platform. AllWinner A64 is optimized to work with modern operating system Android 5.1 Lollipop.
Mass production AllWinner A64 will begin in June. This means that in the second half of 2015 we can expect the emergence of a large number of low cost, but highly productive tablets which, moreover, will almost certainly be running Android 5.1.
AllWinner A64: begins mass production budget 64-bit platform for tablets
updated:
May 13, 2015
author: