ARM has introduced a 64-bit kernel Cortex-A72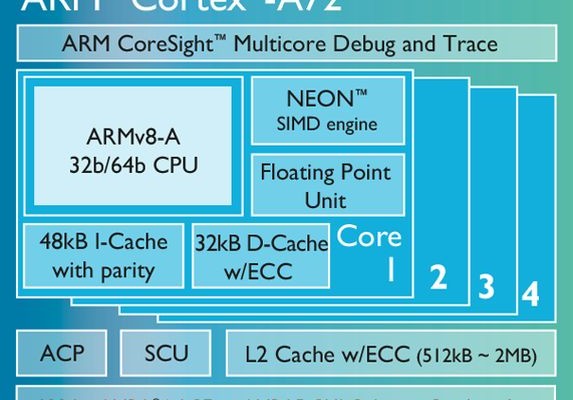 The company announced a new ARM processor core, which next year will be responsible for the performance of smartphones and tablet computers. Model Cortex-A72 is a member of the family and is characterized by ARMv8 support 64-bit computing, as well as limiting clock frequency of 2.5 GHz. New exceeds the computing power of its predecessor in the face of Cortex-A57 (also based on the architecture of ARMv8), almost twice, and Cortex-A15 – 3.5.
Application of new interconnect CoreLink – CCI-500 – not only provides performance gains when working with 30% compared to the same interface CoreLink CCI-400, but also allows you to eventually reach the doubling of the capacity of single-chip systems.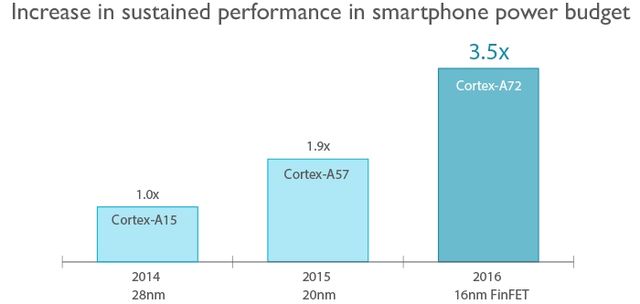 Of course, the changes are not spared and the graphics subsystem, the updated version of which was presented as ARM. Presented accelerator Mali-T880 80% outperforms Mali-T760, while consuming 40% less energy. The combination of «Cortex-A72 + Mali-T880», as stated by the ARM, turn new smartphones and tablet computers in the most genuine gaming consoles, which will retain the possibility of a long battery life.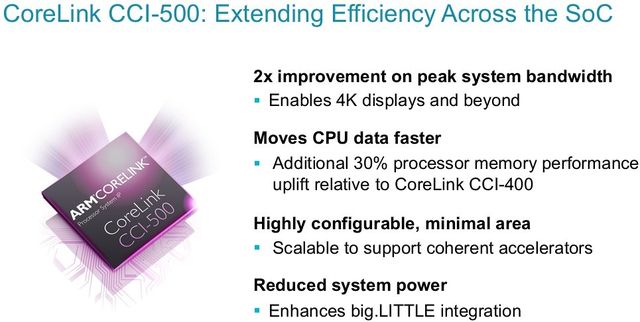 Kernel Cortex-A72 will be made on 16-nm process technology FinFET, which, in turn, affect his energy. This parameter has undergone significant qualitative changes and improved, if we draw an analogy with the Cortex-A15, approximately 75%. Given the dependence of almost all modern manufacturers of processors for mobile electronics from development ARM, which sets the current standards for the global industry, we can expect the first announcements of SOC-based systems promising Cortex-A72 in the next few months.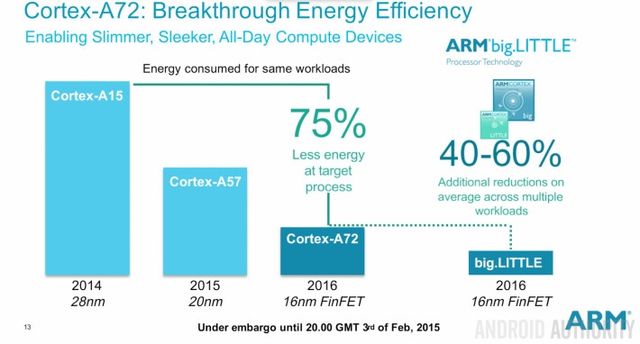 Built on the architecture big.LITTLE processor core, which also boasts support for recording and video playback 4K, attracts the attention of a minimum value of power consumption at 0.5 watts. At the maximum load is the quantity in question shall not exceed the mark of a modest 2 watts.
Shipped the first commercial quantities of ARM Cortex-A72 is planned for 2016.
ARM has introduced a 64-bit kernel Cortex-A72
updated:
February 4, 2015
author: