Adaptalux – flexible LED lighting for macrophotographes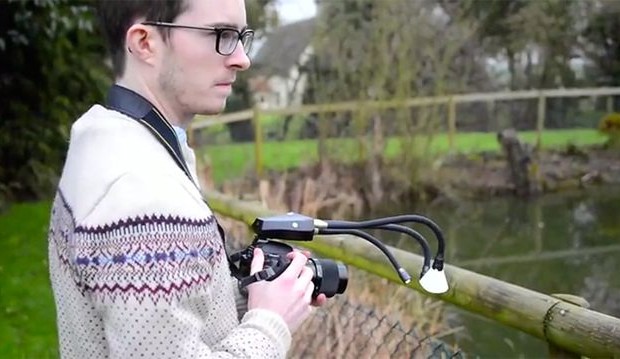 It's a fact: the photographers are still the lack of light. And it's even worse for those who are fond of macro photography with technical constraints pushed to the extreme. To all these photographers there, the Kickstarter project Adaptalux wishes to make a very attractive solution: a light box with five flexible LED, completely customizable and easy to carry anywhere.
In macro photography, conventional photographic constraints are multiplied. Indeed, in a classic situation where there is a lack of light, it is sufficient, in order to open the diaphragm, slowing the exposure time and, as a last resort, to go up in sensitivity. Problem: a topic very, very close, too much openness will generate a very small depth of field and the macro photographs are suddenly forced to close their diaphragm. For them, it is not uncommon to work between f / 11 and f / 22. And as it is out of the question to go for a slow speed that would generate a motion blur or is unable to freeze a moving subject (an insect, a flower, a drop of water, etc.), there more than to climb sensitivity. Which, aesthetically, has its limitations, our tests prove it quite often. An additional source of light is, therefore, welcome.
The use of LED in macro photography is not new, as many fighters camera, Olympus TG-3 and Pentax WG-5GPS in mind, have a diode ring around their goal – the equivalent of the used ring flash on lenses for SLR and hybrids. Problem: light intensity, beam width and direction are difficult to measure or impossible. This is where the Adaptalux.
This little box in the palm of the hand can be fixed on your case or used alone. It can control up to five LEDs each generating a luminous flux of 165 lumens and arranged at the end of a flexible thirty centimeters long. Currently, five different colors of LEDs are provided as well as many accessories diffusers, filters, backlit media, uniform backgrounds or not, walk dedicated to the control module. It has a range of 2:30, rechargeable by USB. Very important: an application will be launched so that each user can share his lighting plans.
If requested £ 100,000 (about € 138,000) – or more – are harvested before May 2, 2015, the first deliveries will take place in November 2015. The basic kit, including a control module, 2 flexible color LED of your choice and a filter is offered at £ 120 (€ 165). The kit will ultimately sell £ 155 or € 215. Count £ 300 or € 415 for the full kit including module, four lights and all the filters and diffusers already proposed.
Adaptalux – flexible LED lighting for macrophotographes
updated:
April 4, 2015
author: