The company Xiaomi hit the Guinness Book of Records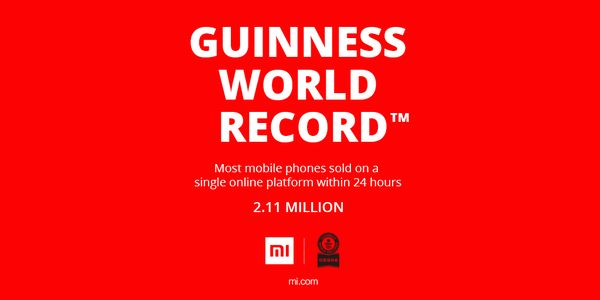 One of the fastest growing IT companies in the world, Xiaomi, has recently established a new record. And not some internal record, and the Guinness World Record. Not so long ago Xiaomi held fifth festival fans of the brand, under which the company has set a sales record: 2.12 million smartphones total cost of 432 million dollars on one web site per day.
It is interesting that almost all sales records recently put not market leaders (Apple and Samsung), a young Chinese manufacturers. Not long ago, the company said sales of ultra-high OnePlus, now the center of attention – Xiaomi. That Chinese manufacturers managed to sell so many smartphones in one online store for the day, like anyone else has ever managed before. At least, so now it is written in the Guinness Book of Records. In general, during its annual 24-hour action Mi Fan Festival Xiaomi company earned 2.08 billion yuan ($ 335 million) by selling 2.12 million smartphones, 247 thousand. Power Device, 208 thousand. Fitness bracelets, 79 thousand. Wi-Fi-routers and 38.6 thousand. TV. Proceeds from the sale of accessories has reached 190 million yuan (about $ 31 million). These figures show that the company has successfully expanded its operations beyond the production of smartphones.
The company Xiaomi hit the Guinness Book of Records
updated:
April 10, 2015
author: