Desktop Sharetable creates a second PC screen just inside the table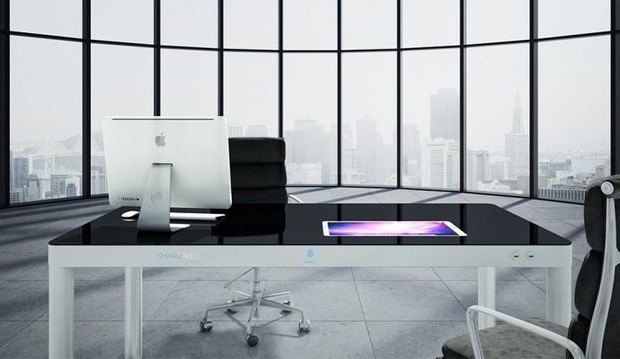 This unusual desktop computer is doing everything to simplify all operations with a PC. Instead of the queue to catch a mouse, move up and down the keyboard and turn the monitor, Sharetable allows two people to work together more comfortably. In fact, one person works for regular computer, and the other near the table, using the same computer, only this time as a sensor device.
Sharetable – this is the original idea of the Swiss design agency ReMago and Italian technology company CloudProject Generation. Developers call your table "the first desktop-table." In contrast to the sensory tables provided earlier, Sharetable looks and operates like a traditional table, only with the addition of new technological tricks.
Wires and cables, computer pass through one of the legs of the table and its surface. Along the edges of the table are 5 built of USB-ports and one port for HDMI- or VGA-monitor. Under the glass are two multi-touch display. At one end of the table is a 7-inch mini-display, which control most functions of the PC and widgets, as well as it can be used simply as a trackpad or touch pad. At the other end – a 21.5-inch display with a resolution of 1080p with a user interface that allows you to adjust work with guests, customers, friends, etc.
The possibilities are unlimited use Sharetable. The table can be installed in a doctor's office, in the office of the designer, in a restaurant, anywhere. The mass of options. Also, the developers note that both screens can be switched on / off by pressing a single key. The main computer can do its job, while your neighbor can view some directories, or just online. In addition, Sharetable includes a built-in microphone and speakers, 3G / LTE-modem, temperature and humidity sensors, and also NFC-identification system.
As for the cost, the version of Mac Mini / OS X will cost at least 5,990 dollars. While PC with Windows 8.1 or Android worth less – 4590 dollars. There are three basic models on the official website: the base includes a quad-core Intel Atom, 2GB of RAM and SSD-drive to 64 GB; advanced, with a processor Intel Core i5, 8GB of RAM and 120 GB of hard disk space; and professional, with 16 GB of RAM, Intel Core i5 processor 4th generation flash drive with 120 GB and three-port USB 3.0 (whereas the basic and advanced models have a port USB 2.0).
Desktop Sharetable creates a second PC screen just inside the table
updated:
April 30, 2015
author: