Review Gainward GeForce GTX 960 Phantom GLH and testing 2-way SLI GeForce GTX 960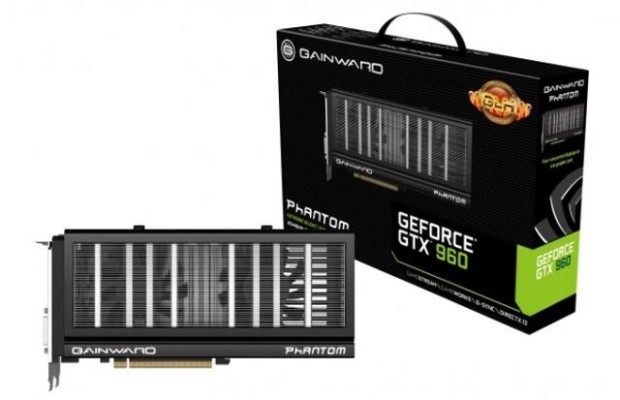 Almost simultaneously with the official announcement of the new GPU NVIDIA GM206 and the first we tested the video card based on it -MSI GeForce GTX 960 Gaming – began to appear original models from other manufacturers. And there is a real hit the stores, not only in the press releases on the official websites. One of the fastest graphics cards such promises to be a Gainward GeForce GTX 960 Phantom GLH , because it is endowed not only graphics processor with significantly higher frequencies, but also overclocked video memory. With this video card today and we will meet in our review.
The test of today's article is reserved for a very entertaining and, one might even say, Funny testing the efficiency of a multiprocessor NVIDIA SLI technology on an example of a pair of graphics cards GeForce GTX 960. And fun it happened because productivity growth as it is, but the actual speed in more or less modern games do not really have. However, first things first.
GeForce GTX 960 Phantom: Specifications and video card recommended price
Specifications card Gainward GeForce GTX 960 Phantom GLH listed in the table in comparison with the parameters of the standard version of NVIDIA GeForce GTX 960, NVIDIA GeForce GTX 760 and AMD Radeon R9 285, as well as the original version of the MSI GeForce GTX 960 Gaming.
Name Performance
Gainward GeForce GTX 960 Phantom GLH
MSI GeForce GTX 960 Gaming
NVIDIA GeForce GTX 960
NVIDIA GeForce GTX 760
AMD Radeon R9 285
Graphic processor
GM206 Maxwell 2.0 (TSMC)
GM206 Maxwell 2.0 (TSMC)
GM206 Maxwell 2.0 (TSMC)
GK104 Kepler (TSMC)
Tonga (TSMC)
Process technology, nm
28 (low-k)
28 (low-k)
28 (low-k)
28 (low-k)
28 (low-k)
Chip area, mm 2
228
228
228
294
366
Number of transistors, mln
2940
2940
2940
3540
5000
The number of ROP units, pcs.
2
2
2
4
2
The number of geometric blocks, pieces.
8
8
8
6
2
The number of computing units, pcs.
8
8
8
6
28
The number of unified shader processors, NY.
1024
1024
1024
1152
1792
The number of texture units, pcs.
64
64
64
96
112
The number of blocks of raster operations (ROPs), pcs.
32
32
32
32
32
GPU frequency, MHz
3D
1279 (1342 – boost)
1216 (1279 – boost)
1126 (1178 – boost)
980 (1033 – boost)
918
2D
135
135
135
135
300
Theoretical maximum fill rate, Gpiks / s
40.9
38.9
36.0
31.4
29.5
Theoretical maximum texture sampling rate, Gteks / s
81.9
77.8
72.1
94.1
102.8
Support Version Pixel Shaders / Vertex Shaders
5.0 / 5.0
5.0 / 5.0
5.0 / 5.0
5.0 / 5.0
5.0 / 5.0
Type of supported memory
GDDR5
GDDR5
GDDR5
GDDR5
GDDR5
The bit size of the memory bus, bit
128
128
128
256
256
Effective frequency of the video memory, MHz
3D
7200
7012
7012
6008
5500
2D
600
600
600
648
600
The amount of memory MB
2048
2048
2048
2048/4096
2048
Video memory bandwidth, GB / s
115.2
112.2
112.2
192.3
176.0
Peak power consumption in 3D mode, W
3D
120
120
120
170
190
2D
n / a
n / a
n / a
n / a
n / a
Power Requirements Power Supply, W
400
400
450
500
500
Graphics Card Dimensions, mm (DhVhT)
243 × 112 × 51
270 × 128 × 38
n / a
242 × 100 × 36
n / a
Interface
PCI-Express x16 (v3.0)
PCI-Express x16 (v3.0)
PCI-Express x16 (v3.0)
PCI-Express x16 (v3.0)
PCI-Express x16 (v3.0)
Outputs
DVI-I + DVI-D (Dual-Link),
1 × HDMI v2.0,
1 × DisplayPort v1.2
DVI-I (Dual-Link),
1 × HDMI v2.0,
3 × DisplayPort v1.2
DVI-I (Dual-Link),
1 × HDMI v2.0,
3 × DisplayPort v1.2
DVI-I + DVI-D (Dual-Link),
1 × HDMI v1.4a,
1 × DisplayPort v1.2
DVI-I (Dual-Link),
1 × HDMI v1.4a,
2 × mini DisplayPort v1.2
The recommended value of USD
n / a
n / a
199
249
249
GeForce GTX 960 Phantom: Packaging equipment
Video card Gainward GeForce GTX 960 Phantom GLH belongs to the series with a long name Golden Sample – Goes Like Hell, what we immediately said corresponding sticker on the front side of the box, which is supplied video card. The package itself is designed and furnished in the typical Gainward style easily recognizable on store shelves. On its front side of the card shows a photo, include the name of the model and the amount of video memory, and also lists the supported technology NVIDIA.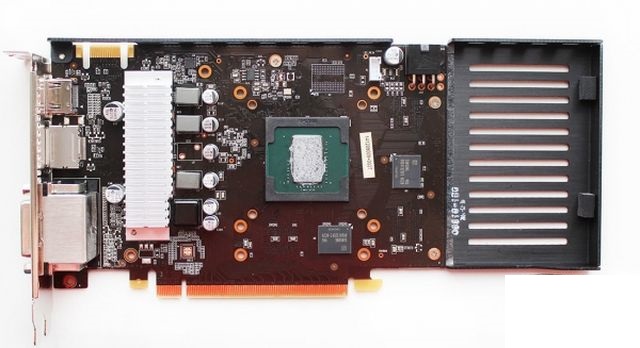 On the reverse side of the box describes the advantages of the new product, painted features proprietary cooling system, and nearby are the minimum system requirements.
If that someone may seem small, the upper panel of the box folds, and there can not only see the video card itself through the plastic window, but also read about all its features.
In addition, holders of Gainward GeForce GTX 960 Phantom GLH can count on an extremely low noise level and shestigradusnoe temperature reduction.
Inside a cardboard box is a plastic shell in the central compartment is locked card. Under it, in a separate compartment of the plane, located a few accessories, including adapter cable for additional power connection, DVI to D-Sub, instructions for installing the video card and a CD with drivers and utilities for overclocking and monitoring Gainward ExperTool .
Issued card in China. Sales Gainward GeForce GTX 960 Phantom GLH at the time of the article has not yet appeared, but hardly its cost will be seriously differ from NVIDIA's recommended price for GeForce GTX 960 ($ 199 or 13 990 rub.), As the prices of other original GeForce GTX 960 already today close to this mark. We add that the warranty period is two years.
GeForce GTX 960 Phantom: Design and features of the printed circuit board
Externally, the new Gainward GeForce GTX 960 Phantom GLH is very difficult to distinguish from, for example, the flagship Gainward GeForce GTX 770 Phantom , which we tested in mid-2013. Is that some smaller issue its lower rank in the lineup. Characteristic of "Phantoms" design, where the front side of the video card and the cooling fans are hidden behind the radiator, has found its place here.However, the back side is visible shortened printed circuit board and perforated metal extension.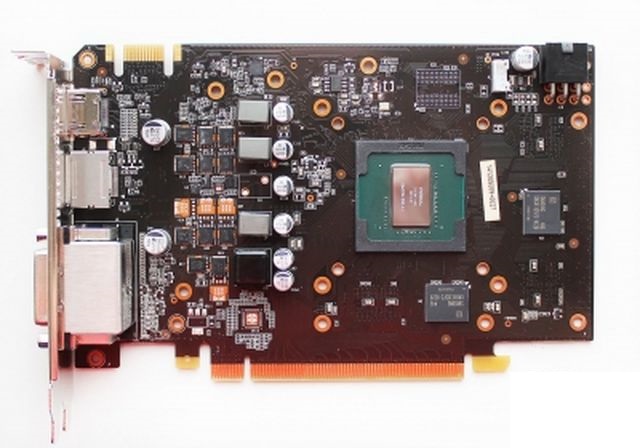 Top viewed through slits themselves fans and even you can see the heat pipes. Dimensions Gainward GeForce GTX 960 Phantom GLH is 243 × 112 × 51 mm. Here we must remember that at this thickness video its use in SLI-configuration is possible only if the following adapter is worth two PCI-slots from it on the motherboard or as a second video card.
In contrast to the previously tested by us MSI GeForce GTX 960 Gaming, on the Gainward GeForce GTX 960 Phantom GLH has two DVI-output (both Dual-Link), one HDMI 2.0 and one DisplayPort 1.2.
There is a place and a lattice for the partial release of heated air outside the system case that – taking into account the design of the cooler of this video card – is more important than in the other original models.
At its regular place placed one connector to create a 2-way SLI-configuration, and on the opposite side of the upper face of the PCB soldered six-connector for additional power supply.
After removing the cooling system is attached to the printed circuit board with four screws on the perimeter of the GPU becomes visible front side of the printed circuit board and a shortened small aluminum heatsink on the power components.Claimed power consumption is 120 watts graphics card and power the recommended power supply for a system with a single graphics card should be at least 400 watts.
We note that the guarantee is lost when removing the cooler.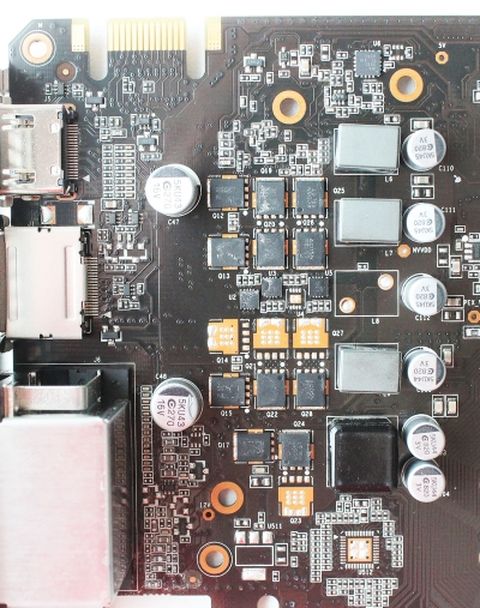 Design reminiscent of a short circuit board PCB Palit GeForce GTX 970 JetStream , but, of course, greatly simplified form. As for MSI GeForce GTX 960 Gaming, attention is drawn to the empty pads on the front and back side of the board under the memory chips (yes, yes, we all look forward to a very GeForce GTX 960 Ti with 192-bit memory bus and three gigabytes!).
The four-power system is constructed using durable solid capacitors and power transistors RdsON.
A pair of additional capacitors solid soldered on the reverse side of the PCB in the area opposite the GPU.
For power management GPU meets digital controller NCP81174 production ON Semiconductor.
Graphics processor NVIDIA GM206 video Gainward GeForce GTX 960 Phantom GLH, referring to the version of the A1, the perimeter of the substrate covered with a plastic frame. Judging by the marking, the GPU chip is released in Taiwan on 46 week 2014 (mid-November).
Its standard configuration: recall, GPU contains 1024 unified shader processors, 64 texture units and 32 units rasterization (ROPs). If the reference GeForce GTX 960 GPU core frequency in 3D-mode is 1126 MHz, then the original version of the Gainward GeForce GTX 960 Phantom GLH it increased to 1279 MHz (13.6%) and in forced mode can be up to 1341 MHz, What makes this card a second frequency of the GPU announced in the market (the first – EVGA GeForce GTX 960 FTW ACX 2.0+ , operates at frequencies of 1304-1367 MHz).Moreover, according to the monitoring frequency GPU during tests was increased to 1456 MHz! We add that the transition in 2D-mode GPU frequency is reduced to 100 MHz while reducing the voltage to 1.212 V to 0.843 V.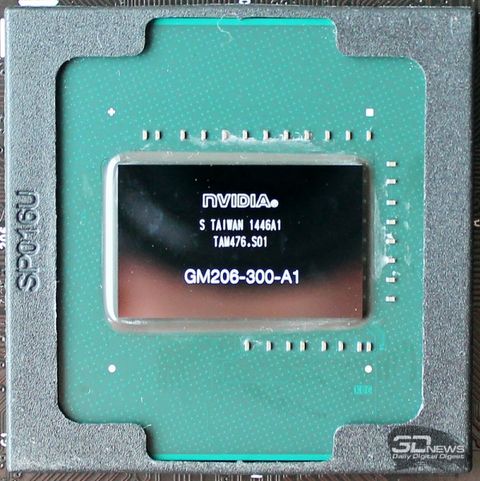 The quality of the graphics processor ASIC our sample card Gainward GeForce GTX 960 Phantom GLH equal to 77.0%.
The card two full gigabytes of video memory standard GDDR5. The chips produced by Samsung Semiconductor and are markedK4G41325FC-HC28 .
Gainward – one of the few companies that do not neglect the factory overclocked memory. Here and in the Gainward GeForce GTX 960 Phantom GLH instead of standard 7012 MHz memory runs at chasttote 7200 MHz effective. Thus, when a 128-bit bus exchange VRAM its theoretical capacity is not equal to 112.2 GB / s and 115.2 GB / s. Recall that in the 2D-mode memory frequency is reduced to 648 MHz.
The new version of GPU-Z utility already supports GeForce GTX 960 and is familiar with its characteristics.
In addition, you can now save this model video card BIOS, which we did for you. We proceed to the cooling system.
GeForce GTX 960 Phantom: Cooling systems – efficiency and noise level
Original cooling system Gainward GeForce GTX 960 Phantom GLH is a radiator heat pipes, between the base and aluminum plates which were placed two fans.
Skeleton design radiator are four nickel-plated copper heat pipes with a diameter of 6 mm. Tube out of a copper base, where they lie in the grooves. They are fixed by soldering.
Soldering is used in places of contact with the tube plates, resulting in the entire radiator assembled a very high quality, offset plates on the tubes or bounce when during fan operation can not be considered.
Interesting "trick" cooler Gainward GeForce GTX 960 Phantom GLH are removable fans, which are fixed inside the radiator on plastic runners.
To remove them, you need to unscrew one screw on each fan and a push-up. So it is convenient to clean dust or replace, picking up a similar impeller, in case of failure.
Odinnadtsatilopastnyh impellers manufacturer is the company Power Logic (model PLA08015S12HH). They are based on hydrodynamic bearings.
The fan speed is automatically adjusted PWM and monitoring data may vary in the range from 740 to 2720 rev / min. We add that the maximum power consumption of each of the fan should not exceed 4.2 watts.
The components of the power circuit with a small aluminum radiator with thermal pads, and as the rib rigidity and extensions, extension card to the size of the cooler uses a metal plate with perforation.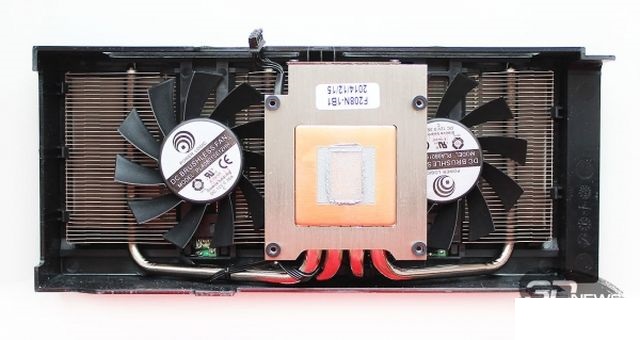 To check the temperature of the video card Gainward GeForce GTX 960 Phantom GLH as a load, we used five cycles of the test is very resource-intensive game Aliens vs. Predator (2010) with maximum quality graphics in resolution 2560 × 1440 pixels with 16x anisotropic filtering and anti-aliasing MSAA-degree 4x:
To monitor the temperature and all other parameters were applied software MSI Afterburner 4.1.0 and utility GPU-Z 0.8.1 version. All tests were carried out in a closed system case, the configuration of which you can see in the next section, with an average room temperature of 23.4 degrees Celsius.
With automatic fan speed control the maximum temperature of the core graphics card hit 63 degrees Celsius. This three degrees Celsius higher than the previously tested MSI GeForce GTX 960 Gaming, but do not forget that the Gainward GeForce GTX 960 Phantom GLH higher frequency of the GPU and video memory overclocked.
So in general the result is more than satisfactory, and the original cooling system once again proved to be highly effective. Note that when automatic fan speed control has increased from 740 to 1350 rev / min and that the video card in this mode of operation is absolutely not audible against the quiet of the system unit.
If you manually set the maximum fan speed, then cool the GPU will be better only five degrees Celsius in the peak load.
Such a small difference does not justify the use of the mode of maximum fan speed, the more noise that the video card in this mode is very noticeable. How it quiet in comparison with competitors, we know right now.
The noise level of video card cooling by an electron sound level meter "Octavia-110A" after the morning in a completely closed room area of 20 m 2 with windows. The noise level is measured by the system case when the source of the noise in the room was the only cooling system and its fans. Sound level meter, fixed on a tripod, always located strictly in one point at a distance of exactly 150 mm from the fan rotor / turbine cooler. The motherboard, which was inserted graphics card installed on it cooling system was placed at the corner of the table on the polyurethane substrate. The lower limit of the measurement is 22 dBA sound level meter, and subjectively comfortable (not to be confused with a low) level of noise in the measurements at this distance is about 36 dB mark. The fan speed was varied over the entire range of their work with a special precision controller by changing the voltage in steps of 0.5 V.
On graphs and tables with data on noise level Gainward GeForce GTX 960 Phantom GLH we have included the results of noise measurements cards MSI GeForce GTX 960 Gaming with cooler Twin Frozr V, Gigabyte GeForce GTX 760 OC with cooler WindForce 3X and MSI Radeon R9 280X Gaming with cooling system Twin Frozr IV. Besides, I'm sure many will be interesting to compare the noise level two "Phantom" – two-fan on the GeForce GTX 960 and trёhventilyatornoy versions GeForce GTX 980. So we have included in the graph and table the results of noise measurements card Gainward GeForce GTX 980 Phantom . We add that the vertical dashed lines corresponding color observed upper limit of the cooling systems in their automatic PWM-regulation.
GeForce GTX 960 Phantom: Let's look at the results.
A more compact version of the two-fan cooling system Gainward Phantom really was quieter trёhventilyatornoy throughout the speed range operation. Moreover, due to the relatively low level of heat generation GeForce GTX 960 even at high frequencies cooler fan Gainward GeForce GTX 960 Phantom GLH operate at lower speeds than Gainward GeForce GTX 980 Phantom, including at the expense of the younger graphics card is noticeably quieter than older . At the same time, a comparison with the MSI GeForce GTX 960 Gaming heroine loses today's test (ie, the level of noise in automatic adjustment). Nevertheless, against the background of a quiet system unit Gainward GeForce GTX 960 Phantom GLH did not hear a margin of efficiency is that the graphics card can be operated safely and manually fixed fan speed within 900 rev / min.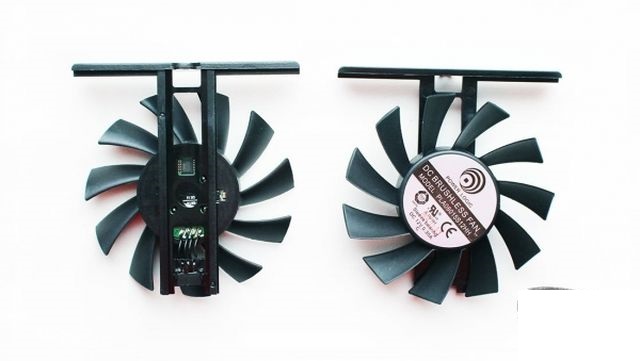 GeForce GTX 960 Phantom: Overclocking capability
First of all, we recall that the MSI GeForce GTX 960 overclocked Gaming we have to frequencies 1351-1414 / 8280 MHz. In turn, on the Gainward GeForce GTX 960 Phantom GLH without changing the core voltage reference clock of the GPU, we were able to raise only 90 MHz, or 7%, and the effective rate of video managed to raise only 720 MHz, or 10.3%, And on Gainward installed exactly the same memory chips, as well as on the MSI.
However, since the beginning, Gainward overclocked a little harder, her final frequency after overclocking is not very different from the progress made on the MSI and make 1369-1432 / 7920 MHz.
Minus three hundred megahertz to video memory – compared with overclocking MSI GeForce GTX 960 Gaming – with a 128-bit bus will affect the final performance in the lowest degree. So in general we can say that after the dissolution of these cards will be equal to the rate in games and benchmarks.
After acceleration in 3D-mode forced GPU frequency Gainward GeForce GTX 960 Phantom GLH reaches 1545 MHz, but most stayed on the border of 1533 MHz, which is also very good.
Automatic mode (750-1410 rev / min, x2)
As you can see on the schedule of monitoring, the maximum temperature of the GPU to automatically adjust the fan speed has increased by just two degrees Celsius, and the very speed increased to 60 rev / min. In other words, even the overclocked Gainward GeForce GTX 960 Phantom GLH becomes noisy.
Review Gainward GeForce GTX 960 Phantom GLH and testing 2-way SLI GeForce GTX 960
updated:
February 11, 2015
author: