Review gaming notebook Acer Aspire V17 Nitro VN7-791G-71H2 Black Edition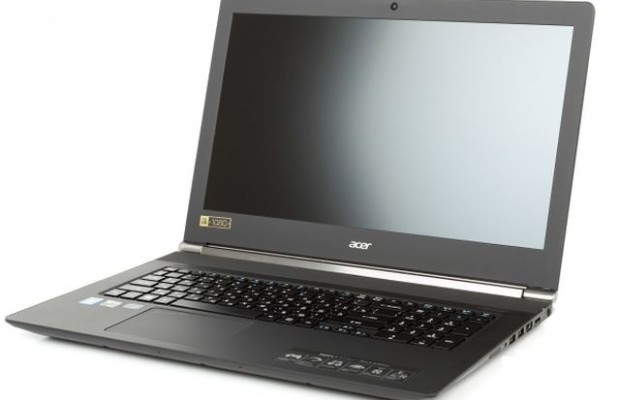 to a class of gaming notebooks. Previously, game models, the company was not – usually powerful Acer laptops were considered multimedia models. In fact, changes in positioning occurred only formal – yes, Acer Aspire V17 Nitro for gaming, but for gaming laptop in the classic sense of the definition it is not too similar.
In recent years, manufacturers of gaming notebooks were some quite certain trends – the possibilities of software remapping keyboard macro recorder, multi-colored backlight. And all this is our guinea not affected – unless he has a backlight that, but one color. But he can do what others can not – we cleanse our own coolers from dust. Manufacturer named this technology Acer DustDefender.
Acer DustDefender essence very simple. If the laptop is turned on, then every three hours of his fans for a short time begin to rotate in the opposite direction – this allows enough Regularly clean the ventilation grilles from dust. This function is very simple and extremely useful, but in no other gaming notebook, which appeared in our lab, she somehow we never met.
Aspire V17 Nitro: Appearance
Official website of the manufacturer promises "special coating nanopechatnym lithographic pattern." Maybe some "nanopechatny pattern" there is, but, firstly, some pattern – obviously not nano – visible to the naked eye, and secondly, it is not clear that this is the final buyer "nanopechatny pattern" gives.
But finding fault with it we to marketing statements. Plastic cover itself Acer Aspire V17 Nitro was very pleasant to the touch, and a pattern consisting of vertical lines, looks strictly and pleasant. That's only fingerprints on it, despite the notorious nanolithography pattern will be collected as well as on the cover of any other plastic laptop without oleophobic coating. As for the other materials laptop, the work area and the bottom are made of plastic – metal in the notebook is not in use.

The working area is made of plastic coated Soft-touch, which prints unfortunate noticeable is no worse than on the lid. Due to the large diagonal notebook wrist rest turned spacious – a laptop is convenient to work.
Keyboard with Acer Aspire V17 Nitro island type, with a soft and a little key travel. Like many "semnashek", our experimental features a separate numeric keypad. However, there is no "gaming optimization" keyboard: in particular, in the lower left corner is the key of Windows, which very often prevents in games where the button is enabled [Alt]. Also, the keyboard features of our guinea no software remapping keys and macro recorder, which has many other gaming notebooks.
The keyboard backlight is red and fixed that a little strange. Virtually all modern gaming notebook color and intensity of illumination can be varied within wide limits, and conventional laptop (including game and) can be adjusted at least its brightness. Alas, nothing like our guinea not – with red illumination, the brightness of which can not be changed, will have to accept. But it is not too bright – not irritate the eyes and does not interfere with the perception of the image on the screen.
The touchpad of the laptop is large (117 × 78 mm), its only button is located below the touchpad, but problems with clicks will not be due to good drivers. In general, the touchpad could be called comfortable, if not for an unfortunate accident. During the test phase before disassembling the laptop touchpad spontaneously turned off and disappeared from Device Manager. The key combination [Fn + F7], activating the touchpad, reinstalling software Acer and even Windows no effect was given – and touchpad does not work. This is a very unfortunate lack, though, judging by the reviews of the Acer Aspire V17 Nitro, found on the Internet, such behavior of the touch panel only met our test lab.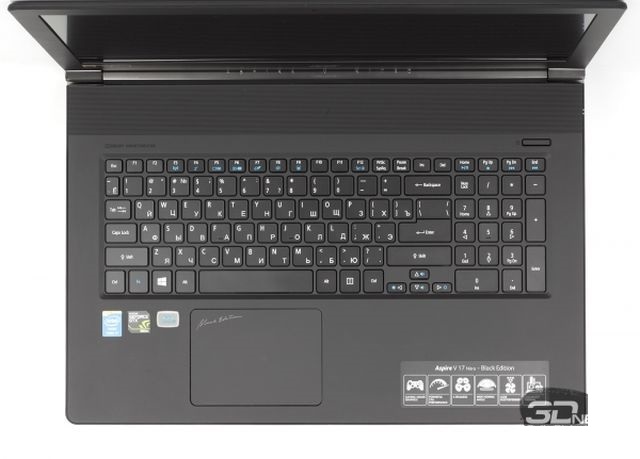 All connectors are concentrated on the left and right sides of the notebook. To the left are two USB 2.0 ports and drive tray BD-RE, which is able to record CD format BD-R and BD-RE. On the right, a pair of USB 3.0, HDMI, LAN port Ethernet, headset jack and card reader.
The front panel has two microphones, and at the rear end there is nothing but air vents.
The bottom of the laptop is very simple – nothing interesting, except the cooling holes and screws, not on it. Made it, like the rest of the laptop case, made of plastic.
Aspire V17 Nitro: Specifications
Cpu
Intel Core i7-4710HQ;
2.5 GHz (3.5 GHz mode Turbo Boost); 6 MB L3;
CHETRA cores, eight threads, TDP 47 W
Graphics Controller
NVIDIA GeForce GTX 860M (2GB GDDR5, architecture Maxwell);
CPU GPU Intel HD Graphics 4600;
Display
17.3 inches;
Resolution of 1920 × 1080 (127 PPI), the type of matrix – AH-IPS;
Matte finish, LED-lights;
Matrix model: LG LP173WF4-SPD1
ROM
12 GB DDR3L-1600 (two slots expansion
has two SO-DIMM module on the 4 and 8 GB, replacement of modules is not provided)
Hard disk
SSHD 1TB (Seagate ST1000LM014-1EJ164);
Hybrid drive (8GB Flash-memory MLC), the form factor of 3.5 inches, height of 9.5 mm
Interfaces
2 × USB 3.0;
2 × USB 2.0;
1 × HDMI;
2 × Ethernet;
1 × connector for headset (mini-jack 3,5 mm)
Wi-Fi
802.11 a / b / g / n, 2,4 and 5 GHz, (Atheros AR5BWB222 Wireless Network Adapter)
Bluetooth
4.0
AC adapter
10/100/1000 Mbit / s (Broadcom NetLink BCM57780);
Optical drive
BD-RE Recorder (MATSHITA BD-MLT UJ272Q)
Jack flash cards
SD (SDHC / SDXC)
Sound
Two microphones, four speakers
Battery
Built-in 51 Wh (4605 mAh, 11.3 V), 3 cell
Power supply unit
135 W (19 V, 7.1 A)
Size
423 × 293 × 28 mm
Weight
3 kg
Operating system
Microsoft Windows 8.1 Single Language 64 Bit
Guarantee
1 year
Notebook is equipped with a processor Intel Core i7-4710HQ with a clock frequency of 2.5 GHz (3.5 GHz mode Turbo Boost), L3 cache 6 MB in size and teplopaketom 47 watts. This processor, we often encounter in gaming laptops and, judging by the previous test, the processor performance of Acer Aspire V17 Nitro should be at a good level.RAM in the laptop uses 12 GB. Memory was recruited two modules DDR3L-1600, volume 8, and 4 GB.
For wireless controller responds Atheros AR5BWB222 – thanks to him, the laptop can connect to networks Wi-Fi 802.11 a / b / g / n 2.4GHz and 5GHz bands, as well as communicate with other devices on the protocol Bluetooth 4.0.Instead ligament SSD + HDD or SSD in a laptop mounted hybrid drive Seagate ST1000LM014 volume of 1 TB. On its board uses 8 GB of additional Flash-memory type MLC – exactly the same amount of memory occurs in other generations of hybrid drive Seagate. In this memory must store the data in the most frequently used. This approach is able to speed up the loading of OS and other programs, but a tangible effect is not all scenarios. About how to construct and operate such as drives, can be read here .In addition to the built-in graphics core processor in a laptop installed a discrete graphics card NVIDIA GeForce GTX 860M chip GM107, based on the architecture of Maxwell. This is not the slowest graphics card NVIDIA, but if we evaluate it in terms of mobile gaming graphics cards, then include it possible to the initial level. On the other hand, MSI makes gaming laptops and 840M, so that the Acer Aspire V17 Nitro is quite possible to classify in this category. Soldered on the motherboard graphics card 2 GB of video memory GDDR5.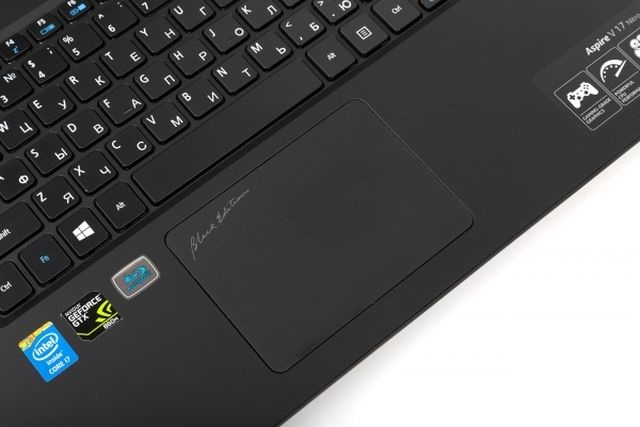 The maximum thickness of the laptop is 28 mm, that "semnashki" not very much. Failed to achieve a harmony including battery by: firstly it non-removable, and secondly, not very capacious – 51 Wh (4605 mAh, 11.3). Charging the notebook from the power supply medium-sized power 135 W (19 V, 7.1 A).
Gaming laptops are usually expensive. However, within this cooler is not the most powerful in the world gaming card, so at the time of this writing, for consideration of modification of us will have to pay about 67 500 rubles. By modern standards, it is almost cheap – most laptops with a similar configuration of the significantly more expensive.
Aspire V17 Nitro: Internals
Disassemble Acer Aspire V17 Nitro is not easy, because not have to remove the bottom of the notebook, as with most laptops, and its workspace. First you need to remove all the screws on the bottom and remove the optical drive. Then you need to very carefully – so as not to damage the fragile plastic latches – to remove the silver panel located under the screen and remove the remaining two screws that are under it. Then, you must carefully remove the workspace, and just gently disconnect cables keyboard and touchpad. After all this is a user access the internal laptop.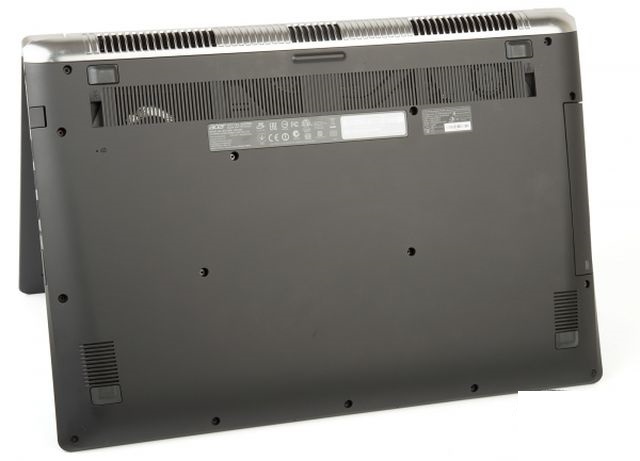 Further, if desired, the notebook can be replaced hard drive and remove the battery and wireless communication module. RAM is located on the back side of the motherboard – access to the user does not. Of course, if you do not disassemble the laptop to the last screw.
Also quite interesting to make the cooling system – the turbine Acer Aspire V17 Nitro were different. Little left the turbine is responsible for cooling the processor and runs continuously. A typically larger turbine is switched on only during serious loads or using discrete graphics.
Review gaming notebook Acer Aspire V17 Nitro VN7-791G-71H2 Black Edition
updated:
February 11, 2015
author: