NVIDIA explains the problem with memory in the GeForce GTX 970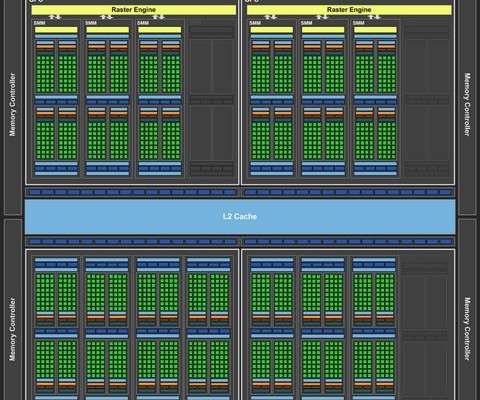 The recent scandal was the latest novelties NVIDIA – graphics card GeForce GTX 980 and GeForce GTX 970. As you know, they have a different number of active shader processors, but the same memory subsystem, and it would seem, there is no impact on performance in games, depending on model should not be. But numerous reports on the web confirms – in modern games at high details and a high resolution GeForce GTX 970 allocates them only 3.5 GB of video memory, while the GeForce GTX 980 – all necessary 4GB.
Of course, NVIDIA had to explain to users: someone like a situation where two identical (in terms of the memory subsystem) video work differently, and, of course, with the advantage in favor of the more expensive model. And is not there a special marketing restrictions encourages users to think about buying a GeForce GTX 980. NVIDIA brief explanation is as follows: due to a different configuration of computational units (13 active clusters of 16) this part of the GPU has fewer connections to memory controllers, and eventually the entire chetyrёhgigabaytny memory array had to be divided into two unequal areas of 3.5 and 0.5 GB, a first region exposed at a higher access priority, since most games still usually requires more than 2 – 3 GB. If necessary advantage of both the memory segment, but some third-party utilities supposedly can display only 3.5 GB.
According to NVIDIA, problems with access to additional memory segment on the GeForce GTX 970 is not, and should serve as a proof of this above table with the results of tests of two graphics cards in two modes – a rate of at least 3.5 GB of video memory and, therefore, more of the value. In both cases there is a significant drop in performance when using extreme conditions, but as a percentage, according to the company, GeForce GTX 970 behaves no worse than older brother. Nevertheless, our colleagues from the resource WCCFtech believe that paying for the connection of the second segment of memory on GeForce GTX 970 is still necessary. In simple counting result, it was found that if the GeForce GTX subsystem 970 would have behaved the same way as in GeForce GTX 980, the net capacity in one of the most popular nowadays graphics card would be higher – around 2 – 5%.

Apparently, segmentation is still affected, and with a second, smaller segment of video memory, the GPU does not work as quickly or effectively as with the first primary. Unfortunately, the information provided by NVIDIA, is not enough to understand how this problem can manifest itself in other scenarios or, for example, appear not in the fall of productivity, and in the worst uniform frame rate. This requires a special individual studies. Fortunately, the problem affects a relatively small proportion of users – mainly the owners of monitors with extreme resolution 3840 × 2160 or higher. But in any case it makes sense to wait for the NVIDIA cards with 8 GB of video memory on board or ask towards AMD Radeon R9 290X with the same memory capacity, which is already available on the market. Or wait for new products on the basis of GM200 and Fiji.
NVIDIA explains the problem with memory in the GeForce GTX 970
updated:
January 26, 2015
author: