Nettop Pipo X8 endowed with its own touchscreen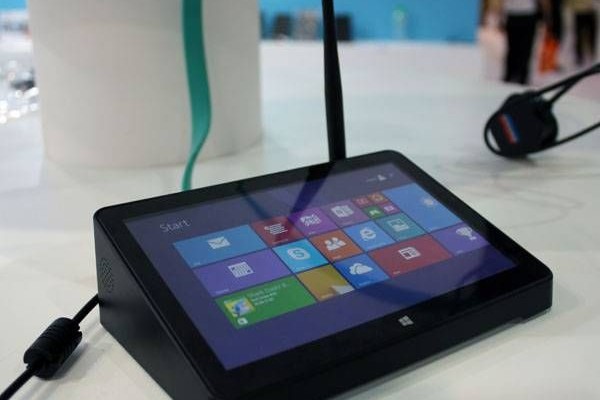 Everyone knows that the nettop – it is a very compact system unit, which can be put on the table or attached to the back of the monitor. Form factor is becoming increasingly popular on the background of non-full-size buildings. Pipo company presented its own nettop X8, which is "slightly" different from their counterparts.
Contrast, by and large, one – in Pipo X8 has its own built-in screen, and touch. It is located at a certain angle to the horizontal plane and turns a computer into a kind of symbiosis tablet and desktop. Cost Pipo X8 expected to be around $ 100-200, and it is not currently approved. But we know that the computer will arrive in May, first in China and then in other countries.
The characteristics of such an unusual hybrid include a 7-inch touch screen with a resolution of 1024×600 pixels, which responds to five simultaneous touches, 2 GB of RAM, drive 32 or 64 gigabytes, modules Wi-Fi and Bluetooth 4.0, slot microSD, built-in speaker, as well as USBx4 ports and HDMI for a couple with a network card. Pipo X8 is based on the processor Intel Atom Z3735F or Atom Z3736F, both in a series of Bay Trail. The package will include the operating system Windows 8.1 with Bing, plus will be presented with two OS version, which will install more and Google Android. Pipo X8 can be used together with a large screen and as a compact standalone PC.
Nettop Pipo X8 endowed with its own touchscreen
updated:
April 20, 2015
author: