Linux-nettop ZaReason Zini 1550 runs on the Intel Broadwell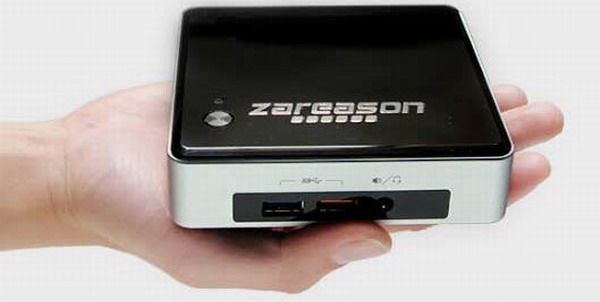 Announced a compact desktop PC ZaReason Zini 1550 based on Intel Series Broadwell, the latest at the moment. It uses the same platform as nettops Intel NUC, but unlike them, ZaReason Zini 1550 comes with memory and storage, so it is completely ready to work. Even pre-installed OS is in it –  Linux.
Nettop ZaReason Zini 1550 costs from $ 550 for the minimum configuration, which already includes 4 GB of RAM. Disk system presented 128-gigabyte drive, and used the processor Intel Core i3-5010U is the fifth generation. Nettop contains a gigabit network card and Bluetooth and Wi-Fi 802.11ac. It also contains a four-port USB 3.0, exit miniHDMI, next to him – miniDP, plus there is an input for headphones.
In 1550 ZaReason Zini presence of an active cooling system, but it works not so silently as many would wish. But the risk of overheating is reduced to virtually zero. The top equipment includes all of the above, except Core i3 – it is replaced by Core i5-5250, also the fifth generation. As for the operating system, when ordering ZaReason Zini 1550, you can choose the type of distribution Linux, which will be installed at the factory – it can be Debian, Fedora, Ubuntu, Mint and OpenSUSE. The cost nettop top version is unknown, but it definitely does not depend on the type of distribution.
Source: liliputing
Linux-nettop ZaReason Zini 1550 runs on the Intel Broadwell
updated:
April 7, 2015
author: