Micron and Intel offer flash memory for 3D NAND SSD capacity of more than 10 TB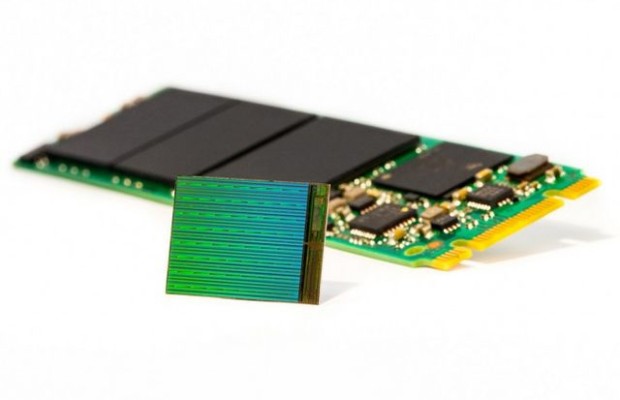 Micron and Intel introduced a new generation of flash chips, which will significantly increase the capacity of SSDs will improve the performance and reliability of SSD. 3D NAND technology will produce wheels standard form factor of 2.5 "of more than 10 TB.
To increase the capacity of flash chips produced by a traditional planar necessary to increase cell density. This requires improving the manufacturing process technology. This process itself is very costly, also associated with certain disabilities. In the case of a flash memory cell size reduction is not the best way affects the number of write cycles. Generally, the thinner the process technology, the lower yield of cells.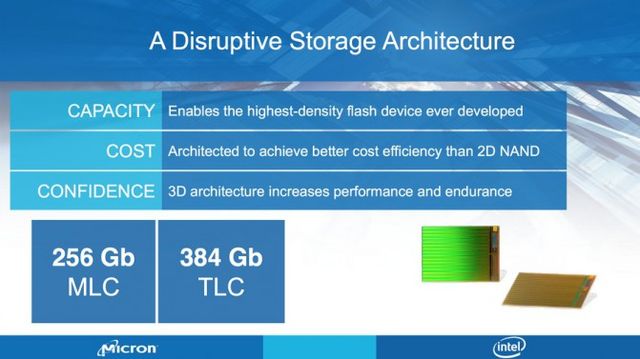 Micron and Intel propose to use for flash chips layered arrangement of 3D NAND. This method of packaging cells immediately brings several advantages. First of all, can significantly increase the capacity of memory chips. Presented chips have at least three times greater density than conventional flash chips. Already at the start of the chip with a mesh-type MLC have a capacity of 256 GB, and version-cell TLC – 384 GB.
To obtain these results, the developers used 32-layer design combined with floating gate technology. Such internal "high-rise" does not affect the physical size of the chip itself.
Use with 3D NAND chips first generation, manufacturers will be able to increase the amount of disk format M.2 up to 3.5 TB. In the standard case form factor 2.5 "SSD can offer capacity of over 10 TB. Of course, flash 3D NAND circuits can be used for mobile devices, and various form factors.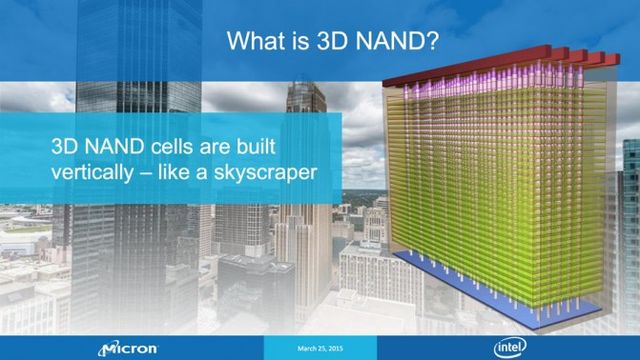 3D-layout allows you to significantly increase the distance between the cells. In this case, it is good news. To produce chips in this case can be used tehprotsess 40-50 nanometers. Increasing the distance between the cells allows to increase reliability. Under these standards of manufacturing, the number of write cycles is expected to increase to about 10,000 for consumer platforms are more than enough even available 1500-2000 cycles, but for server solutions is a critical parameter. Manufacturers expect that the use of 3D NAND SSD for enterprise-class chips can use including a TLC-structure.
Obviously, the cost of manufacturing ICs 3D NAND slightly higher than standard flash chips, however, in view of increasing the recording density, multi-chip can provide the best price / volume.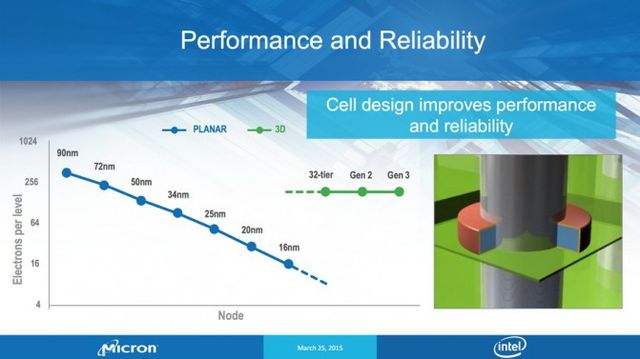 Micron and Intel are going pretty quickly display technology on the market. Developers have already transferred some partners coupons 3D NAND chips with cell MLC. TLC chips will be available a little later, in the late spring. If we talk about mass production, it is the third or fourth quarter of this year. Perhaps even in the 2015th will be seen in the sale of SSD on 3D NAND.
Micron and Intel offer flash memory for 3D NAND SSD capacity of more than 10 TB
updated:
March 28, 2015
author: