Mainboard HiSilicon D02 can carry up to 64 cores ARM Cortex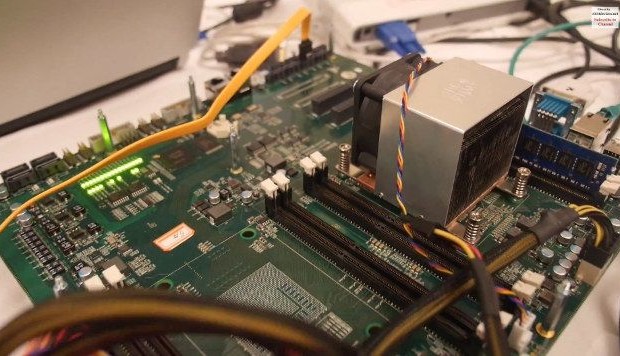 Slowly but surely, the ARM architecture continues to conquer the server segment. Thus, recently the company HiSilicon demonstrated a working prototype of a dual processor motherboard, and each processor can carry on board up to 32 cores ARM Cortex-A57, clocked at 2.1 GHz. This is one of the fastest option ARM, using a set of instructions ARMv8-A. Architecture conveyor with extraordinary superscalar instruction execution.
This proprietary HiSilicon processors codenamed PhosphorV660. They can have 16 or 32 core Cortex-A57 and a 1 MB second level cache and 32 MB cache in the third level. Dual-channel memory subsystem, four DDR3 slots on the processor. To store the BIOS / UEFI chips used steam capacity of 158 Mbps, in addition to the board uses 1 GB of flash memory. 64 cores in total look seriously enough to pose a threat to a number of solutions based on Intel x86, but the prototype is equipped with a long 16-core processor. The full version will be available a little later.
In addition, the board can boast twelve SAS 3.0 ports with a capacity of 12 Gbit / s, two Gigabit Ethernet controllers and two desyatigigabitnymi port SFP +. For connecting peripherals such as controllers, RAID, on board has four slots PCI Express x8, two for each processor. Form factor motherboard is compatible with SSI-EEB / E-ATX, and it can work with the operating system Ubuntu, Debian, OpenSUSE or Fedora.
Mainboard HiSilicon D02 can carry up to 64 cores ARM Cortex
updated:
February 19, 2015
author: