ARM-based processors AMD Hierofalcon will be released in the current semester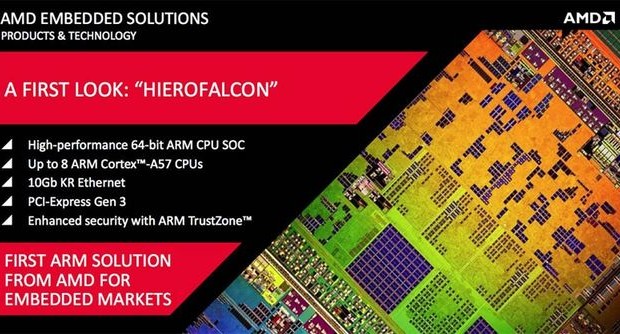 By AMD, reportedly network sources in the coming months will present the processors code-named Hierofalcon.
The above products will be the first 64-bit AMD chips with the architecture of ARM, designed for embedded devices market. Processors will receive up to eight cores ARM Cortex-A57 processor with a clock frequency of up to 2.0 GHz and 4 MB cache second level. Production standards – 28 nanometers.
Hierofalcon – a "system on a chip", of which, in addition to the CPU-cores, will include a high-performance dual-channel memory controller with support for DDR3 / DDR4 and NIC 10G Ethernet (10-Gigabit Ethernet). Plus, the mentioned bus PCI Express 3.0, a cryptographic engine and ARM TrustZone support interfaces such as SPI, UART and I2C.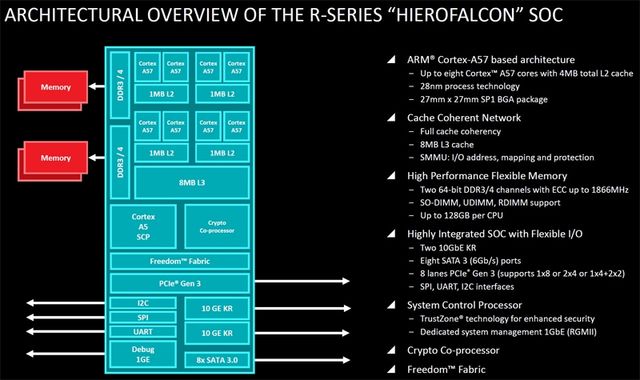 The new chips will be produced in the package SP1 BGA. Maximum value of heat dissipation depending on the model will be from 15 to 30 watts.
It is reported that AMD will organize delivery Hierofalcon in the current half-year. The chips will be used in the switching equipment, devices for data centers and so forth.
Source: wccftech.com
ARM-based processors AMD Hierofalcon will be released in the current semester
updated:
March 25, 2015
author: