KOLOS – Kickstarter-game project steering for iPad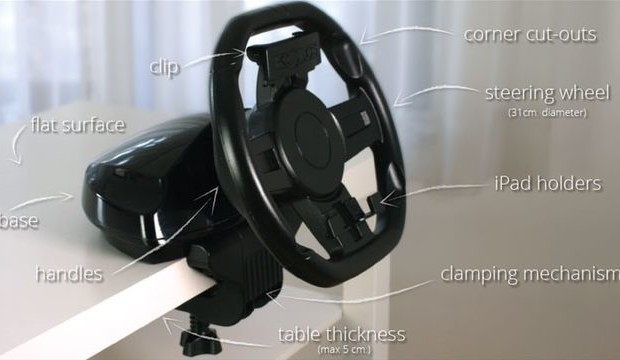 Play on the 9.7-inch iPad in racing games is not always convenient: it is necessary to hold the device in the air, thus turning it from side to side to control the virtual vehicle and not forgetting located behind the speakers. This not only reduces the accuracy of the times, but also the player fatigues quickly. Fortunately, a small team of developers to tackle this problem and developed a special wheel KOLOS for 9.7-inch tablet Apple (it is compatible with the iPad 2, 3, 4, Air and Air2 – for the last two provided a small adapter).
Developers who intend to raise funds for the product launch via Kickstarter, called the wheel the first such device for tablets Apple. KOLOS uses sensors to control hundreds of iPad games (especially this race and projects involving the active use of the tilt device).
With KOLOS player will be able to stop worrying about holding the tablet – the device is securely mounted on the wheel itself – and focus directly on the gameplay. It is worth noting that the thumbs of both hands when operating at the same time easy to get to the screen of the tablet. KOLOS is proposed to fix on the table using a special mechanism.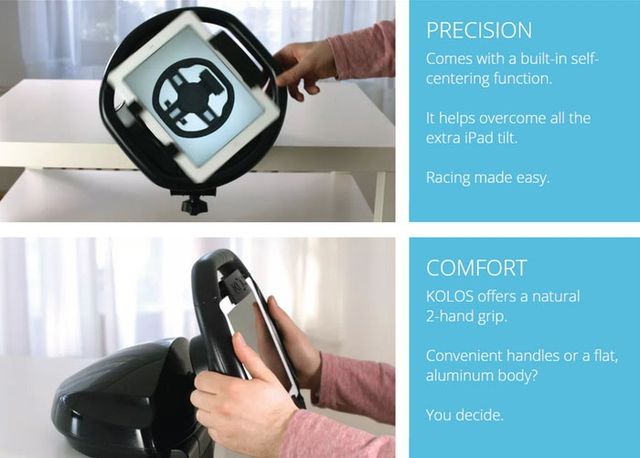 Currently, developers KOLOS have already collected a community of more than a thousand subscribers and hope that the minimum amount necessary to start the project on Kickstarter will be achieved on the first day fees. Start a campaign to attract micro-investment is scheduled for Thursday, March 26 at 20 hours. All interested in this unusual accessories can support the project on a special page of Kickstarter. There you can get acquainted with the promotional videos.
Source: Kickstarter
KOLOS – Kickstarter-game project steering for iPad
updated:
March 23, 2015
author: