The creators of computer CHIP ask for it only $ 9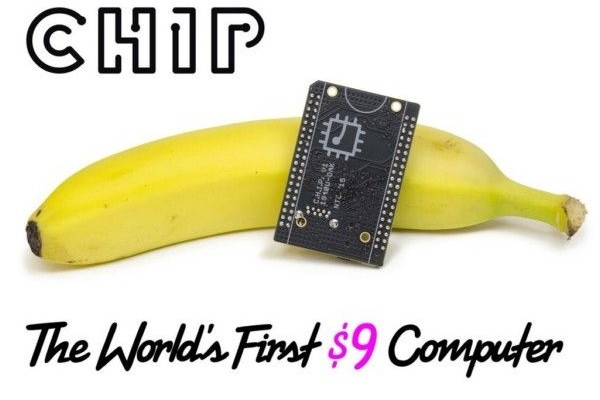 On Kickstarter was launched and immediately attracted the attention another interesting project. It is a tiny but fully functional PC CHIP, which is even cheaper than the Raspberry Pi – the last recall, after an update is offered for $ 20.
CHIP board size 60 x 40 mm includes a processor running at 1 GHz, 512 MB RAM and 4 GB of internal memory, in addition, users can access modules Wi-Fi, and Bluetooth for wireless peripherals. Creators argue that this would allow the computer to do the same as a conventional PC, that is to use a browser and check email via Wi-Fi, work with office documents, play simple games using Bluetooth-Controller. Certainly, CHIP should appeal to enthusiasts who are working on some computer projects.

In the quoted price of $ 9, you get composite output (the authors emphasize that CHIP can work with any screen, large and small, old and modern). For $ 19 you get computer with a VGA-adapter for $ 24 – CHIP with HDMI-adapter, and paying the $ 40, you can buy Pocket CHIP, which could at the time to make this tiny portable computer. Pocket CHIP includes a resistive touch screen of 4.3 "with a resolution of 470 x 270, QWERTY-keyboard, and battery capacity of 3000 mAh, which will allow CHIP to work about 5 hours.
CHIP Home sales scheduled for December this year.
The creators of computer CHIP ask for it only $ 9
updated:
May 11, 2015
author: