GlobalFoundries and IMEC will learn to integrate radios into processors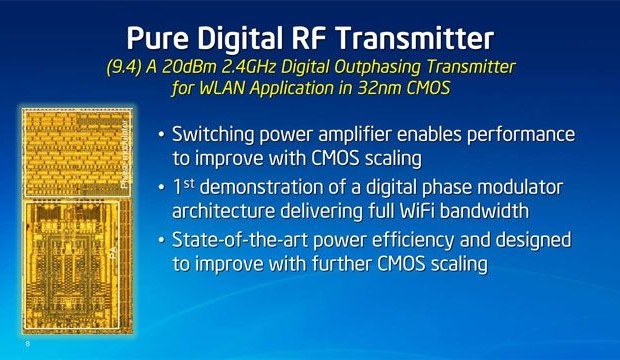 Digital components processors to work with broadband radio networks gradually of the application processors, or as they are called, single-chip systems on a chip (SoC). This trick, as applied to the modules with network support LTE, year and a half or two years ago mastered the company Qualcomm. Samsung, as expected, embedded processors for broadband LTE networks will begin to widely used in the new seventh series processors Exynos 7. However, a more significant step forward on the path of integration will be the transfer of all of the SoC for wireless components, including the antenna: tuners, transmitters, modulators, and everything else. May interfere with this only that digital circuits and radios use different process technologies, different frequencies and different discrete elements. Here one of the inductor can stumble!
However, the process goes. Intel has since 2012 from time to time shows experimental models of Atom processors with built-in power amplifiers radichastotnymi and other elements Transceiver apparatus. What's important, all the elements are performed using standard CMOS process technology on a single chip with cores of the processor and other attributes. It is obvious that this path should go the other semiconductor manufacturers. On the nose connect to the Internet and the mass of all sorts of things "smart" sensors. All this will require a wireless connection, so the integration of radios in the SoC should be maximum.

In a system with Intel hurry to get the company GlobalFoundries. The official press release, the manufacturer of semiconductors reported that RF circuits to adapt to the CMOS process technology companies between GlobalFoundries and the Belgian research center IMEC signed a strategic agreement. Partners will make every effort to develop and implement technologies that will create low-power and highly integrated solutions for mobile communications, and things with an Internet connection. This can also be regarded as an application for the appearance over time AMD processors with built-in radio circuits. The company GlobalFoundries and AMD common roots of the factory, so sooner or later AMD will adopt elements of the new technological processes of production partner.
GlobalFoundries and IMEC will learn to integrate radios into processors
updated:
February 19, 2015
author: