Development kit 3D tracking tablet from Google available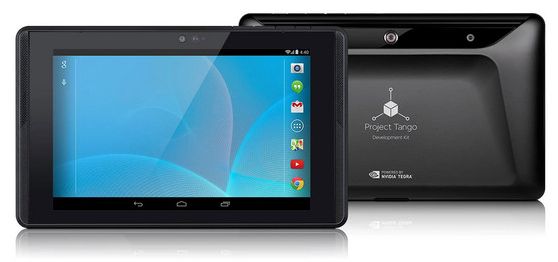 Google is working on several innovative products may be known. Google Glass is perhaps the best known example of this, but the tablet in this news release, codenamed Project Tango is not a totally everyday. Thus, this tablet is intended as 3D tracking device allowing the tablet quickly and easily create a 3D model of the environment. This is achieved inter alia by various sensors which are present in the back of the device.
The sensors provide the ability to "see" the area include a 4-megapixel camera with RGB IR sensor, a camera that can track movements and a sensor that can measure the distance to objects. The "Tango" is a 7-inch tablet with a 1920×1200-pixel screen. The processing of the sensor information is held by an Nvidia Tegra K1 processor with 4 GB of internal memory and 128 GB of storage. The sensors have the ability to make every second to a quarter of a million 3D measurements. The possibilities include for Google faces include easy fitting furniture in home walking around, navigate indoors and the opportunity for someone who looks bad to find his way yet in a new environment.
Project Tango is now out of the ATAP, Advanced Technology and Projects, Division of "fired" and is now available as a development kit through Google. A likely price would be according to earlier reports dollars in 1024, although this was not brought out by Google.
Development kit 3D tracking tablet from Google available
updated:
February 1, 2015
author: