Winchester Apacer AC330 is connected to the PC via USB 3.0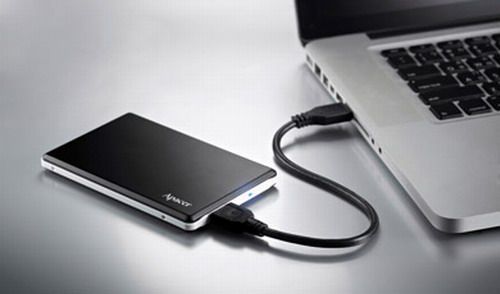 Apacer has launched a new high-speed drive Apacer AC330 – pocket-sized hard drive with an interface USB 3.0. To the manufacturer data transfer rate up to 110 MB / s when reading and writing, which is considerably more than the models on the USB 2.0.
Winchester Apacer AC330 boasts a metal casing that acts as a radiator cooling and remove heat from the hard disk. By the way, the last manufacturer and controller type not specified by the manufacturer. Made in the traditional media has the form factor of 2.5 inches. The body is painted in classic black, but the plastic edging is silver, a metal. The thickness of the outer shell made of 12 millimeters.
External HDD Apacer AC330 offered to customers in two versions, differing only in the volume of the hard disk. It can fit, or 500 GB or 1 TB of data, so that to carry or store large amounts of information, including media content, it will fit perfectly. All other details of the hard drive Apacer AC330 not disclosed, so the price and terms of appearance in the sale remain unknown. The photo shows that the body of the drive does not contain a niche or mount a cable, so that it is removable. We add that the Apacer AC330 can be connected to a USB 2.0 interface and even USB 1.1, if there is a PC or laptop USB 3.0, but in this case, the data rate will be significantly lower than specified.
Winchester Apacer AC330 is connected to the PC via USB 3.0
updated:
May 2, 2015
author: