Flash memory TLC NAND on the volume of supplies will soon overtake MLC NAND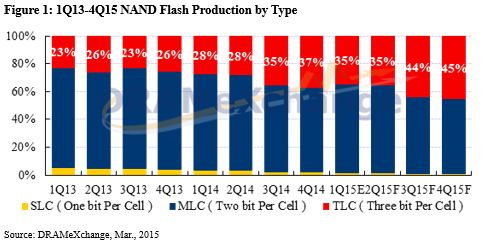 MLC NAND memory has become a landmark for the industry: it is connected with it the beginning of the mass distribution of SSD-drives. But she is now an obstacle: the cost of its production with modern technology is that capacious storage to create something you can, but the cost goes beyond the clouds. Given the investment in the development and production of manufacturers go a step already taken place once when was carried out transition to a more dense arrangement of data from the SLC (one bit per cell) to the MLC (two bits per cell). Now proceeds to TLC (three bits per cell). However, with increasing density and decreasing production methods and resource falls write cycles that an equitable manner scares significant number of users.
But, apparently, it does not frighten the market as a whole. The other day, the general public has access to the next to the report research company TrendFocus, according to which the first bell sounds for MLC NAND in the coming months.
Trends in the supply of flash memory such that by the autumn ratio memory types will change in favor of exactly TLC NAND: more than 50% of the market now will belong to her. So far, the TLC vengeance is mainly used only in memory cards and USB-stick. But some companies are already trying to use it in smartphones. True, Apple already burned, now let's see what happens at Samsung. The latter, incidentally, is actively promoting it and SSD-drives, with whom she also managed to register in the annals of history.
However, in view of the fact that Samsung is now the leading manufacturer in terms of volume and persevere future prospects, despite these "small technical hitches", are obvious enough. And looking at the example of Samsung, SanDisk alliances with Toshiba and Intel with Micron also making efforts in this direction. Preparing for the growth in volumes and new experiments.
Source: dramexchange
Flash memory TLC NAND on the volume of supplies will soon overtake MLC NAND
updated:
March 30, 2015
author: