Exit Qualcomm Snapdragon 815 is constrained marketing reasons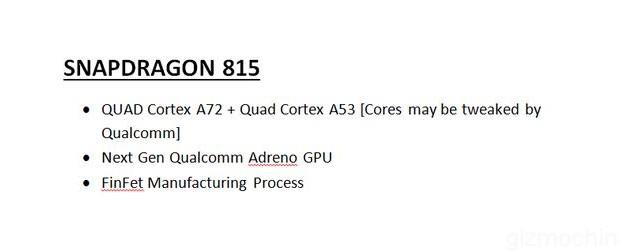 New Qualcomm processor for smartphones audience waits impatiently, because in an effort to stand out from the other licensees ARM company is ready to use not ready architectural solutions, and develop your own. Throw in advanced graphics solutions and advanced manufacturing techniques and recipe for a successful processor for smartphones could be considered complete.
Samples Snapdragon 815, according to recent leaks already exist, and even show an attractive level of heat. However, according to the website GizmoChina, the output of the processor market is constrained by the desire to sell more Qualcomm Snapdragon processor 810, which are used by many new models of smartphones upper price range.
Interestingly, the Chinese source attributes Snapdragon 815 are somewhat different characteristics than expected. So, instead of a combination of "4 + 4 cores" (big.LITTLE) with its own architecture, supposedly will be offered a combination of four core Cortex-A72 cores and four Cortex-A53. In this case, "the Chinese version of" mentions that Qualcomm may make changes in its core architecture to improve performance. Graphic subsystem Adreno "next generation" migrated to this version of the characteristics of the previous one, but on the part of the manufacturing technology appeared nuance. Chinese source believes that the Snapdragon 815 will be issued not to 20-nm technology, and on a more progressive version of process technology using FinFET. In this case, it could be a 16-nm process technology. In the segment of the market where everything is so rapidly changing, we can not be surprised unexpected changes.
Source: gizmochina
Exit Qualcomm Snapdragon 815 is constrained marketing reasons
updated:
March 30, 2015
author: