Intel Knights Landing: some new details about coprocessors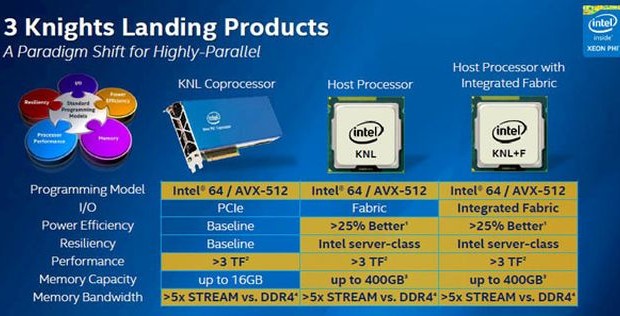 Intel has revealed new details about the Xeon Phi coprocessors code-named Knights Landing, designed to supercomputers.
Knights Landing family will include three types of products: the actual coprocessors, autonomous and autonomous processors with integrated network interconnections. Each variety will be offered in versions that differ in the number of nuclei and the TDP, but in all cases the overall performance will be on floating point double precision exceeding 3 TFLOPS.
This performance will provide 8 billion transistors. The chip will be manufactured at rates of 14 nm. It will be up to 72 cores Knights Core, is a revised kernel Silvermont. The processor will be compatible with applications for Linux and Windows.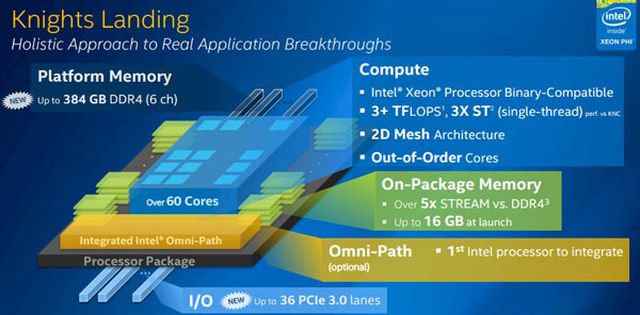 Kernel has 64 KB cache first level instruction and data (32 KB), grouped together with two pairs of 512-bit blocks vector operations AVX. Each group has a common second-level cache of 1 MB. Processor is equipped with two independent three-way memory controllers DDR4, jointly supporting up to 384 GB of RAM.
In addition, the source notes the existence of an integrated high-speed interconnect Omni-Path, already familiar from the announcement of Knights Hill, and the controller input-output processor provides up to 36 lines PCIe 3.0. In addition, the designers have given processor with eight high-speed memory banks, like memory HBM (High Bandwidth Memory), which was mentioned in the description of 3D-card AMD Radeon R9 295X. The source said that this memory is different from HBM and HMC (Hybrid Memory Cube), although its development has helped the company Intel Micron, has created HMC together with Samsung. Memory called MCDRAM and is a kind of HMC. The older model series Xeon Phi will get 16 GB of memory, the capacity of which will be 400 GB / s. For comparison, DDR4 memory subsystem will have a capacity of 90 GB / s.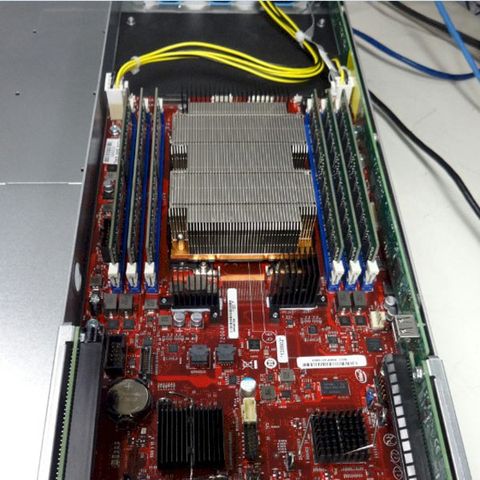 By the way, high-speed internal memory has led to the fact that the new processors Xeon Phi can only create single-processor system. Developers considering adding support for multi-processor configurations, but came to the conclusion that they would not make sense, since the exchange between processors, so work quickly with its own memory, QPI overload any channel even if a small percentage of mutual references.
Coprocessors Intel Knights Landing should be on the market in the second half of this year.
Source: The Platform
Intel Knights Landing: some new details about coprocessors
updated:
March 30, 2015
author: