SK Hynix will begin production of 128 GB DDR4 modules by the end of the year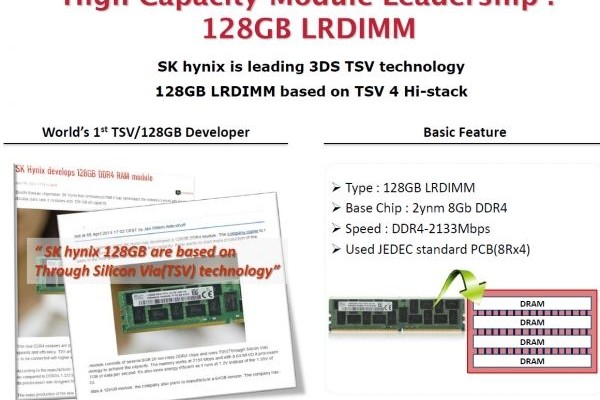 The company SK Hynix this month notified its partners about plans to release the memory module DDR4 high capacity type LRDIMM (Load Reduced Dual In-Line Memory Module) for servers. The good news is that the company has found a way to improve the performance of such decisions by 12%, but not so good news is that SK Hynix will delay the mass production of its flagship 128 GB LRDIMM module approximately two quarters.
SK Hynix company first introduced 16, 32, 64 and 128 GB LRDIMM modules DDR4 memory in the first half of last year. These modules are based on high-capacity 8-Gbit memory devices (vertically integrated four-layer chips using technology through holes through the silicon [through silicon via, TSV]), produced on 20 nm technology. LRDIMM DDR4 modules require a supply voltage of 1.2 volts and have a height of 31.25 mm.
The company originally planned to SK Hynix that its LRDIMM DDR4 modules will work on the effective clock speed 2133 MHz (with latency CL15 15-15), but now the company is going to produce such as memory modules with a frequency of 2133 MHz and at 2400 MHz (c timings CL17 17-17). Overclocking will raise the capacity of memory in the server by about 12%, which is a significant increase in performance without increasing power consumption.
SK Hynix plans to begin mass production of 16, 32 and 64 GB DDR4 memory modules for servers in the second quarter of 2015, as planned last year. However, the production of 128-GB DDR4 LRDIMM-modules capable of operating at frequencies 2.13 and 2.40 GHz, will start in the fourth quarter, two quarters later than expected, according to the document at the disposal of journalists.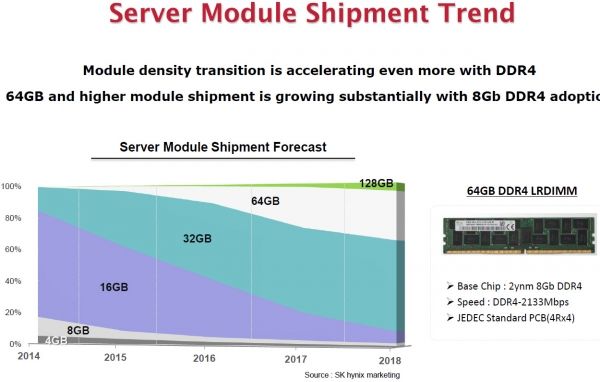 By the fourth quarter of 2015. DDR4 memory will get a significant spread in the server market. Moreover, already in 2016, this type of memory will become dominant in the market, according to Gartner. However, in contrast to the 32-GB and 64-GB module, memory chip capacity of 128 GB will remain a niche solution until 2018, is expected to SK Hynix. Nonetheless, such modules will be an integral part of the most powerful servers using multicore processors Xeon, known as Haswell-EP and Broadwell-EP.
Currently, only Samsung Electronics can supply modules DDR4 memory volume of 64 GB. Thus, the appearance of similar solutions SK Hynix in the second quarter of this year, should somewhat reduce the price of such products. As for the 128-GB memory modules DDR4, then Samsung will start shipping samples of such devices this quarter. Mass production of such solutions will begin later this year.
SK Hynix will begin production of 128 GB DDR4 modules by the end of the year
updated:
February 14, 2015
author: