Graphics card AMD Fiji will receive no more than 4 GB of memory HBM

On snared the preliminary comparative testing Fiji XT graphics cards no indication about how much onboard memory they use. There is also an unofficial information that a new type of stack memory – HBM (High Bandwidth Memory) – will get only a senior solutions in the face of adapters AMD Radeon R9 390X, which so far include solutions codenamed Bermuda XT, but not Fiji. According to the site Fudzilla, which refers to their own well-informed sources, the GPU Fiji will also be released in the form of adapter memory type HBM. The source said that a number of restrictions in mind the amount of memory on the graphics card with GPU Fiji will be no more than 4 GB.
Limit the amount of memory will have two reasons. Firstly, the only manufacturer of memory HBM – South Korea's SK Hynix – the desired crystal mass produces a capacity of 2 GB, which it packs in four-construction HBM volume 8 Gb. Secondly, packaging type 2.5D using special connecting pad silicon (interposer) has a limited area and may not contain enough memory chips. Thus, the number of chips at the site will be limited to four bodies, and their total volume is 4 GB (4 pcs. 8 Gb).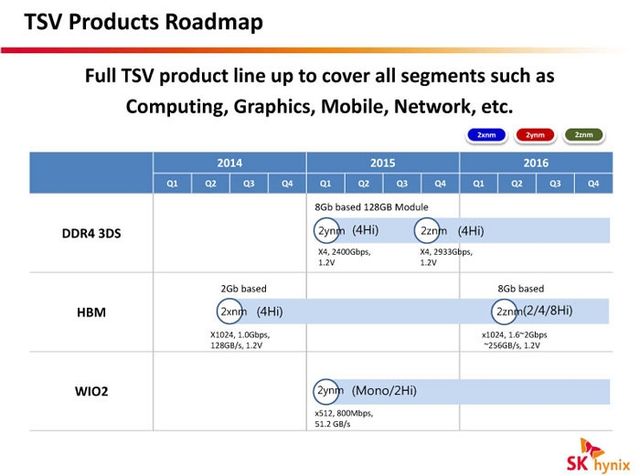 In 2016, the company SK Hynix to build stacks HBM switch to release basic crystals capacity 8 Gb, which will produce 16-Gbps (Dual Layer), a 32-Gbps (four-layer) and 64-Gbps (vosmisloynye) housing HBM. Thus, the amount of memory on the same site with the GPU can be increased without increasing the landing area. By the way, as long as it is not known whether the memory of HBM in the case of GPU Fiji reside on a common silicon platform, or whether it will be placed on the PCB. In the latter case, the amount of memory you can build, but will have to reduce the rate of exchange on the data bus. In the case of the memory location at the same site HBM GPU with a maximum speed of access to a pool of HBM 4GB capacity of 640 GB / s. It is possible that part of the bandwidth is quite possible to be sacrificed.
Finally, there is one solution, any chance of onboard memory capacity of 4GB is not enough. As a kind of buffer cache in the third level on the PCB card can be placed the same memory GDDR5. Is also a solution.
Graphics card AMD Fiji will receive no more than 4 GB of memory HBM
updated:
February 14, 2015
author: