MSI Wind Box (DC111-054EU) review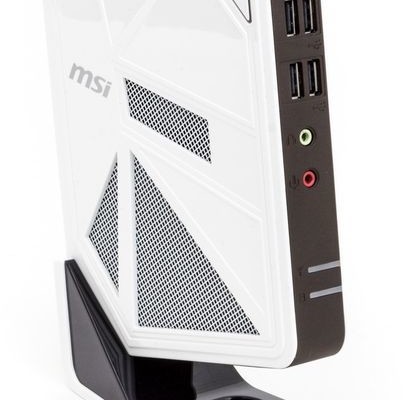 Tiny little systems we have in recent years been very much seen here in our test lab. The MSI Wind Box DC111-054EU certainly fits into that category.
Minicomputers come in all shapes and sizes. In recent time, the almost square mini computers in the palm of an adult hand fit very popular. Good examples are the Intel NUC and the Gigabyte Brix. Wind Box is of a different caliber. It is a little system for those who does not have too many demands, but looking much ease. The latter he offers absolutely no doubt.
Because despite its small size, it offers a lot of connectivity options. That starts with mere four USB connectors on the front. The slow 2.0 variant unfortunately, but if you want faster – for example, to connect an external drive – you can go ahead with the two 3.0-connections at the rear. Headphone and microphone can also be found in front and the SD card slot is placed on top. Behind you find an analog speaker jack and a digital optical connection. VGA and HDMI are available to connect to a screen. Not bad for such a small box.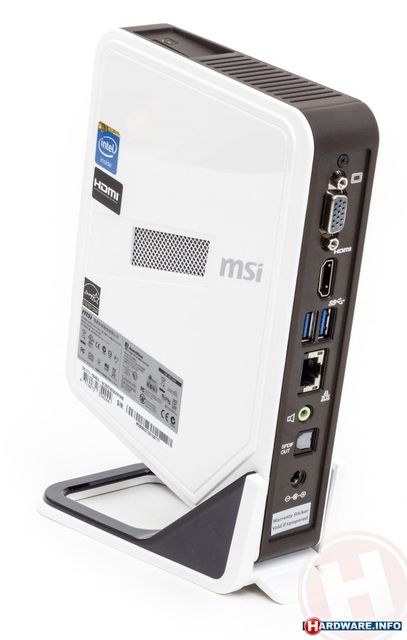 MSI Wind Box: Annoying fan
The MSI Wind Box DC111-054EU is powered by an Intel Celeron 1037U. It is an Ivy Bridge chip with two cores running at 1.8 GHz. A derivative thus the third generation Intel Core processors. Furthermore, MSI in this little 4 GB of memory and a 500 GB built-in hard drive.
All in all this is no streaks tractor. The used 5400 rpm hard drive HGST is like processor speed also no wonder. Probably this device would function more pleasant if you would replace the hard drive with an SSD. But you have to break the warranty sticker though. But that is not the worst aspect of this system. That is the fan, which too often sounds. Especially if the device very close to you that can be annoying.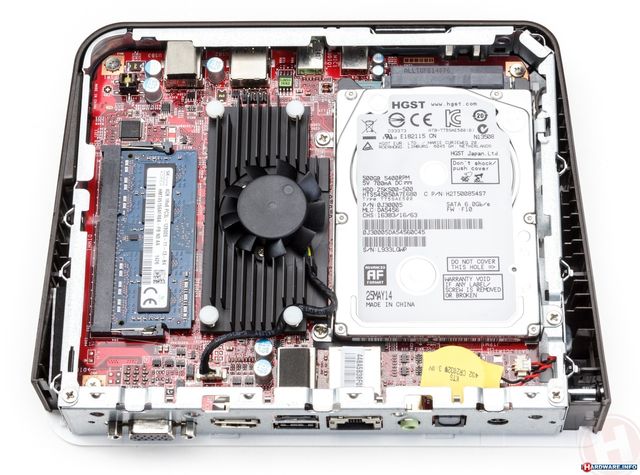 Furthermore, the box has offered a fixed network connection and a wireless connection is there. The fixed connection works up to gigabit speeds and is controlled by a chip from the factory Realtek. For the WiFi MSI chose to do business with the same company and there you have chosen a simple 150 Mbit RTL8188CE 2.4GHz 802.11n adapter that does not have Bluetooth. Windows you will also get in the form of the 64-bit version of Windows 8.1 Bing.
MSI Wind Box: Conclusion
The MSI Wind Box DC111-054EU is a compact computer based on an Intel Celeron 1037U. Plus is the large amount of connections that are distributed almost on the device. The processor is not as fast and the same goes for the 500 GB hard disk. The device comes with Windows 8.1 with Bing. So you can immediately get to work if you are looking for a simple computer and not directly very heavy applications will start running.
However, we would not recommend it to you. This has mainly to do with the annoying audible fan that MSI has built. That you often hear even if the Wind Box virtually nothing to do. Hard disk also we would like to replace some accelerators.
MSI Wind Box (DC111-054EU) review
updated:
February 13, 2015
author: