Review of computer mouse Roccat Savu: medium size, medium quality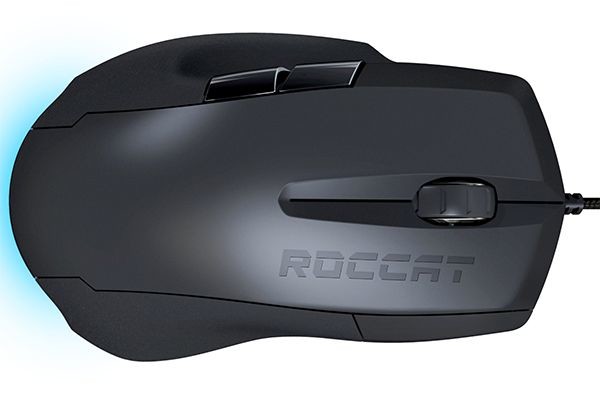 If you are looking for a comfortable, but not too expensive gaming mouse, you should pay attention to the model Roccat Savu. Nevertheless, professional gamers and fans may be to refrain from buying.
Review Mouse Roccat Savu | Design
In terms of appearance and design Roccat Savu nothing to complain about. The mouse is not very big and a little flat, but very comfortable for gaming finger grip "claw-grip". Also, the mouse is suitable for the whole hand grip, but at a relatively small size Roccat Savu (66 x 120 x 45 mm) is more suited to players with small hands.
The mouse has a recess for the thumb and the left ledge to the right little finger and ring. Fingers are where they should, although it would be nice to feel beneath coarser texture. If palm sweated, the fingers can slide.
Roccat Savu uses a standard and a few strategically placed buttons. Unlike many of today's gaming mice, Roccat Savu has only five buttons: left, right, press the scroll wheel and two buttons for the thumb. When you scroll wheel does not click. There is also no buttons sensor sensitivity (DPI).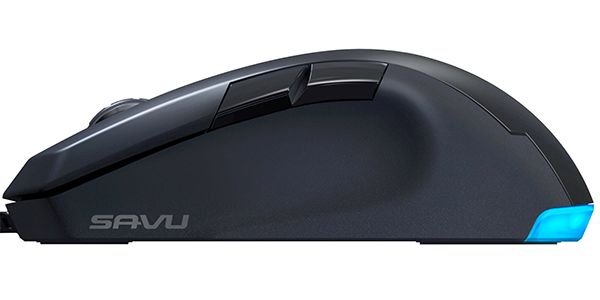 Since all buttons work fine, deserve a full discussion of only two buttons for the thumb. They are big, sensitive and are located directly above the hollow thumb. You can complain about the fact that they are on top of the mouse, rather than the side, though users hardly convenient to press them at an angle. We think gamers instead of buttons would have liked to free space.
Closest competitors may Razer DeathAdder ($ 60) and Logitech Hyperion Fury ($ 60). The first mouse universal, the second is optimized for first-person shooter. Both have a very similar structure and much more convenient buttons under the thumb.
Review Mouse Roccat Savu | Options
Software Roccat Savu – this is a real step backwards. Software called Savu Driver has stability problems and it does not everything works as advertised. However, it has a nice interface.
Installation process is quite intricate. After you download and run the software only to update the firmware in the mouse and exit. In the installation folder, we tried to find another run any files, but do not find anything else, run this executable file again. And now before us appeared a work program screen. Why is the program itself will not be restarted or at least brought a message to the user, for us remains a mystery.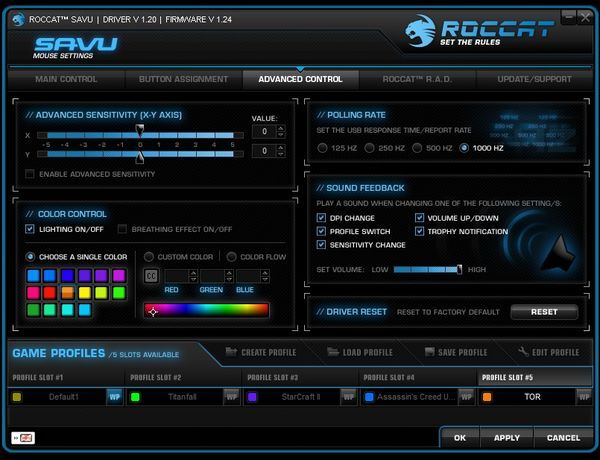 However, the interface is nice and intuitive. You can configure up to five different profiles and specify settings such as the sampling frequency (how often and how fast the computer communicates with the mouse), DPI and the overall sensitivity. There is even the possibility to choose the color of light for a small strip on the bottom of the mouse, thanks to which it is easy to determine the active profile.
Although Roccat Savu only two additional buttons, you can extend the set of actions performed by using function Easy Shift [+]. If you assign it to one of the buttons (it can be any of the two buttons for the thumb), you can program an additional set of instructions executable by the other buttons on the mouse while holding down the Easy Shift [+]. Although the target audience for this function may be excessive, as gamers rarely use more than five buttons, but still nice to have it in their arsenal.The main problem of the mouse was found when we tried to link profiles to different games. You can assign up to three games to each profile, as well as create and store additional profiles for future use. The trouble is that the Roccat Savu does not recognize most of the tested games, especially new ones.
With StarCraft II and World Of Warcraft was not a problem, but with Titanfall, Assassin's Creed Unity or Star Wars: The Old Republic so nothing came of it. No matter how much we try to tie the game profile, PO Roccat Savu refused to activate it automatically when it starts. Had to manually switch profiles before each game.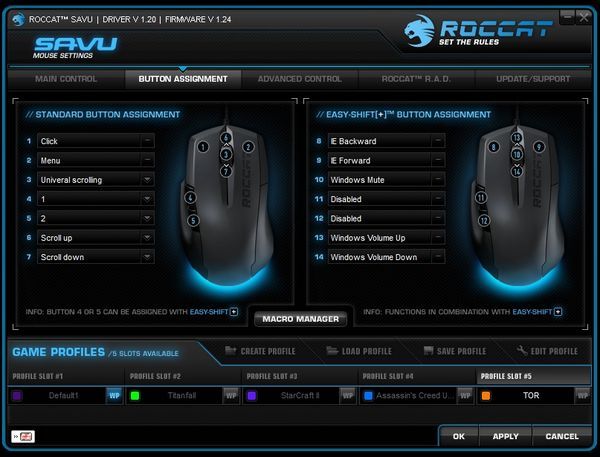 It's certainly not the worst problem in the world, but this level of development is characteristic for 2010. Razer, Logitech and Corsair offers a complete set of software that work with all their modern keyboard and mouse, and always without problems and reduce the profile of the game at the direction of the user. At the Consumer Electronics Show 2015 Roccat has shown that goes the same way, but the current software for Roccat Savu clearly belongs to a bygone era.
It should also be remembered that the Roccat Savu has a resolution of 4000 DPI, which is very small by the standards of today's gaming mice. Of course, for most gamers this will be enough. But if you use multiple monitors in a bundle and do not want to lose speed in dynamic games, better find yourself something else.
Review Mouse Roccat Savu | Performance
If you do not take into account the problems with binding profiles reproach Roccat Savu is no longer in it. We tried the mouse in Titanfall, StarCraft II: Heart of the Swarm, Assassin's Creed Unity and Star Wars: The Old Republic. Picking up profiles for each game, managed to get excellent results.
Highlight some difficult genre. It was equally easy to climb onto the enemy robots in Titanfall and do a combination of a lightsaber in The Old Republic. Roccat Roccat Savu positioned as a "hybrid mid-size mouse," and we think that this description is fairly accurate. Mouse confidently cope with all genres, but is not well suited for specialized first-person shooter multiplayer or online games.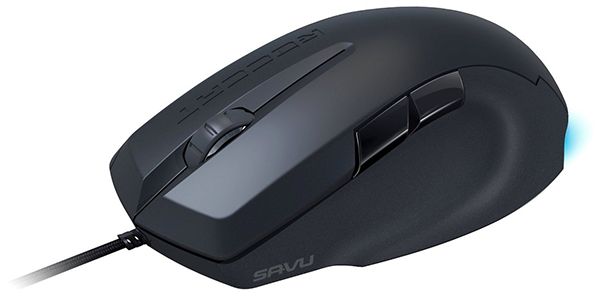 Review Mouse Roccat Savu | Summing up
Roccat Savu – it's a good mouse. But it is not enough benefits to justify the price of $ 60. For example, Hyperion Fury optimized for first-person shooter, but with a similar layout is more convenient buttons, a wider range of permits and excellent software. While competing models from Logitech are no custom color light, in terms of work to recommend Roccat Savu instead of Fury is difficult. Razer DeathAdder and Corsair M65 also have a higher forethought for the same price.
In general, the company is making good Roccat peripherals, and Roccat Savu would be a good purchase, provided that you are willing to wait a few months before the release of a new product line at the same time with the new universal software. However, if you manage to find this model at discounted prices, you get a comfortable and functional companion that requires a little more attention.
Benefits:
reasonable price;
convenient arrangement of buttons;
intuitive software.
Disadvantages:
feature matching profiles with games not working properly;
low ceiling DPI;
not suitable for all game genres.
Conclusion: If you are looking for comfortable and not very expensive gaming mouse, Roccat Savu worth your attention.
Review of computer mouse Roccat Savu: medium size, medium quality
updated:
March 13, 2015
author: