NVIDIA GeForce GTX 960 vs. AMD Radeon R9 285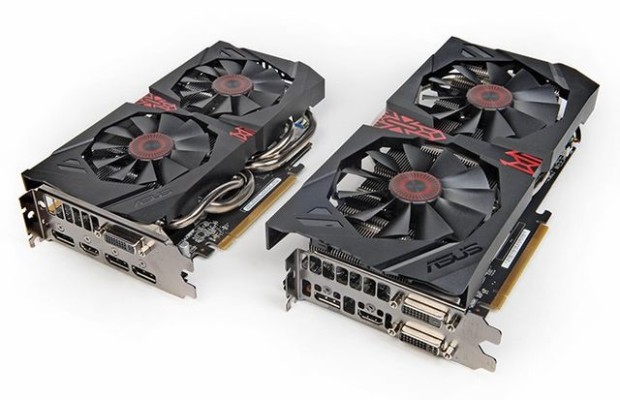 Mid-level graphics card always become objects of attention. Trying to get the best price / performance ratio, many users are willing to purchase scrutinize all the features and competitive advantages of new products, comparing them with the performance of alternatives offered for about the same money.Fortunately, in the heat of competition from AMD and NVIDIA, releasing another product, always leave the intrigue. This time we decided to evaluate the possibility classmates middleweight champion – GeForce GTX 960 and Radeon R9 285, which now offers retail for around $ 230-250.
GeForce GTX 960
The GeForce GTX 960 were represented by only one and a half months ago, but have already managed to get some popularity. The history of the emergence of this product is quite ordinary. This model replaces the GeForce GTX 760. In the course of the planned renovation lineup, NVIDIA has offered this solution, equipped with energy-efficient chip GM206 architecture Maxwell. We have enough detail acquainted with the possibilities of GeForce GTX 960. In general, the product was interesting, but not so clearly called user reaction at the most because of the high expectations. Many have become accustomed to with the release of the next generation of adapters of the middle class, they are way ahead of its predecessors and offers about the same price. But this time, NVIDIA has used a different approach to the development of new clothes. GeForce GTX 960 was only slightly more productive than GeForce GTX 760, but significantly more economical, with some functional innovations and the recommended price of $ 199 (alas, in the US market).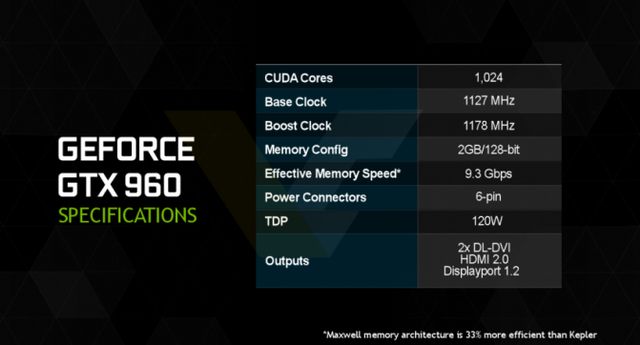 This approach is evaluated Developer's not all. Especially owners of previous generation graphics cards.It is unlikely that someone will change their GeForce GTX 760, and to upgrade the GeForce GTX 660 Ti is also a special reason not. The flames were fanned some quantitative indicators in the technical specifications GeForce GTX 960. First of all, it is, of course, the notorious 128-bit memory bus, which prompted jittery many numerologists who revere the Code of large numbers. Yes, the line with the word length does not look very convincing, but Maxwell architecture provides some improvement of the memory controller, as well as entirely new color compression algorithms that allow lower bandwidth costs.Even in the specification developer separately emphasizes that the Maxwell-third work effectively with memory than Kepler. Yes and local RAM chips operate at 7010 MHz. In this case it is obvious that the manufacturer has provided certain steps to compensate for a relatively small bandwidth, eventually performance is important, and not the method by which it is achieved.
Questions also caused directly the amount of local memory. In the normal version of GeForce GTX 960 is available with 2 GB high-speed GDDR5. In general, such a mode of 1920×1080 buffer capacity is often enough, but there are exceptions, and the number continues to grow. In the case of the GeForce GTX 960 this is easily remedied. Manufacturers have already begun to announce its modification adapters with twice the memory. However, video card with 4 GB will cost considerably more expensive. According to optimistic forecasts, will have to pay about $ 30. Given the fact that retail prices in Ukraine GeForce GTX 960 even on models with 2 GB recommended significantly higher, the opportunity to purchase a model with 4 GB can be taken only with cautious optimism. At the price, for example, $ 300 this purchase will lose the original appeal.
Forte GeForce GTX 960 is certainly improved profitability card. TDP adapter is only 120 watts, so for additional power connection manufacturers tend to use one 6-pin 12V
Radeon R9 285
Radeon R9 285 was introduced in the late summer of last year. It is through this adapter AMD intended to curb the onslaught gained popularity GeForce GTX 760. The emergence Radeon R9 285 suggested itself for quite a long time. Prior to her appearance, close segment of the middle class should have a video card Radeon R9 280 and Radeon R9 280X. Very successful development of the manufacturer, who, by and large, is a modernized version of the Radeon HD 7950/7970, submitted back in 2012. At that time it was top solutions, two years later with light modifications successfully moved into the middle price segment.However, in a good way "heavy" legacy of older models makes itself felt. Yet this is not the most economical device with a large and a graphics processor 384-bit memory bus, which is of course relevant to any event, complicates the arrangement without leaving the field of maneuver for the price, which is very desirable in the game in the middle class. In addition, these adapters are equipped with 3 GB of memory, which also does not allow to reduce the cost below a certain limit.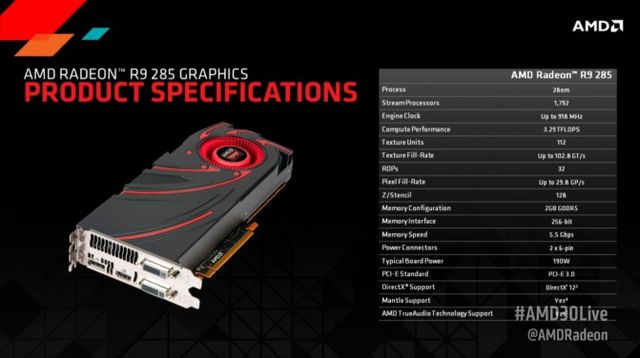 Already having at their disposal video Radeon R9 290 / 290X chip Hawaii, the development of a new middle-class solutions, AMD took advantage of previous devices and current generations. As a result Radeon R9 285 is based on 28-nanometer chip Tonga Pro, which in terms of quantitative characteristics is similar to that set for the Radeon R9 280 (calculators, texture units, rasterizers), but uses an updated architecture GCN 1.1, an improved mechanism for adjusting operating parameters PowerTune and an updated video decoder with the ability to transcode H.264 at a resolution of 4K (this is not even in the R9 290 / 290X). In addition, from the current champions, the model also got a built-in DSP-co-processor technology to support AMD TrueAudio, allows you to organize a CrossFire bridge, without the express and ready to connect the monitor with technology FreeSync, to get rid of artifacts synchronization. And, of course, will not go away support corporate API Mantle and DirectX 12.
Radeon R9 285 was a 256-bit bus. Yes, nostalgia for the 384-bit is present, but, in general, for its class such as the bit looks bad decision. Staffing video card equipped with 2 GB of memory GDDR5, operating at 5500 MHz. Initially it was assumed that the video card manufacturers will be able to equip their devices twice as much memory, but in practice before this is not reached. All proposed modifications of video cards on the market are equipped with 2 GB of local memory.
TDP graphics card is 190 watts, is only slightly less than the Radeon R9 280 (200 W). Significant progress is not achieved, especially when you consider that video card has less memory and a smaller bus width.
Overall, Radeon R9 285 was originally presented as a replacement for Radeon R9 280, but the latter are still in stock and the manufacturer is no indication that they will soon be sent to the well-deserved rest.
VS.
In the current configuration of graphics solutions from both manufacturers, GeForce GTX 960 and Radeon R9 285 are direct competitors. AMD is preparing a rival for the GeForce GTX 760, but in the present circumstances, when it is obvious that this model will replace the GeForce GTX 960, reviewer for Radeon R9 285 is just a novelty NVIDIA.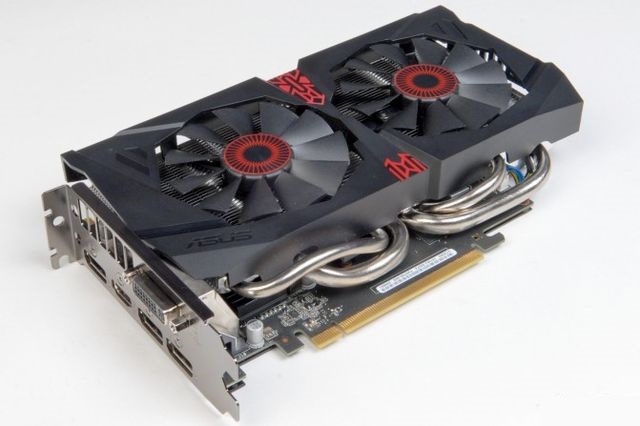 We decided to assess the possibility of Radon R9 285 and GeForce GTX 960 series adapters for example STRIX from ASUS. To a great extent we are interested in the correlation of forces directly between solutions from AMD and NVIDIA, while specific model – is a special case. However, the device used for the experiments are outstanding representatives of their rulers.
ASUS STRIX GTX 960 OC 2GB
Capabilities of the adapter as a whole, we are already well known, visitors can get acquainted with a detailed overview of this model . We note only that it is a modification of the original GeForce GTX 960, equipped with a cooler DirectCu II with automatic shutdown technology fans during the off-peak.
Working frequency formula chip and memory improved. Instead of the recommended 1126 MHz base frequency of 1253 MHz GPU (+ 11%). Memory runs at 7200 MHz, whereas the reference GTX 960 full-time value is 7010 MHz. The difference is only 2.7%, but this is a nice bonus, since most models of memory has no factory overclocking.
ASUS has a range of two versions of Radeon R9 285, both of which belong to the lineup STRIX. One of them is the recommended frequency chip / memory (918/5500 MHz), the second somewhat boosted – 954 MHz for the GPU. The frequency increase is small and fits in 3%, but that little has formally allows the manufacturer to use the index "OS" in the model designation.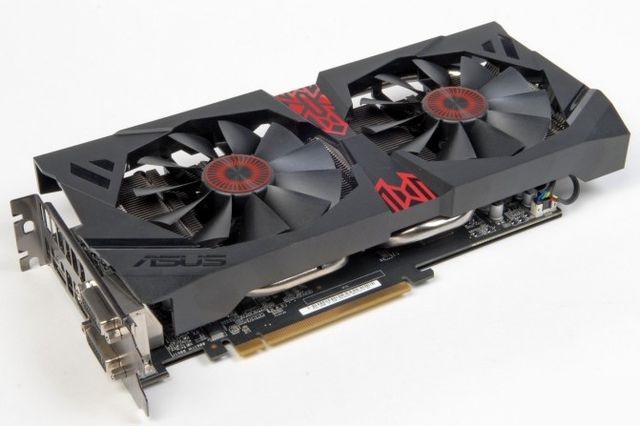 Resemblance to the model GeForce GTX 960 certainly seen, but this card is almost one and a half times the device with a chip from NVIDIA. The adapter has received a much more massive radiator block special modification DirectCu II. In this case, the three heat pipes are used, one of which has a diameter of 10 mm, a couple – 8mm. The design is blown two fans with a diameter of 100 mm. In general, the cooling system Radeon R9 285 significantly more efficient and cumbersome.
Accessory Series STRIX automatically means that the cooling system will work in passive mode as soon as the GPU temperature drops to a certain level. The fans really turned off, if the chip is not heated above about 60 degrees. It should be noted that the graphics card Radeon R9 285 cooler with this option – a pleasant exception. If most of the original models of GeForce GTX 960 already offer this possibility, the devices on a chip Tonga Pro is unusual.
In general, the algorithm of the cooling system ASUS STRIX R9 285 OC 2GB adjusted very tolerant towards lovers of silence. In an open stand at the peak of the graphics processor was heated to about 73 degrees load, and the spindle speed is increased to about 1350 rev / min. The rustling blades catch the already successful, but very reasonable.
Dual-slot graphics card has the layout and dimensions allow to place it in almost any case. For additional power connection has two 6-pin connectors with LED display system connecting power lines.
Complete with adapter only what is needed – a guide, CD with drivers and software, as well as a pair of Molex adapter with one 6-pin connector.
The length of the video – 270 mm. Dimensions are quite reasonable for a device of this class, but against 210 mm crumbs GTX 960, it looks monumental.
Performance
When comparing the performance graphics card is operating normally. However, given the fact that in both cases we are dealing with modified adapters were also carried out measurements of conditional reference GeForce GTX 960 and Radeon R9 285 c recommended frequency. This will allow us to assess the balance of power devices without additional pumping frequency.
In tests by Futuremark, the overall situation is predictable. 3DMark 11 is already age preference GTX 960, while more sophisticated 3DMark (just 3DMark) Radeon R9 285 has almost a 10% advantage in the reference and the minimum bypass adapter NVIDIA chip factory settings after ASUS.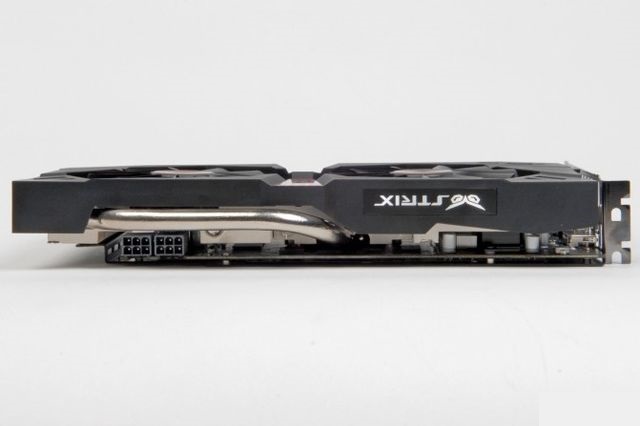 In both test applications from UNIGINE we see an identical picture. By reducing the frequency to the reference values, AMD graphics card with a chip has the advantage of 3-5%, which eliminates the graphics card manufacturer. Devices "out of the box" show identical performance. Interestingly, we do not see drawdown GeForce GTX 960 in the test Valley Benchmark, where great importance is the memory bandwidth. "Compensators» NVIDIA is triggered and the device with a 128-bit bus is not lost on the background of the adapter with 256-bit highway between memory and the GPU.
The situation in Sleeping Dogs, Metro: Last Light and Bioshock Infinite broadly similar: a minimal advantage (0,5-2,7%) Radeon R9 285 on recommended adapters for reference frequencies and equal performance or a slight advantage GTX 960 after adjusting the frequency manufacturer cards.
Total War: Rome II clearly favors adapter NVIDIA. + 10% in the base and almost 16% after adjusting the frequency – it is almost noticeable to the eye.
In GRID Autosport situation is similar, but less pronounced. GeForce GTX 960 has the advantage of 6-9%.
In Battlefield 4, albeit within the measurement error, but a little livelier behaves Radeon R9 285.
The advantage of the graphics card with AMD chip in the game Thief rather expected. 13% for the reference frequencies – a convincing lead over the competition. Due to a larger share of the index "OS" adapter on GM206 able to reduce the gap to 9%, but this stage is not exactly for the device NVIDIA. By the way, the activation API Mantle, available in the game Thief did not bring Radeon R9 285 special dividend. At least they did not manage to catch at the end of the built-in benchmark results.
Alien: Isolation – a vivid example of the fact that the scales can swing in different directions. There convincing advantage for GeForce GTX 960.
And if you overclock?
New GPU GM206 very willingly operates at higher frequencies. This is one of the reasons why the video card manufacturers do not adhere to the recommendations of almost NVIDIA, setting higher frequency thresholds for GPU. Recommended base speed of the chip is 1126 MHz, while the majority of the original GeForce GTX 960 models starting values for the GPU than 1200 MHz. For ASUS STRIX GTX 960 OC is 1253 MHz.
As practice shows, in self-acceleration base value GPU frequency can usually be increased to 1350-1400 MHz. In this case, if the video card has an efficient cooling system, this mechanism allows GPU Boost 2.0 dynamically overclock the CPU in addition to the 1500-1550 MHz band. Memory at 7010 MHz base usually works steadily at 7600-8000 MHz.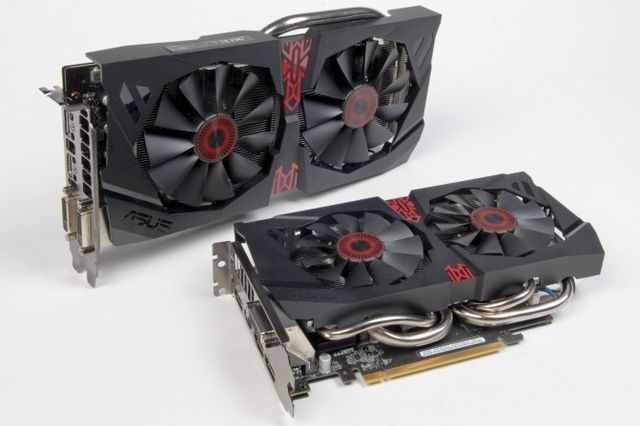 For the test specimen ASUS STRIX GTX 960 OC managed to get a final 1372/7700 MHz. Growth rate for the chip – 21.8%, for the memory – 9.8%.
For a more complex chip Tonga Pro available frequencies usual for GM206. Starting values are 918 MHz.In this case, we recall that in the case of decisions of AMD, it is not basic, and the maximum value that is running GPU when all of the specified conditions (temperature, voltage, consumption). Under load, it can be reduced in a certain range. For tuned versions of video card manufacturers are not very substantially increase the maximum frequency of the chip – up to 930-970 MHz, for a total of 2-6%. The rest is at the discretion of the owner of the adapter. Typical values, which can be achieved in the course of experiments – 1050-1100 MHz. As you can see, the actual frequency of Tonga Pro almost one and a half times lower than that of the GM206. Obviously, the performance on the megahertz him above, but there's every manufacturer uses its own methods – important end result. Memory Radeon R9 285 accelerates to 6000-6500 MHz, depending on the chip.
Available ASUS STRIX R9 285 OC went to the 1060/6100 MHz, ie, + 15.5% and + chip 10.9% for the memory. In this case, we are interested in rather than absolute values of the frequencies, which may differ not only in a single line, but also from an instance of the same model. It is curious the overall situation with overclocking and its impact on overall performance.
Additional test results after acceleration are shown in the general diagrams (bars above the dotted line).In general, even after afterburner both cards, the balance of power remains approximately at the same level. With few exceptions, perhaps, can be considered a Battlefield 4, in which the GeForce GTX 960 after overclocking failed to circumvent the minimum Radeon R9 285. If a starting point to take the performance of devices in the modes with the reference frequency, the manual afterburner can bring 10-15% performance increase. Performance Radeon R9 290 and GeForce GTX 970 by about 40-60% higher than that of the models considered, because it is important to understand that neither GeForce GTX 960 or Radeon R9 285 are not intended to go after the dissolution of a different class of devices.
We dare to 2560 × 1440?
Yes, the number of pixels is increased by 78% compared with that of the mode of 1920×1080, yes, the situation in which the installed 2 GB of memory will have enough storage will also happen more often, but that's no reason not to carry out the relevant measurements.
In tests on UNIGINE permanent alternation changed more resistant advantage Radeon R9 285, with reference to the frequency it is 7-10%.
Markedly increased the lead Radeon R9 285 and the game Sleeping Dogs. Slow performance during the transition to 2560 × 1440 performance has decreased very significantly, but the reaction is less significant than the case of the GeForce GTX 960.
With tunnels Metro: Last Light a little better job GeForce GTX 960, although Radeon R9 285 behind a little.
The balance of forces in Bioshock Infinite virtually unchanged – forces are roughly equal, except that the Radeon R9 285 all have managed to nominally to come forward, offering 1 frame / c more.
The situation with the Total War: Rome II after the transition to a higher resolution has not changed, the game is still in a more favorable light looks like a graphics card with chip NVIDIA.
The situation is similar in the game GRID Autosport.
Radeon R9 285 minimally improved its position in Battlefield 4, if we can talk about a situation where graphics cards deliver a little more than 30 frames / c. Without reducing the quality of the graphics in multiplayer mode on the large maps just can not do.
Opposite results give Thief and Alien: Isolation. Impunity snitch valuable little thing easier, armed with Radeon R9 285, while a little more comfortable feel in society "outsiders" are the owners of GeForce GTX 960.
The effects of the resolution of 2560 × 1440 generally predictable. Performance degradation is very significant, up to the loss of playability. Using this mode for systems with GeForce GTX 960 / Radeon R9 285 to the selection of games will need to approach very selective, well, or as an option – to abandon the modes with the highest quality graphics.
What expense?
The difference in the actual energy consumption of systems equipped with GeForce GTX 960 and Radeon R9 285 approximates difference values declared TDP cards.
TDP for GeForce GTX 960 – 120W for Radeon R9 285 – 190 watts. In practice, a game we got a delta load of 60-70 watts. After the dissolution of both devices has increased the difference. Adapter chip GM206 is much more economical. It is undoubted merit solutions NVIDIA. The opportunity to save on electricity is secondary. A lower level of power consumption allows the use of more compact shape and dimensions of both the adapter and cooling systems. Manufacturers are also more likely to be equipped with efficient video card cooler with fan is switched off in idle mode. Although, as we see, there are exceptions for the Radeon R9 285.
Results
Evaluating the results of both parties held "Versus" can be said that in front of us actually two similar devices. Yes, each of them has its own characteristics and functional nuances, but generalizing the findings, suggests just such a conclusion. And NVIDIA, and AMD is very skillfully use tactics hybrid price war, building up their line and setting the value of their adapters so that competitors offer a similar solution for about the same price. Both players have refused to apply so pleasant for users dumping maneuvers.As a result, GeForce GTX 960 and Radeon R9 285 now cost as much as the potential owners are willing to pay for them. This is quite useful solutions that can provide a comfortable level of performance in games with high quality graphics mode 1920 × 1080.
At higher resolutions up to 2560 × 1440, the balance of power both cards remains virtually unchanged.The assumption is that 960 GTX 128-bit bus in this case appreciably surrender its position is not confirmed. In this situation, the minimum superiority has Radeon R9 285, but on the whole, neither one nor the other graphics card without compromising picture quality is not possible to obtain a reasonable number of frames / c at a resolution of 2560 × 1440. Overclocking is not worth too much to hope. 10-15% – not the performance gain that will dramatically change the situation. Yes, in some cases, additional frames / c would be appropriate, but no more. For this mode you need a video card class above.
In general, we have a situation in which even under the influence of an emotional purchase of personal preference in the end would be justified. GeForce GTX 960 and Radeon R9 285 showed themselves worthy competitors, which allow admirers AMD and NVIDIA to break a lot of copies in a dispute about what kind of graphics card is better.
NVIDIA GeForce GTX 960 vs. AMD Radeon R9 285
updated:
March 13, 2015
author: