BBC give students a million microcomputers Micro Bit to raise interest in programming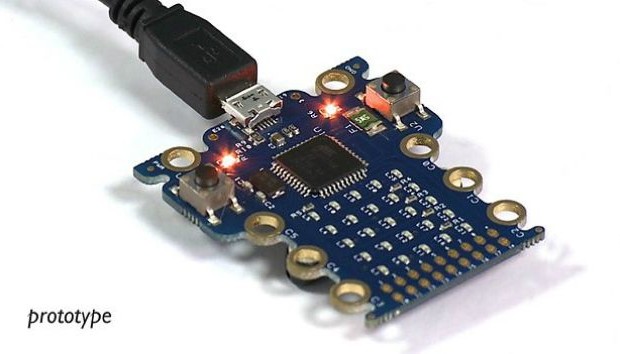 As you know, the beginning of the new academic year in the UK last year moved to a new curriculum that involves training children five years old the basics of coding. And now the famous British TV and Radio BBC expressed a desire to participate in the preparation of a new generation of outstanding programmers.
Media companies announced the development of a spiritual successor to the BBC Micro, one of the first home computers. New feature called Micro Bit and is designed to help students acquire the necessary knowledge in the field of programming. The project envisages the creation of Micro Bit small, stand-alone device with LED display, which children can carry from one place to another and connect to the computer to restart the job. Developed equipment will be some kind of hardware basis. According to the BBC, it is a "starting point" for the "more complex" devices like the Raspberry Pi or collectively funded on Kickstarter sets of Kano.
Currently, the development is in the prototype stage. However, BBC claims that it is ready to transfer a million new microcomputers for seven-year students this fall.
Project Micro Bit – it is only a small part of a new initiative BBC. Currently, media corporations create resources for training under their own brand names and Bitesize School Report, and organizes a number of activities to promote future programmers. The campaign «Make it Digital» company BBC, among other things, the initiative intends to attach to the increasing interest in programming in the country popular TV series and TV shows, including "Doctor Who", "EastEnders" and The One Show. It is also reported plans to launch on BBC Three new original programs, including reality TV show Girls can code («Girls can program"). In addition, the channel announced the launch of a new Serial drama, which will be devoted to the history of the Grand Theft Auto. The vast majority of the new content will be released at the beginning of the new school season.
To realize their ambitious plans into reality, BBC has joined forces with a number of technology companies and organizations, among which are Google, Microsoft, Samsung, Code Club British Computing Society and Tech City UK. Precisely during a thorough review of the value of the broadcasting license such an ambitious project is a timely reminder of the contribution of the BBC in the development of society and the country.
Source: Engadget
BBC give students a million microcomputers Micro Bit to raise interest in programming
updated:
March 13, 2015
author: