Review column Jarre AeroSkull XS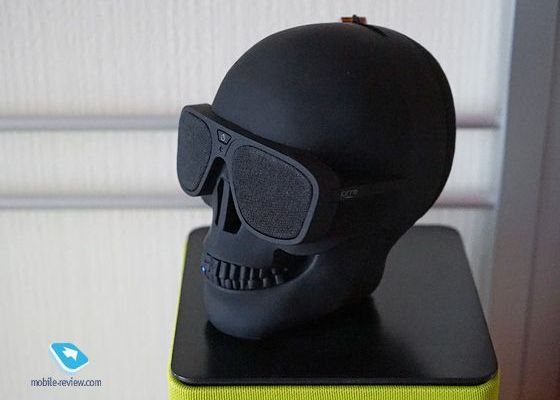 Design, construction
I think most readers would react negatively to this accessory. Like, you're serious? Column in the form of a skull? It would be better to work with sound! Well, and so on. But when there were still announcements Jarre AeroSkull, part of the audience reacted differently – who give money to-morrow this skull stood on my desk? Who and how much? Funny concept that existed only in the form of renderings, was embodied in the plastic and metal is not so long ago – and sales are good, especially in Europe. What is the secret? Here are several of them.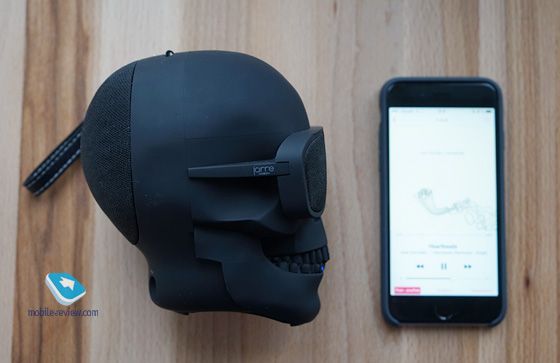 Firstly, to develop participated Jean-Michel Jarre – in fact, that's exactly it owns Jarre. In the Russian musician know, remember and love. Secondly, the company than the skull, there are some interesting products. This AeroBull, column as a bulldog, AeroSystem One, column-tube (excellent sound quality, it was possible to test), the system AeroTwist and other interesting things.
Here it is necessary to immediately make a reservation, it is not just design, sound quality is also excellent. Third, a great choice of colors. Skull is available in 11 versions, some of which are not matte, chrome, these speakers look great. I got to test the most boring option of black matte plastic. Finally, it is not just the column, it is also a wonderful gift of music lovers. And I would not give up such a skull on the table looks great, the sound quality is excellent, you can take on the road. In general, a godsend for jaded city dweller, when in search of the coolest pieces of people willing to pay for anything – just let it "anything" will be original, not like the others.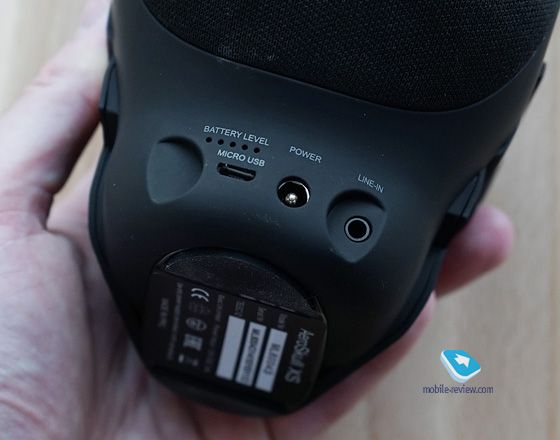 There are three types of skulls, large dock with devices with Lightning, the middle column is called AeroSkull XS, very little is said AeroSkull Nano. This article will talk about the column of medium size, in Russia is about 15 000 rubles. Colors can see in the photo, as said, chrome looks best. All ten colors.
On the back is a 3.5 mm jack, input for the power supply connector microUSB. On the glasses mesh, then hiding the speakers on two 4.5 W, behind – the subwoofer (9 W). On matte plastic prints is not particularly noticeable, but they are. Column is not filled up on one side, even if it is lightly push, not fall. At the top – notch strap, decided to show it in the photos, but in the life of this detail I do not particularly like the better off. On the bow points – power button on the teeth – volume buttons, LEDs are small. Comes with a special power supply, it is better not to lose in the short to find a "Euroset" will not work.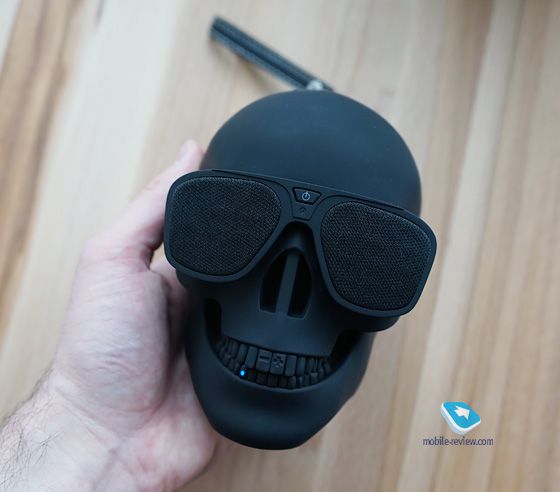 MicroUSB connector is used to update column, more can be found on the official website. Above the connector – a chain of indicators, they can be used to understand how much more column will run in standalone mode. On the case there is an area to work with NFC devices based on Android.
Again, a great assembly, look me too much. Past does not pass anybody, everybody wants to look at the skull closer to twist in his hands. And done, I note, not clumsy.
Features
In the body of the column has a noise-canceling microphone, you can use it to talk on the phone. The sound quality is quite good, can answer the call by using the power button. Supports Bluetooth 4.0 and profile aptX, smartphones Sony (for example) you can listen to the sound without compression – I note that capture the nuances will only professional.
Operation time
Claimed battery life of about 8 hours of battery life, in practice, a little less, but it's not bad. Special power supply, it is better not waste it.
Sound quality
Column playing very well, still two speakers and a subwoofer small – unlike ultraportable systems, AeroSkull XS can be used for more or less thoughtful listening to any new tracks, if you do not have another column. If you are going on holiday for a few weeks, the column will help you all the time do not deprive yourself of the pleasure to listen to good music – for example, I used to include anything right in the morning, and then I do not give up music all day long. For people such warehouse AeroSkull XS – a great option, speakers set up very well, with electronic music sound good, but also with other genres, too, is normal. Listening to jazz classics. Especially carp to nothing, the volume is higher than that Bose SoundLink Mini, and even the quality of the system are comparable.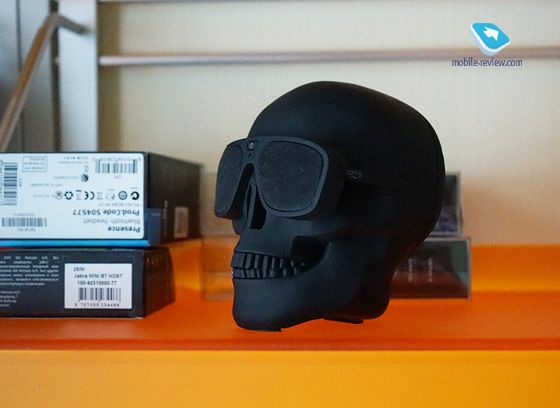 Conclusion
Now retail for this column are asked about 15 000, of course, ask in the first place, for the design. But you will not be disappointed, and other features of the gadget – a long running on battery power, good sound quality, there is NFC and microphone supported aptX. For many, the last moment for some reason is very important, although at the hearing notice its presence or absence may be one.
My task was simple – to acquaint you with the firm Jarre and show that in our time, you can come up with something special, something different. Let's see how these will be in Russia interesting accessories.
Review column Jarre AeroSkull XS
updated:
December 19, 2014
author: