Review Bitfenix Prodigy M Orange review by Foritain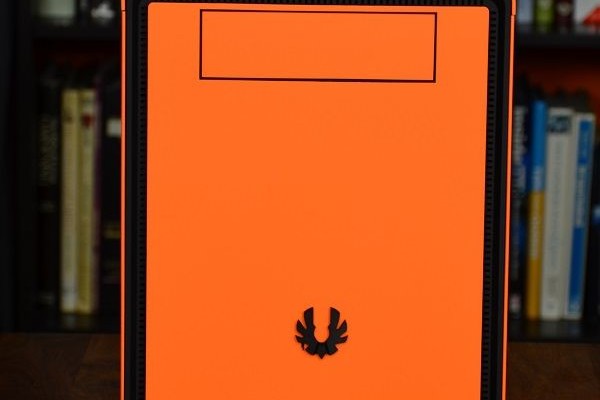 Loyal followers have in recent months a large number of 'cube' enclosures, or LAN party boxes, pass coming ranging from tight to hip to seriously 'over the top'. Today I'm going back to a model which surely has been the source of a currently popular enclosures category: The BitFenix ​​Prodigy.
The original Prodigy is now almost three years ago and was a mITX housing that came in black or white. At that time, the trendy layout, the large hand barrels at the top, and the youth-appealing design a clear piece of innovation on the market. A few months later when the Prodigy nevertheless proved a great success, or at least a popular housing at PC enthusiasts, the Prodigy was released in numerous colors. Following them came from BitFenix ​​Prodigy M to come. A Micro-ATX variant with an exactly equal exterior, but a completely different inside. As we have seen already did arrive this coming Prodigy M variant now again in many trendy colors: Pop-Green, Red-Pop, Pop-Blue, and the Dutch-Pride variant where I'm going to watch today: Pop-Orange. The correct term is, moreover, "Atomic Orange", which seems appropriate.
A new variant of an old friend so, and although the old flair Prodigy are not lost seems to be the rest of the world has not been idle and will have to prove this old confessed that he still can handle the competition in 2015.
The BitFenix ​​Prodigy M'll normally for about 70 euros in the house. In this review also optional windowed side panel discussed which a eurotje or 12 extra cost.
The Prodigy M is the Micro-ATX version of the Prodigy, where it can also operate mITX motherboard can. The exterior dimensions and are otherwise identical to the mITX further variant of the Prodigy, only the interior is different, something we also incidentally the Phenom and Colossus Mini already saw.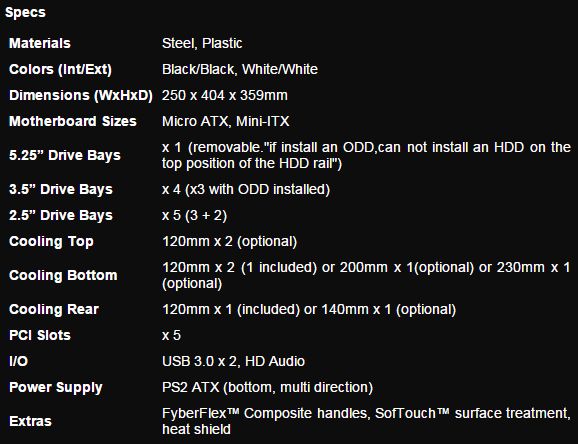 The Prodigy M is made of steel and plastic, the biggest parts like the front feature a soft touch coating.SoftTouch do we have often seen and not only looks neat, it is also reasonable fingerprint resistant.Hand drums are labeled "FyberFlex" with it, and must be strong enough to drag a full build to your LAN parties. Regarding connections we get two USB 3.0 ports in addition to the standard audio and mic jack.
Besides mITX or mATX motherboard you have room for one external 5.25 "device, 3.5" external bays missing. Internally you have space for two 2.5 "drives and three 3.5" or 2.5 "drives (four even if you place no optical drive or fan controller). Standard cooling comes in the form of two 120mm fans, which, if desired, yet kind can be expanded as you see in the list. Of course you can also use these spaces for water cooling.
BitFenix ​​products come in their now well-known packaging. Simple in appearance, but plenty tightly packed.
It is certainly not the first Prodigy that appears on the table, and although the basic model goes back a few years, it remains a beautiful and fashionable appearance. Even if you are not convinced of this color will have to admit that the soft touch plastics look neat, and it will not be difficult to understand that these cases do well as LAN party animals; it's just a cool thing to see. Personally, I think fit the combination of bright orange and black good, even if you decide for instance to place a black optical drive or fan controller (with orange display for example). Anyway, it's obvious really super-bright orange.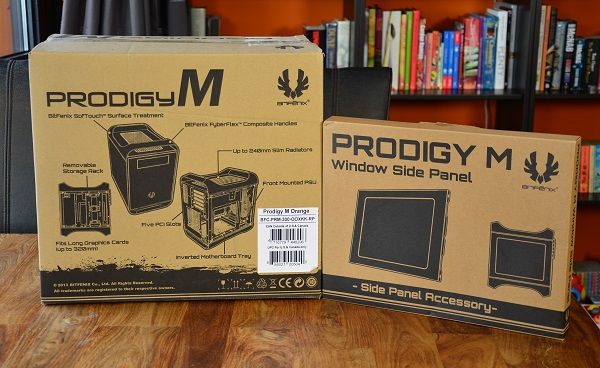 The side panels are in contrast to the front and upper part of steel, and it is known that it is very difficult to match the colors of steel and plastic parts to be perfectly matched let come. With two large daylight lamps on the housing can you also see some color, but under normal indoor conditions will have to watch you really there before you will fall. Front panel connections as we can expect quite neat, and also at the finish, I have no comments. The back is completely painted black.
When you remove the side panels of the cabinet immediately notice how heavy and sturdy they are.We saw also the Phenom and Colossus-Mini already, and later seemed to have very positive effects on the noise. It is in any case a very good impression. In the side panel to the front panel connectors we see inside two locations for 2.5 "drives. The grid at the top is easy to remove and show room for 2x 120mm fans or a 240mm radiator.
Inside, we initially see a large vertical bracket where we have two hard drives can screw in, it will soon come naturally not really useful when you install a windowed panel, so keep that in mind. On the other hand, we see that the motherboard comes, and a large opening for CPU cooler backplates.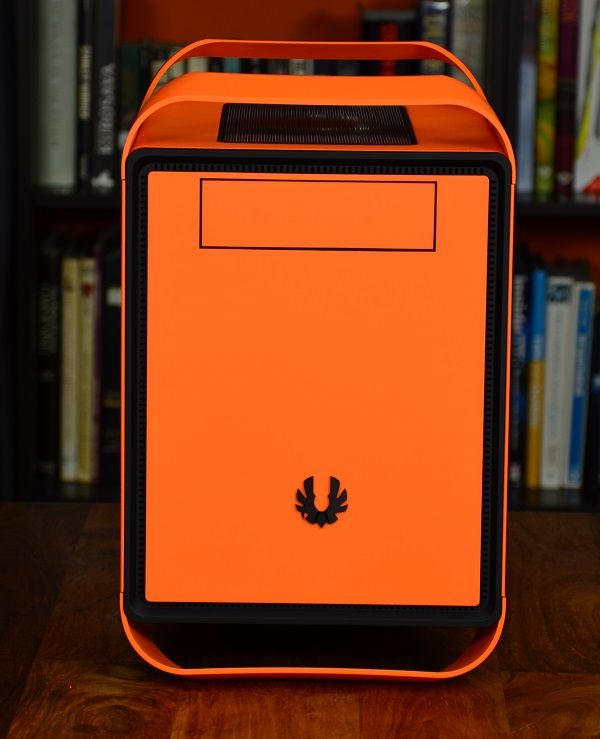 Back to the main compartment. Here we see that diet alone is to sit at the front, as well as a standard 120mm fan on the bottom. Although there is a large front grille is, something which has survived from the original mITX Prodigy had space for fans there, the food is here tightly against it and it is more convenient to let the fan of the supply air from the main compartment suck . All cables in the cabinet are conducted neat black.
At the back room for a 140mm fan, all you get is a standard 120mm fan, the appearance alone, they had a 140mm model may places. There are no molex adapters to the fans, though you get a USB 3.0> 2.0 verloopje if your motherboard does not have an internal USB 3.0 header which is a nice bonus.
So far, certainly a positive story. Let me put it directly say: now we have a little change, though the many comments only in certain situations. An example is the restriction of installation options if you choose seen you not want to use the side-bracket for a windowed panel. You then still space for two 2.5 "drives, but a 3.5" drive will have to put you on the bottom if you have an optical drive, fan controller, or 240mm radiator want to place.
Of course installing the motherboard will do fine simple, and if you airflow or a 120mm or 140mm AIO water cooling on the back is then that's fine too easy to install. We also see that fit quite long graphics cards just fine. If you want to go, however, for a 240mm AIO water cooling you have to consider the placement, so was this CoolerMaster Nepton 240M a bit awkward to place. If I wanted to connect the tubing to the back so do the letters "Cooler Master" were legible or not it fit with the graphics card as you can see in the first picture (or any dual-slot GPU). Turn rectified the 'can' fit, but words upside of course is not very tight. Also, the tubing is then towards the food, which in combination with longer graphics cards, power supplies more than approx 160mm sit in the way. So keep in mind there. To be honest I would simply recommend to go for a 120 or 140mm AIO, and use the top 'normal' for fans or if you want to necessarily a 240mm radiator, choose a model which also upside good looks or has tubing that are long enough to reach the bend to the other side of the housing.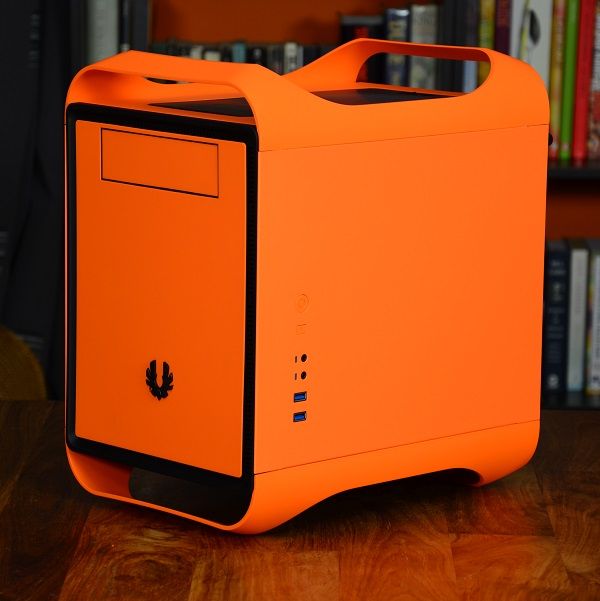 That long feedings and long GPU and a 240mm AIO did not go I noticed when I wanted to install a Cooler Master V-Series V850 (170mm) which the tubing of watercooling completely tight against the GPU to crowds. It also brought another issue emerges: The power connection is at the bottom with an extension cable, this cable but needs a little space, and the position of the connector on the V850 meant that he just was not connecting . I'm lying if I said that I do not just 'have been watching very angry. " It is an issue that only with specific models to emerge, but with three situational glitches in a row it is tiring.
Fortunately there was a guardian angel on the shelf: a V750. This was not only a bit shorter to correct the problem with the water cooling, was also the jack on the bottom reversed so I could easily connect the power supply. Look so here at the picture of the V850 and get a power supply with a different format (such as the V750 so).
So take care when choosing your diet because of the curve of the cable to the bottom. Classification as this V750 is fine, as the orientation of the V850 is possible if the connection a little further towards the center is located. In this photo you can see that that orientation with a little more distance from the edge goes fine.
Anyway, some frolic and a cup of tea later, I again calmly. The basic components in place it was time to do something about the cables. Despite the breadth of the housing that does offer plenty of space for CPU coolers there is really no room for real cable management, especially with a windowed side panel, which are also brings the front panel connections and 2.5 "drives alongside your diet, and just a window will of course you see a tight build. The only thing you can do is to let the cables run along the bottom and top, and then as much as possible to hide in the corner above your diet. Not ideal, but with a not-too-busy build there is some of it. Prepare you for to to really sit down for an hour in that case. (Semi-) modular power obviously helps a lot.
Anyway, let's Prodigy a little cozy dressing. Spectre LED fan there in an orange version (140mm rear of course, still looks better than 120mm) and an LED strip. A white strip has my preference, an orange strip in an orange housing is sometimes too much of a good thing. Again a little frolic with some cables and more time to run just a little between-testje what the result may come from tezien. If you windowed panel purchases do not forget the on / off button and reset button screw briefly and to run, so they do not hang upside down on the other side of the case. Something I only found out later that it is possible.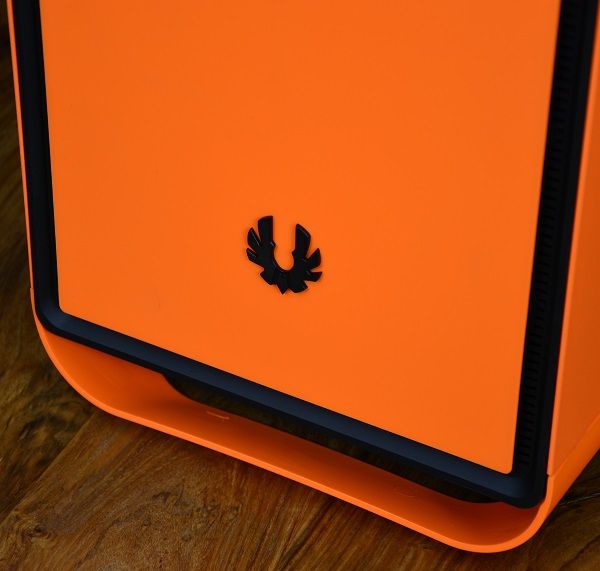 Although there is quite a bit to do is with a not-too-full build and a windowed panel is certainly no easy job, and you must think carefully beforehand about what components you choose. That these "problems" can all be fine prevent softens a bit, but you must remain awake when ordering. I continue to be charmed by the Micro-ATX format because of the improved cooling of the graphics card (in the mITX version is the GPU practically against the side), but what cable management concerns, especially if you really substantial hardware, installation is just very mediocre ( polite terms). I suspect that I myself also would mainly closed builds where it perfectly easy to keep cables out of the airflow.Of course you can have some fun with LEDs, such as an orange LED strip on its underside, and the orange LED fan at the rear it also shines some light back.
Water Cooling options have already been discussed, and the space for air cooler is so large that you can spend in each model. Given the layout corresponds to the Phenom and the Colossus-Mini are the results of previous builds based on these housings also useful. That experience has shown that a single high-end GPU fine feet can with the standard setup of two fans, and additional cooling is mainly placed for looks (eg in combination with LEDs). With very heavy graphics cards you can put some extra fans on the top which then directly blow against the cards, but more than that is not normally required.
What noise do respect the BitFenix ​​cubes the traditional good, and the Prodigy M is no exception.Damped suspension of 3.5 "HDDs, very thick panels and a closed front do wonders for the noise, especially with (relatively) quiet hardware is easy to build an inaudible. In that case you have the stock fans will be at a lower (7V is more than fine) voltage will turn, but even at the full standard 12V have been a pretty quiet housing owned. Practically speaking, a strong asset of the Prodigy and his brothers.
The Prodigy M you normally costs a eurotje or 70, roughly as much as the mITX version, roughly as much as the Phenom, a few dollars cheaper than the Colossus Micro-ATX (Where then LED strips come in). The Xigmatek Aquila I recently reviewde also comes at about the same price and offers about the same, and the slightly larger Raijintek Aeneas cost a tenner more but gives as LED strips, dust filters, and four fans in return. The Aerocool DS Cube is slightly more expensive and offers roughly the same, the Fractal Node 304 also costs about the same and also offers some similar features. It does not seem to avoid each other so much.
My personal preference leans towards the Phenom due to the slightly slimmer look, but in fact that BitFenix ​​three models are very similar and matched. The price is reasonable in line with the competition, and given you something remarkable as this still considering at first because your taste is to be overlooked are minimal price. The sturdy steel and SoftTouch materials also certainly give you the feeling that you are talking about a 60-80 euro housing, so there are few real comments on the pricing BitFenix.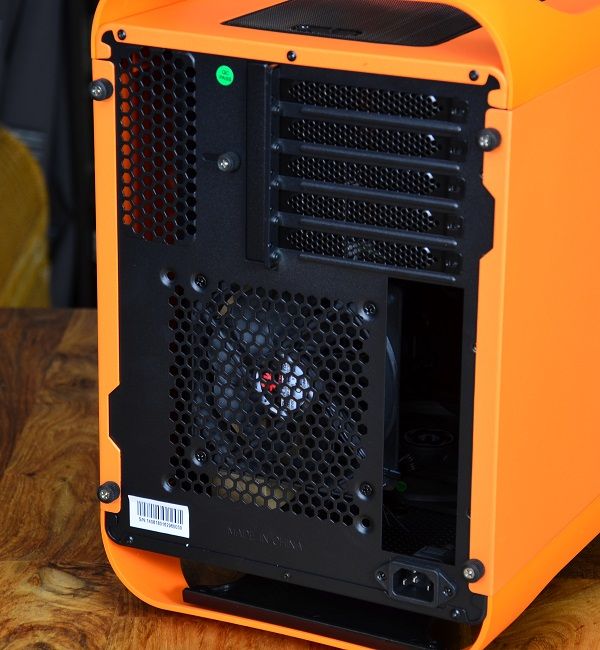 Really cheaper compact enclosures are there, like the SilverStone Sugo SG13 or the Cooler Master Elite 110/130, but we'll talk about what simpler compact enclosures. The more immediate competition comes right out enclosures that add just a little extra for roughly the same price as a fan controller (some Aerocool cases), dust filters, LED features, or additional fans, but well, you have to taste whatsoever. BitFenix ​​also of course be one of the few manufacturers really have much choice in terms of colors, accessories to dress your body more to your liking, and that should surely a small price difference entail.
In many ways, the BitFenix ​​Prodigy M can it still excellent, and that will probably also played a role in releasing a variant. The design is not suitable for less in 2015 than it was in 2012, and adding multiple color options will surely also certainly appeal. It should also be said: The design of the Prodigy can be also lend themselves to such trendy colors.
Reusing the Prodigy M / Phenom-M interior also brings the old hiccups with it again. So lacking dust still and cable management in the mATX version just moderate; you have to speak a meter space for air cooler, but few millimeters behind the motherboard tray. There is something out of it, and with a closed version, there is also great space in the vicinity of the power supply to keep the cables still the airflow, but it makes a windowed Prodigy M is a tough challenge when you build a lot want to fill. As you under 'build' could read you should also take into account a number of factors in choosing your components, make it so here for your possible purchase. It's all about seeing or prevent, but crucial!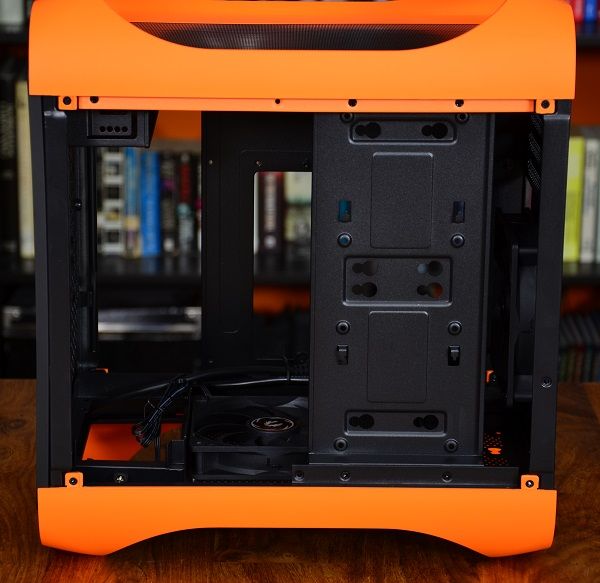 Although I gladly wanted to be convinced of the windowed side panel, I am left to my regret, with the idea that the Prodigy M just in the standard closed version better, more practical and much easier to build is implemented. Although the planning and too dose of time and patience to all be doing it is also safe to say that some 'thought inside "some competitors as the iconic Prodigy surely have caught up, and if you're not bound design I can me imagine that (when a window is desired) the competitors are more appealing. With Pandora showed BitFenix ​​already shown that they are able to also beautiful andpractical inner work can put down, so although the additional colors of the Prodigy M a nice latest addition are it is now in my time that interior really behind us to leave.
The end result made the remarks during the build fortunately again mostly good. Heavy panels, nice black interior, enough space for a solid game system with optional water cooling, space for large graphics cards and even SLI or CF setups, a format that your system and especially your graphics card makes good cooling and a very, very good damping and naturally quiet operation. Let's not forget: with a little planning and love sees the whole there mi very cool looking, and the housing per se remains just a nice appearance with his big hand barrels and black elements. Both with a test-build with window, water cooled, and some extra LEDs as a closed build only supplemented with some relief at the bottom may be sure essence, so as you can see, you'll take a little bit of attention the BitFenix ​​Prodigy M to something some nice strikes at a LAN party, or just at home is tough on the table.
Review Bitfenix Prodigy M Orange review by Foritain
updated:
February 23, 2015
author: