Shuttle DS57U: the first fanless PC company on the basis Broadwell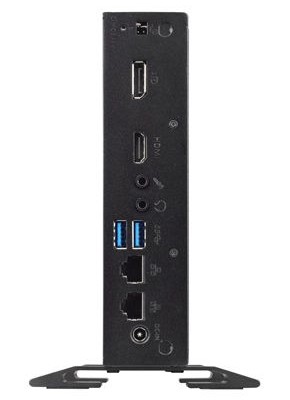 Shuttle announces the availability of European DS57U, successor models DS47 and DS437. It is part of the category of barebones systems from "1 liter", characterized by an extremely compact and almost everything needed for the proper functioning of the machine. DS57U includes in fact the case, the logic board, the cooling system – fanless – and also a unit for external power.
At the base of all operations computational find an Intel Celeron 3205U dual-core 1.5GHz, with architecture Broadwell to 14-nm. With a TDP of 15W, the new CPU performs better than their predecessors, while maintaining low power consumption of the entire system. Shuttle DS57U is completely fanless and active parts for heat dissipation, an element that brings several advantages.
In addition to an operating noise limited to a minimum, a passive heat dissipation system can reduce the need for routine maintenance over time, as the powder is not sucked directly into the space content from the chassis. Inside the small steel box you can install a hard drive or SSD 2.5 "and two banquets RAM SO-DIMM (for up to 16GB), not included in the original equipment, while the PCI-Express slot is occupied a WLAN card.
The size is another of the strong points of the system: often only 3,95cm, DS57U is 16,5cm high and 20 deep when placed in a vertical position. Two Gigabit Ethernet, two USB 3.0, one DisplayPort, one HDMI and audio connectors. Behind there is also a connector for the ignition on remotely if placed in areas not too easy to reach. The front panel also has a memory card reader, four USB 2.0 ports and two RS-232.
Shuttle Barebone DS57U is proposed at the price of € 192, excluding taxes, and is available in Europe from specialist retailers.
Shuttle DS57U: the first fanless PC company on the basis Broadwell
updated:
February 23, 2015
author: