Project Amplicity: rent a compact PC with the ability to upgrade
Under the name Amplicity was the work of the organizers startup The Hive, whose task was to find the most relevant and popular trends in the world of computer technology for the subsequent extraction of profit. According to the team of specialists The Hive, today these criteria gets the so-called "modular" units, these mini-format, as well as a proposed set of pre-installed software and access to certain services.
Thus was born the idea to market model Amplicity, which is a pocket-sized nettop modular system. When you install it in the docking station turns the unit has a full-fledged computer, but the main "trick" of the project lies elsewhere. The basic version Amplicity will not be sold, and offers potential customers to rent for six months for only $ 99, then the user can or not to participate in the program and return the device or give it to upgrade and become the temporary owner of a more powerful model. The cost of the modification is already incorporated in the initial specified amount and will not require additional financial costs.
The essence of the concept is to relieve the user from the need to acquire the personal use of expensive systems. Instead, experts The Hive offers affordable rent with the possibility of timely update the hardware component. In addition, the Amplicity «out of the box" will be installed Microsoft Windows, MS Office package and applications from Adobe. And to store information, except for a small amount of internal storage to be allocated 1 TB of cloud storage.
With regard to the technical characteristics, the bright orange body Amplicity posted in yourself:
quad-core processor Intel Atom (likely – 64-bit chips Z3745 or Z3795);
2 (according to other sources – 4) GB of RAM;
SSD capacity 128 GB;
built-in Wi-Fi modules and Bluetooth;
basic set of connectors – HDMI and USB.
And the one who does not wish to participate in the scheme with the lease, and is usually considered the purchase of a mini-PC Amplicity, manufacturer is ready to offer a version in black case. New on the basis of Broadwell-chip Intel Core M with unknown parameters remaining one-time cost $ 300- $ 400.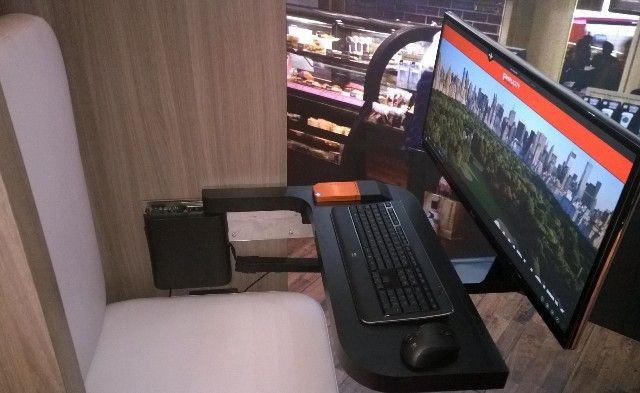 With regard to the above the dock, it serves as an important, though optional accessory simply gigantic proportions. The most advanced of them let you connect through PCI Expres Amplicity extend its functionality by adding discrete graphics. Simpler dock will provide the user set of various interfaces for the connection of external devices.
Available Amplicity first batch should be in the spring of this year.
Project Amplicity: rent a compact PC with the ability to upgrade
updated:
January 14, 2015
author: