New data transmission system using light: 100 Gbit / s and above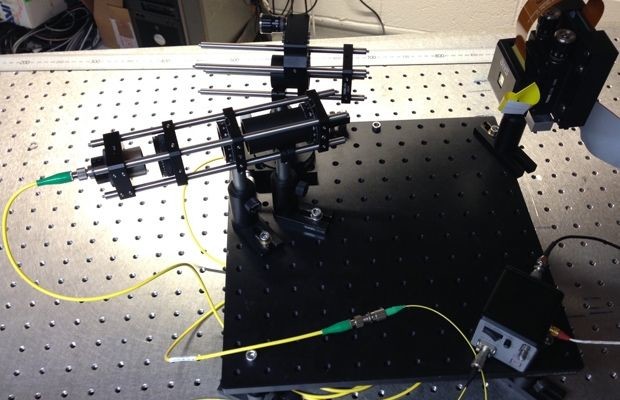 Researchers from the University of Oxford (United Kingdom) are developing a new data transmission system using light, which will provide a theoretical bandwidth of several terabits per second.
The idea is to transmit information from the fiber optic cable to a receiver and back through an open air space inside. It will require a special transmitter, amplifies the signal, as well as client receivers that convert the vibrations of light waves into electrical impulses.
The main difficulty lies in the fact that the sender and receiver must be provided in line of sight. To do this, the researchers suggest placing the transmitter on the ceiling. In the current implementation, the receiver must be in strictly defined point, but in the future we plan to develop a special tracking system, which will not limit the freedom of movement of the computer device.
It is alleged that the system can provide bandwidth of 100 Gbit / s. In the future, the researchers say, and all will be possible to increase the speed up to 3 Tb / s or more. For comparison, a standard Wi-Fi 802.11ac provides speed of 7 Gbit / s. However, the new technology is not positioned as a replacement for Wi-Fi at least for the reason that the information can not be passed through obstacles such as walls.
We add that there is another transmission technology using light – Li-Fi. Its principle is reduced to a change in the parameters of the LED lamps with very high speed. This process is controlled by a special microchip that encodes the information thus. For registration of the light beams applied special photodetector that transforms light waves in the oscillation data.
New data transmission system using light: 100 Gbit / s and above
updated:
February 18, 2015
author: