New data on the performance of AMD Radeon R9 380X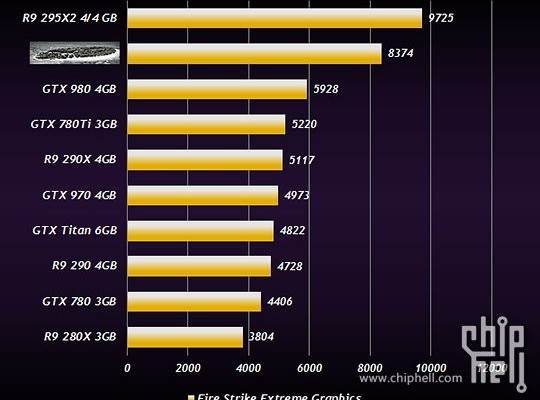 Chinese resource Chiphell newly published interesting data. If you believe the Chinese colleagues, we have data on the performance AMD Radeon R9 380X – AMD's future flagship of the new chip Fiji XT. The most interesting thing in the published charts that are present on the remaining high and not very solutions that are currently available on the market, starting with the Radeon R9 280X and ending monstrous Radeon R9 295 X2. Unfortunately, NVIDIA TITAN Z list is not represented.
On published charts Radeon R9 380X presented a picture of the island and not a direct title – this is logical, because this kind of data can be considered falls under a nondisclosure agreement. But we see that reach the level of dual-processor Radeon R9 295 X2 novelty still failed, although the gap between GeForce GTX 980 is impressive – 8374 vs. 5928 points. The result is very decent. The second chart shows us the relative performance in games where 100% passed the most common today, NVIDIA GeForce GTX 970.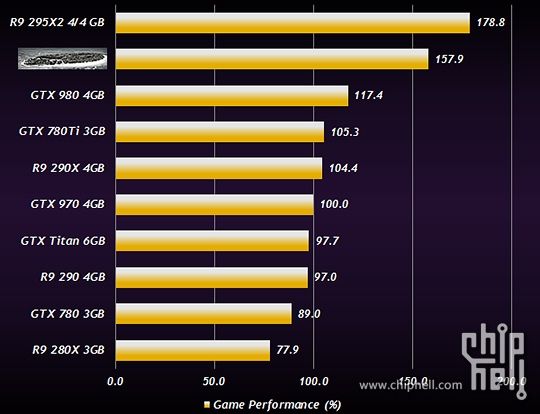 Problems in Radeon R9 380X is not just no, it is more than one and a half times faster than the standard and slightly inferior to a fire-breathing monster dual-processor-based Hawaii XT. Bet on new technologies, such as multi-layer high-speed video memory, made AMD, justifies itself, it remains only to wait for the new items on the shelves. Unfortunately, the terms do not cause much optimism and will have to wait at least a few months. With regard to energy, the Chiphell gives a figure of "up to 295 watts." Quite a lot, but, first of all, we know that the cooling system Radeon R9 380X will be a hybrid, and, secondly, energy efficiency is still essentially the same higher than that of solutions from AMD and NVIDIA previous generation.
New data on the performance of AMD Radeon R9 380X
updated:
February 5, 2015
author: