MWC 2015: New video encoders Imagination PowerVR Series 5 with support HEVC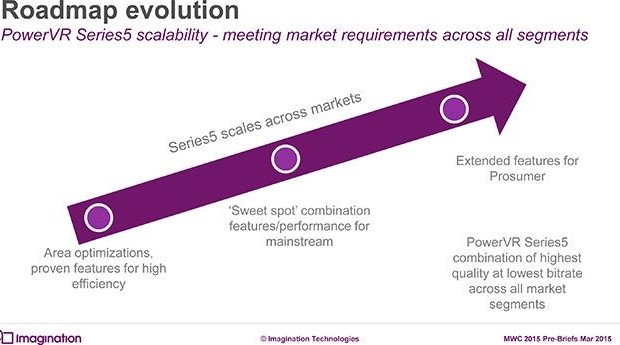 During a large-scale annual event MWC 2015 in Barcelona, the company introduced a new family Imagination mobile video encoders – PowerVR Series 5. With this series of products, the company is entering the market of hardware units encoding and decoding video in HEVC (H.265).
Basic design of video encoders is three: the flagship E5800, E5505, and the average elementary E5300. Configuration E5800 is designed for professional cameras and the most advanced consumer systems: Supported encoding format 4K at 60 frame / s, 10-bit color depth and color sub-sampling of 4: 2: 2 (studio quality).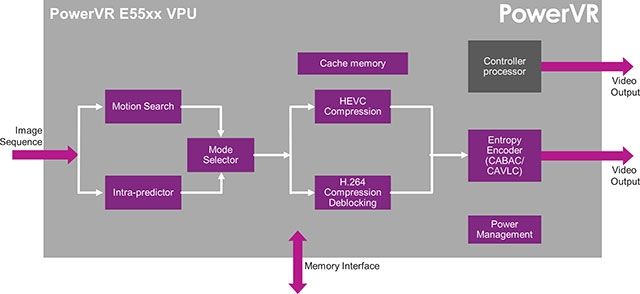 E5505 is designed for ordinary consumer mobile devices – it supports coding in 4K resolution at 30 frames / c. Finally, the video encoder entry level E5300 for security cameras, Internet of Things and other areas can record video in HEVC only at resolutions up to 1080p at 30 frames / sec. All solutions in addition to supporting H.265 and older standards like VP8 or MJPEG.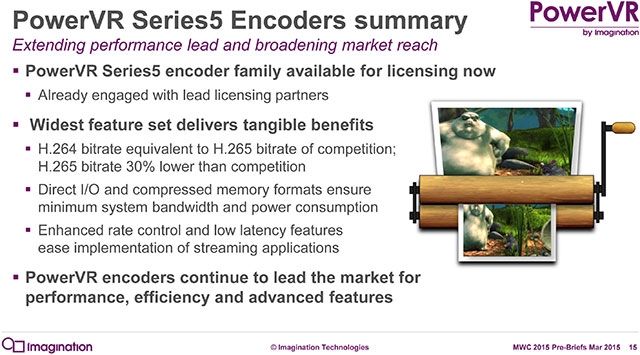 By using the new video blocks in conjunction with PowerVR GPU family is supported, for example, direct the use of compressed memory. Also, the assurances of the company, its products are superior to competitors' products. Estimated Imagination, its solution can offer comparable quality to competitive solutions with additional compression factor of 1.4. This is a very impressive figure.
One way or another, but PowerVR E5800, E5505 and E5300 are available for licensing to interested developers SoC.
Source: anandtech.com
MWC 2015: New video encoders Imagination PowerVR Series 5 with support HEVC
updated:
March 3, 2015
author: