Mobile version of the NVIDIA G-Sync does not require a special adapter

Last week was not too good for NVIDIA: first scandal with the volume and speed of the memory of the GeForce GTX 970, and now the news regarding the technology of adaptive synchronization NVIDIA G-Sync, more precisely, its mobile version. As it turned out, the mobile version of the G-Sync does not require the installation of a special laptop hardware controller, and then immediately raises the question: why its presence is required on the desktop? The very reason for using a controller previously not cheap due to the fact that modern technologies used in monitors, are not able to support this dynamic change of the frame rate on the fly.
The same argument is given as an argument against AMD FreeSync, technology, which is based on the standard DisplayPort 1.2a, which also features adaptive synchronization. And now we learn that NVIDIA G-Sync, it turns out, is able to work without the aforementioned controller? If he needs a monitor with the old interface, then why not abandon this controller if the monitor and so supports the current standard DisplayPort 1.2a? Its capacity should be more than enough to provide better image quality over time compared to the standard option VSync. Software implementation of the G-Sync was seen and been tested with foreign colleagues resource GameNab. While it does not work without a problem, but the notebook, which makes testing, defined as «G-Sync-compatible" and the difference in smoothness between the regime and the classic, definitely there.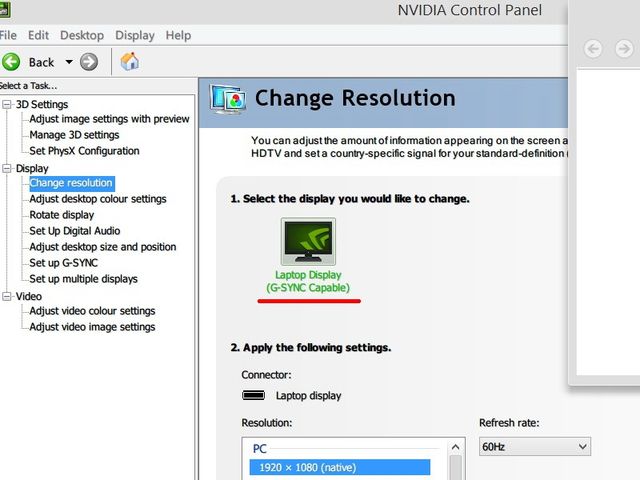 But analysis by specialists resource PC Perspective, showed that the software version of the G-Sync is still different in the hardware, so that the latter is still worth the money. But this immediately raises another question: how soon will appear in the network modified NVIDIA drivers for desktop systems that implement the same functionality of the software? The fact that they will, no doubt, the question is how well the technology will work. As such, the NVIDIA G-Sync suspiciously like AMD FreeSync, and perhaps because this is discussed in the previously encountered rumors that NVIDIA will support FreeSync. Official comments from NVIDIA has not yet been reported.
Mobile version of the NVIDIA G-Sync does not require a special adapter
updated:
February 1, 2015
author: