Medion Akoya S1500 D and Akoya S2000 D review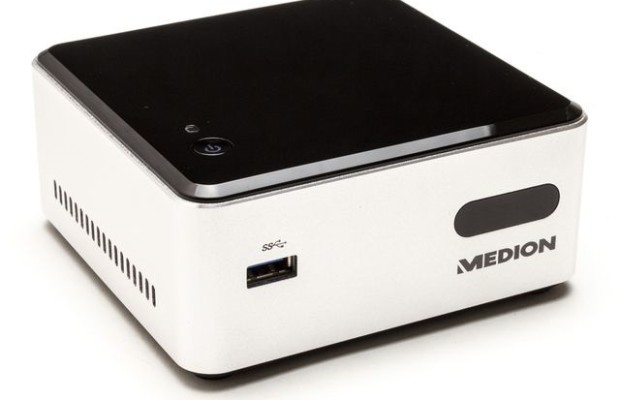 It does not take up much space and yet it is a computer with all the options. We are talking about mini-systems. Often they are sold as so-called barebones. A familiar example is the Intel NUC, which also Medion now as a complete system on the market. That is, you only need to connect a monitor, keyboard and mouse to get started. We have the Akoya S2000 D and Akoya  S1500D even better views.
For assembling a mini barebone you do not have studied higher computer science. A memory module, and a disk in the form of a mSATA SSD or a 2.5-inch disk are sufficient to create a working system, thereof. Just add an operating system and you're done. On the other hand, you have a complete system there just have meaning and time and sometimes it is also easy to recommend someone else around you need a computer.
The two models we see a verschilend price tag. The Medion Akoya S1500 D has an average price of 269 euros and has an onboard Intel Celeron N2830 dual-core processor and the Medion Akoya S2000 D has the "engine" Intel Core i5-4250U. Again, no higher computer skills are needed to determine that the Celeron a lot less powerful than the other variant that we see in this article.
NUC-base
The basis of the system is formed by the Intel Next Computing Unit or in other words NUC. These mini systems bring the processor giant for several years on the market as a barebone. The basis of the cheapest version of Medion S1500 D is the Intel DN2830FYKH. This variant has space for a 2.5 inch disk and thus is somewhat higher than the slimmest models from Intel: 5.3 cm. That's the same height as the 2000 D as a basis the D54250WYKH, with a height of 5.3 cm. Both are about 11 inches square. In the box you will also find a VESA mounting plate that you can attach it to a monitor or TV.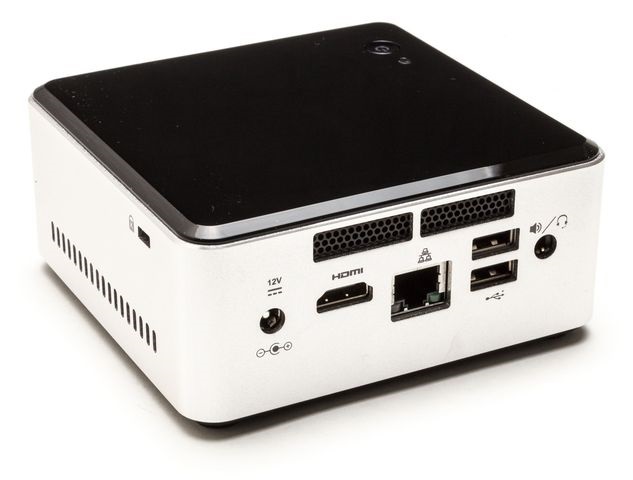 The format of the two is the same and it is noticeable that they have a lot of connections despite its size. The Celeron version has a front USB 3.0 port and infrared. On the back you'll find two standard USB ports, HDMI and Gigabit network interface.
The heavier variant has as many USB connections. But here it all USB 3.0 connections. The audio jack is at the back, like the IR. Gigabit Ethernet is also built here. This cabinet has two monitor connectors: Mini HDMI and Mini DisplayPort. Pity here to Mini HDMI is selected, because the connection is less common.
WiFi is also available in both models. The smallest variant has in this case an Intel Wireless AC-3160 on board. That is a single-band 802.11ac adapter, capable of up to 433 Mbit / s or 150 Mbit on 802.11ac over 802.11n. In the heavier model, we found no 802.11ac, but the 7260 Wireless N card also Intel. This offers 300 Mbit via both the 2.4 and 5 GHz band.
Processors, disks and memory
The Celeron is a N2830, a dual-core Bay Trail processor. Which is slow, very slow. That makes this a system where you do not really too much to expect. Especially suitable for very light work and not more than that. The Core i5-4250U is of a completely different category. This is a dual-core Haswell processor running at 1.3GHz and a turbo to 2.6GHz. These are made using the Intel HD Graphics 5000 that is built.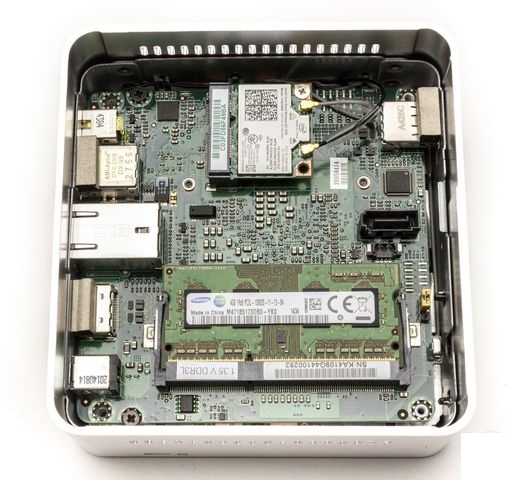 In both models, Samsung DDR3L-1600 memory installed with a capacity of 4GB. The Celeron version has room for one module. The Core i5 version you can have a second module lost. This is on the other side or A disadvantage, because it reduces the bandwidth of the Intel HD Graphics is not optimal.
Medion has selected these models for different types of storage. Celeron version has a 500GB SSHD large. Not a bad choice for a little system like this. A SSHD is much faster than a regular hard disk and offers a decent amount of disk space. Additionally, you can optionally install a mSATA SSD in the interior, because there is still space available for. The Core i5 version has a 120GB Intel SSD 520 on board, an older model, but satisfying course still in a device like this.
One of the advantages of a complete system if these minis, built by a manufacturer such as Medion, is that you also get directly in software. The Celeron variant find Windows 8.1 with Bing and the Core i5 installed Windows 8.1. In addition, some additional software provided, including a comprehensive package of CyberLink including a comprehensive package that includes CyberLink PowerDVD 12, PowerDirector PhotoDirector 12 and 12.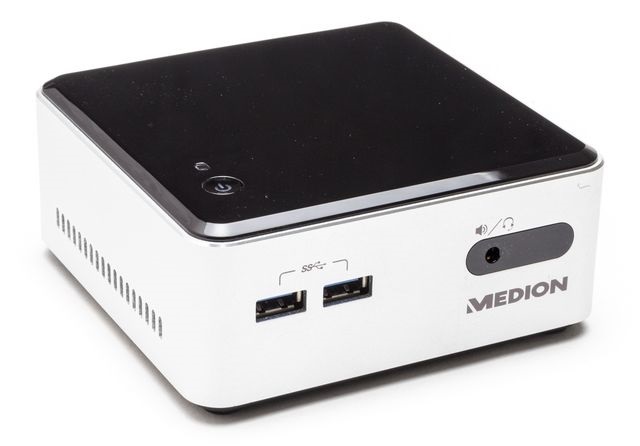 Test results (Cinebench R15)
We test generally more powerful systems. So the Core i5-4250U is if you look at this chart also no powerhouse. For mobile concepts is best smooth dual-core processor that is used in leaner Ultrabook-like computers. Celeron N2830 based on the dual-core BayTrail is as you see very slowly.
Test results (3DMark Fire Strike)
These are not, of course, gaming systems, in graphics performance Celeron version is not very fast. The Core i5 version is a bit disappointing. The Zotac Zbox Sphere is even faster while as specified slower Intel HD Graphics 4000 has on board. That has to do with the fact that this system has no dual-channel memory.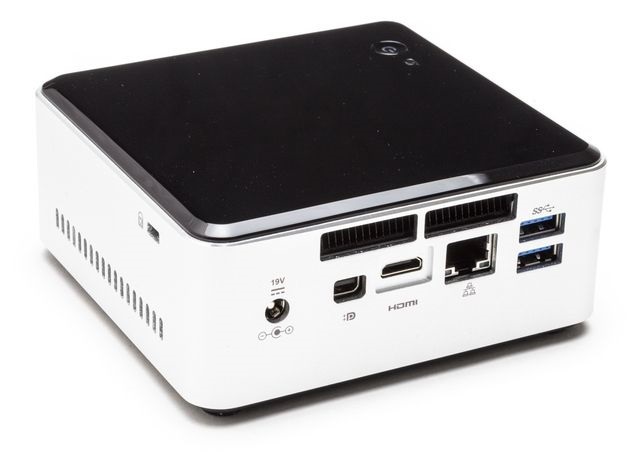 Conclusion
Looking for a mini system? Than an Intel NUC is a good option. For these two systems, and the Medion is that of course. The smallest has a dual-core Celeron processor and comes with 4GB of memory, a 500GB SSHD and Windows. The barebone has an average price of € 141.50. If you do a SSHD and a 4GB memory module by add up, you'll be working for a decent price a little system including Windows. For us this little system too slow for normal use.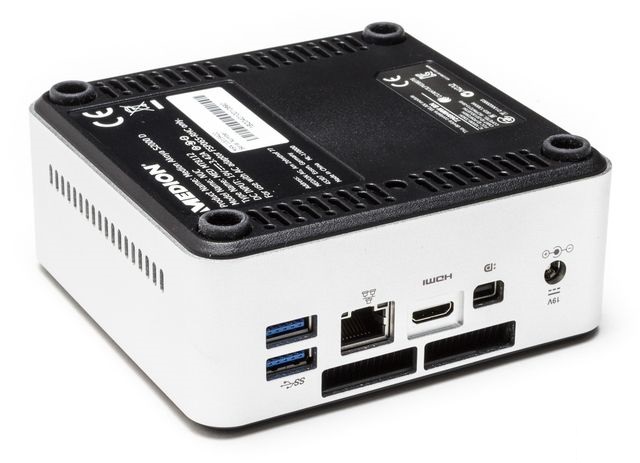 That does not apply to the Core i5 version. There is great to work with. It is not quite practical that a mini HDMI connector is inserted. But a dual-core Core i5 and a 120GB SSD is an excellent working environment. Well, it is unfortunate that the Intel HD Graphics 5000 can not beat its wings because of the lack of a second memory, but in practice there will not be extremely high marks to the use purposes for which this little system is likely to be used. The barebone version of these costs on average € 383. Medion requires an average of € 549. In other words, you pay € 166 for Windows, a 120GB SSD and 4GB of memory.
Medion Akoya S1500 D and Akoya S2000 D review
updated:
March 26, 2015
author: