Review motherboard ASUS RAMPAGE V EXTREME: extremism radicals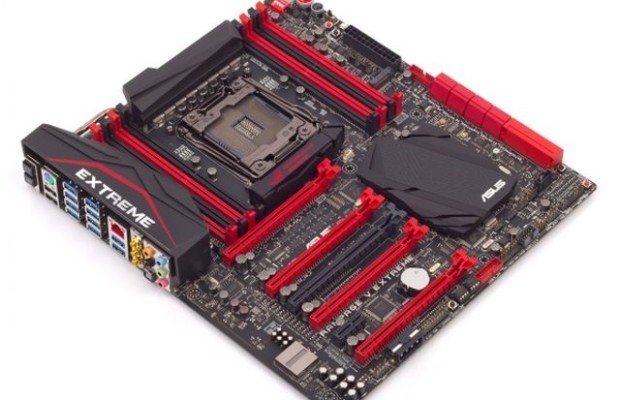 Any motherboard connector LGA2011-3 – serious product. With the four-memory and 40 lines PCI-E (up to 32 from the system CPU agent plus 8 from the chipset X99) can not be a simple design, and energy consumption up to 140 W makes the relevant requirements for the power supply system. In addition, the very status of a platform for high-end desktops and workstations requires to have good opportunities to expand and connect peripheral devices. But also in this category are unique designs – such as RAMPAGE V EXTREME.
We have previously tested another motherboard ASUS premium class – X99-DELUXE , which is not lacking in any functions. But a series of ROG, as always, to offer a little more.
RAMPAGE V EXTREME : Package
As befits a flagship product, RAMPAGE V EXTREME comes in bright big box. Cardboard door with Velcro covers plastic window through which you can admire the board in all its glory.
On the packaging in ASUS also not stingy. The set of accessories includes:
Paper instruction;
CD with software;
Door sign "Do Not Disturb";
cap for panel IO;
ten cables SATA (five – with L-shaped plugs and five – a flat);
rigid bridges SLI – for three or four video cards;
flexible CrossFire bridge to connect two video cards;
remote antenna for the integrated module Wi-Fi;
pads for connecting wires from the front of the PC;
removable backplate for the socket;
key under the "star" to replace the latter;
three wires thermocouples;
screws for mounting the board in the housing.
ASUS X99-DELUXE staffed not worse, and even has a fee-hub to connect case fans, as well as an adapter for mounting drives M.2 slot PCIe X4. But RAMPAGE V EXTREME have a special bonus, declares overclocker product lines – external control unit ASUS OC Panel, which pays inherited from its predecessor, RAMPAGE IV BLACK EDITION .
Expanding the display hinge can be locked in the module attached to the frame slot 5.25 inches and used to monitor the parameters of the CPU – the base frequency, the active factor and temperature, as well as the speed of the CPU fan. Management capabilities in this mode are limited: you can switch the fan speed profiles yes activate CPU Level Up (more about it in the section on software) – that's all.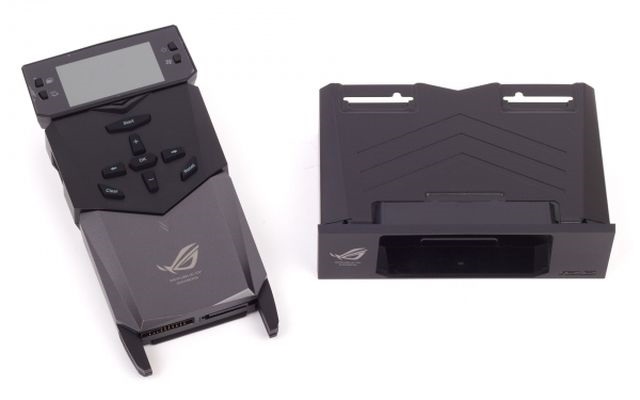 OC Panel housing is used as a convenient console for overclocking. On the case of the duplicated power button and reset the PC, and other controls and display allow on the fly to change the parameters of the system and monitor the voltages. The board under the protective cover hides a set of tools that were previously soldered to the motherboard itself: switches functions Slow Mode (used at the start of the CPU under liquid nitrogen) and Pause (stops all your PC with the ability to tweak the settings and continue from the same place). There are four connectors for additional fans and means overclocking graphics cards: contacts for volt modding (VGA Hotwire) and communications bus SMBus, as well as a platform for monitoring by an external voltage meter. OC Panel is connected to a special comb on the system board, and is powered by a standard cable to SATA-drives.
RAMPAGE V EXTREME  : Design
Aggressive style series ROG – a combination of black and red – distinguishes RAMPAGE V EXTREME by less extreme ASUS products for LGA2011-3. Locating components, the device cooling system – everything here has little to do with the cards ASUS X99-A and X99-DELUXE. In addition, the board is wider than relying on the standard ATX, – it is made to accommodate additional hardware managed switches and easily orient the connector M.2.
In contrast to the X99-DELUXE, on RAMPAGE V EXTREME cover that protects IO ports on the rear panel – not just a decorative element.This heat sink, which heat is transferred from the field effect transistors in the power system CPU. But PCH chipset X99 content monolithic passive heat spreader, which is quite acceptable when heat dissipation within 6.5 watts. Central radiator decorated glowing logo ROG, – utter sham. Under it there is nothing that needs to be cooled.
Placement of connectors for drives, power supply, USB pads and other peripherals typical motherboard recent years. Four red slot PCIe form factor X16, running on the system agent CPU, separated by equal intervals so that the system can be installed four video cards with dual-slot cooler, just to the computer case did not stop.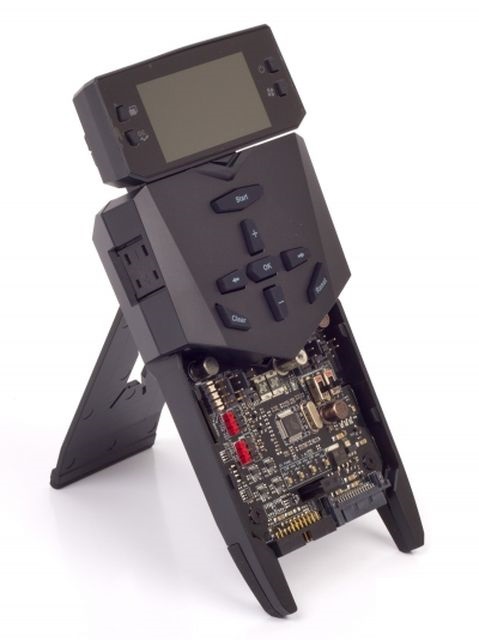 The back side of the board is reinforced with metal plates in three places: under the CPU socket, PCH chipset and heatsink on the transistor power system.
RAMPAGE V EXTREME : CPU, RAM, power supply system
ASUS uses a variation of the connector LGA2011-3 called OC Socket, which is due to additional contacts are not provided specification Intel, provides a more stable power to the CPU and monitor the additional system parameters – such as the voltage on the cache of the processor. In addition, the manufacturer promises a higher overclock as CPU, and memory thanks to a proprietary connector.
Standard frame connector with threaded for standard coolers for LGA2011 as necessary changes to spare, which leaves open holes in the PCB. This is useful for those who kept the quality cooler from the time LGA1366.
Eight DIMM slots with the already familiar one-way snaps are ready to take up to 64 GB unbuffered (without ECC) memory DDR4 SDRAM.Formal dress is guaranteed to work "brains" at frequencies up to 3300 MHz, although it is more dependent on the processor. UEFI allows you to set all 4 GHz with 100MHz BCLK frequency (operation of such a combination in doubt).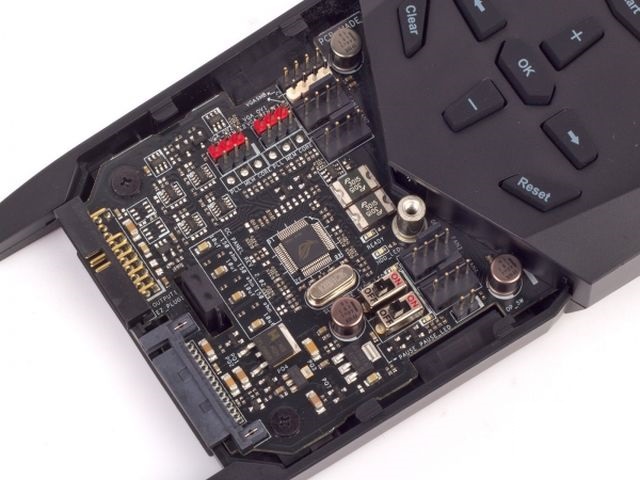 Processor Haswell-E requires only the input voltage, and a different rating for components CPU (core x86, cache, system agent) provides a built-voltage converter. Therefore, the individual phases for issuing VCCSA (stress on the system agent) are no longer required. RAMPAGE V EXTREME content configuration 8 + 2 + 2 phase (for the CPU and two memory banks, respectively), while the fee for the past RAMPAGE IV LGA2011 chips equipped with circuit 11 + 2 + 2.
To control the voltage used PWM controller branded Digi + ASP1257 and steam ASP1250.
Chokes are also not the same as on the boards easier, – MicroFine Alloy Chokes, alloy with improved characteristics.The power supply circuit of the CPU – that's what distinguishes RAMPAGE V EXTREME from her younger sisters Series X99. Instead of discrete components are used chips International Rectifier 3555M, combining driver and two MOSFETs in a single package. Face value of each chip current – 60 A similar components Pro X99-A and X99-DELUXE find this impossible, because the transistors in them re-marked.In IR 3555M also has a built-in current sensors, which contributes to more accurate measurement.
To cool the VRM during extreme overclocking CPU, uses a two-radiator technology DirectCU. Heat-connecting halves in contact with the transistor through thermal assemblies.
RAMPAGE V EXTREME: Expansion Slots
Haswell-E processors with the number of PCIe lanes as 28 and 40 are available in three configurations with video cards AMD or NVIDIA.Older CPU models have the advantage of X16 + X16 mode for two video cards or the four-assembly.
Bottom slot PCIe X8 shares bandwidth with the connector M.2. To use them together, you need a CPU with 40 lines PCIe, and PCIe slot in this case will have to be limited to four lines.
Black connectors PCIe – slot open slot X1 and X4 in the form factor X16 – derived from PCH chipset X99. Hub is not here, so both slots are divided four lanes PCIe 2.0 with one of the connectors SATA Express and ten rear port USB 3.0, hanging on a discrete controller. PCIe X4 slot has priority in sharing of lines: the installation device bus width X4 blocks all competing interfaces, and card X1 / X2 block port SATA Express.
Total fee is 12 ports SATA 6 Gb / s. 10 ports belong to two controller integrated into the chipset, 6 of them allow you to create RAID. Two chipset ports can be exchanged for one drive SATA Express. Another pair of connectors SATA 6Gb / s, compatible with SATA Express, provides a discrete controller ASMedia ASM106SE.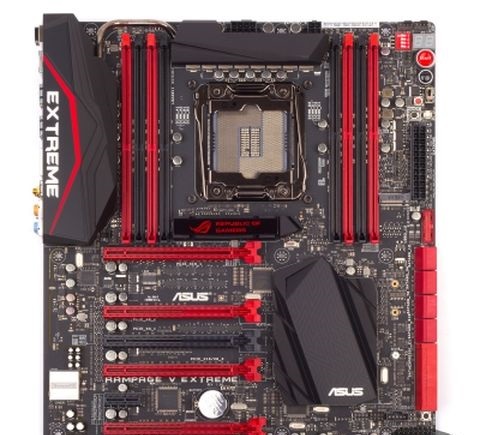 By four slot lines summed M.2 PCIe 3.0 directly from CPU, although drives that could use such a potential is simply not yet exist. Due to the non-standard width of motherboard SSD strap slot is oriented along a series of connectors SATA. Plenty of space for the longest devices stipulated by the standard – 110 mm.
Total fee is 20 ports USB 3.0. 10 – the chipset X99, but only 4 of them are derived directly (and all – through comb connectors for the front hull). The remaining 2 rear and 4 front ports are connected through a hub. 10 more USB 3.0 ports on the back panel into the two-port controller serviced Asmedia ASM1042AE.
The rear panel also found 2 legacy-port USB 2.0, and four more of the same output to comb. Controller-based NCT6791D by Nuvoton implemented a combined PS / 2 port.
RAMPAGE V EXTREME: Other built-in equipment
Work provides a Gigabit Ethernet network controller Intel I218V. In RJ-45 port embedded capacitors for EMI filtering and protection against lightning and static electricity.
Wireless card is made on the basis of the module Broadcom BCM94360HMB (badged AzureWave AW-CB160H) for Mini PCIe slot in a metal housing with connectors for external antennas.   Three spatial streams supported IEEE 802.11ac aggregate bandwidth with 1300 Mbit / s, as well as Bluetooth 4.0.
Plot board under the audio section is separated from the rest of the area in order to reduce interference. Separating strip is highlighted by a red LED. At the heart of the scheme is an eight-codec Realtek ALC1150 with an additional amplifier, which made the company a block of Japanese capacitors. The ROM ready profiles recorded sound processing – Sonic SoundStage, which can be switched button located directly on the motherboard (although the practical value of this is not too much).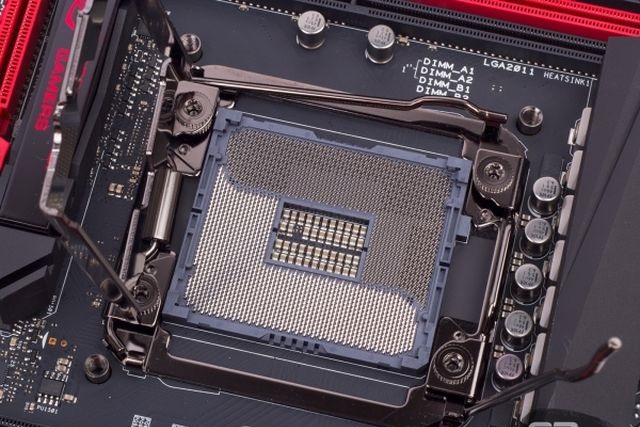 RAMPAGE V EXTREME: Configuration Tools and Diagnostics
In the upper right corner of the board grouped most of overclocking a snap. The power button and reset the PC, as well as an indicator of POST-codes are nothing new, but this is not limited to a set of tools. There is a switch Slow Mode, duplicated console OC Panel, switch mode LN Mode to disperse under liquid nitrogen, button MemOK! (Sets a safe default RAM in case of problems with loading) and Retry Button (de-energizes the system in the same manner as the toggle switch on the power supply).
In the process of downloading the PC activating the LEDs associated with the initialization of the individual components: CPU, RAM, GPU, the boot disk. Block of four toggle switches allows you to selectively disable individual slots PCIe, derived from the system agent. A series of pads allows a multimeter to measure the voltage.
Safe Boot button on the rear panel ensures safe loading settings UEFI, keeping the menu, all previously made changes. In addition to one of the USB ports, you can connect another PC to use it as a console for overclocking, but you can – keyboard to using proprietary tools to create various macros.
Chipset BIOS / UEFI, of course, two pieces. Not far from them is an additional power connector form factor Molex, which is useful during extreme overclocking.
And that's what the board RAMPAGE V EXTREME not (and on ASUS X99-DELUXE is), it's chips TPU, which are used for automatic selection of the limit overclocking CPU. If RAMPAGE V similar functionality is available at the program level – through the menu or program UEFI Dual Intelligent Processor 5.
Review motherboard ASUS RAMPAGE V EXTREME: extremism radicals
updated:
February 25, 2015
author: