MacBook Pro display with that stain irreparably: new petition against Apple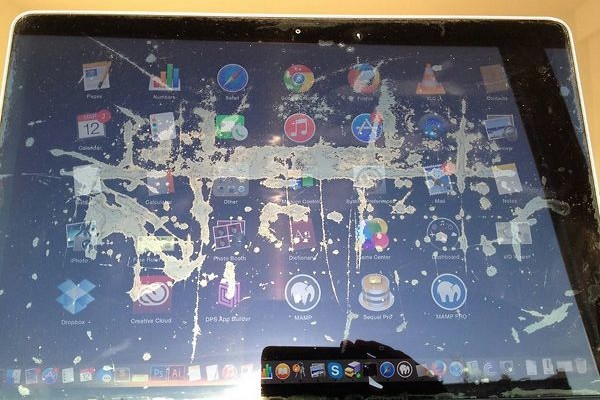 Some users of the MacBook Pro with Retina display would be looking for the solution of a problem now known as staingate. In essence, the holders of it's not cheap laptop of Apple would have noticed a few months from the purchase of substantial permanent stains on the lining anti-glare display. They were even prepared a special website and a petition on Change, which calls for Apple to respond in some way on the issue.
To be involved in the new case, the devices would be produced from mid-2012 to mid-2014, with the newer models that may, in fact, reveal the problems in a not too distant future. The coating that reduces the reproduction of reflection of the environment on the display will be scratched or be removed in some areas after about six or seven months of purchase, with the only apparent solution that seems to refer to the efficient but costly assistance Apple.
Apple's response was positive in some cases, with some users who are reported to be able to get free repairs in the first year of purchase, while others have received a resounding "no" from the Apple Genius, who specified that damage of this nature do not fall within the care service offered for free by the company. In these cases, the repair costs are in the hundreds of dollars, with some reports that also report figures of around 800 dollars.
The reasons for the rest can be varied: in some cases was the simple contact with the keyboard to cause the removal of part of the anti-reflection coating, while in others a particular vehemently by the holder during the cleaning phases of the display, or Also the use of chemicals not suitable for cleaning delicate panel. In any case, however, is a problem that should not show up on a portable device, especially if sold at considerably higher prices than the competition live.
Although this is a known phenomenon for over a year, only a few weeks has acquired a certain thickness, with the peak reached with the site staingate.org complaint, with the aim to spread as much as possible the problem and wait for a official response on the part of Apple. Plus it was also established a petition on Change.org, which requires the company free repair for all users who are experiencing the problem. To date, 438 supporters of the cause, with the goal of reaching a total of 1,000 signatures.
MacBook Pro display with that stain irreparably: new petition against Apple
updated:
March 21, 2015
author: