AMD officially announced FreeSync

Technology pacing AMD FreeSync fights with the same NVIDIA G-Sync for a long time, and we have already seen multiple monitors with its support, but only yesterday, Advanced Micro Devices announced officially this technology in the United States. In addition, published a number of prices for different monitors with support FreeSync. For example, BenQ XL2730Z with a resolution of 2560 × 1440 and a TN matrix with a refresh rate of 144 Hz will cost a potential buyer in the $ 630, which is considerably cheaper than the same ASUS ROG Swift PG278Q supporting G-Sync ($ 780).
Just a list of new models that will soon appear on the market, there is 11 items. I must say that in spite of its democracy, technology AMD FreeSync not available to all owners of AMD Radeon: it supports only six graphics cards and six models APU. The minimum requirement is the presence in the system graphics card Radeon R7 260 or processor A6-7400K. Radeon R9 280X technology does not support, but in the case of the Radeon R9 285 it works.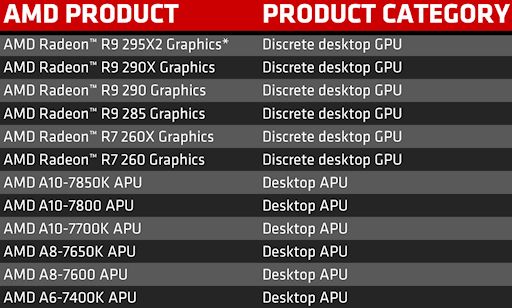 Well, of course, FreeSync works fine on current flagship card AMD – Radeon R9 290X and Radeon R9 295X2. However, in the latter case, the mode of CrossFireX still remains inaccessible, and it will support only in mid-April, when AMD will launch the appropriate driver. For single-processor solutions soon to be released driver Catalyst 15.3 beta, which will provide full support and FreeSync. Finally, at the NVIDIA G-Sync officially a worthy opponent.
Source: techreport.com
AMD officially announced FreeSync
updated:
March 21, 2015
author: