In Europe and Canada has risen Equipment Apple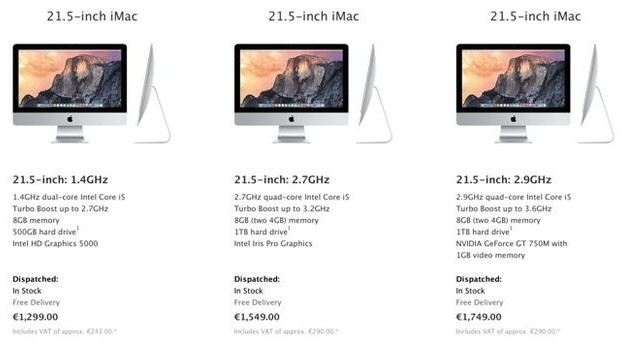 Apple products has risen in Europe and Canada. The reason for that – significantly strengthened against the US dollar is the local currency.
According to AppleInsider, France, Germany, Ireland, Italy and other countries of the European Union, the price of some Apple products have grown by as much as 600 euros ($ 669), and in Canada – 400 Canadian dollars ($ 327). Significantly risen workstation Mac Pro, and Mac Mini in the initial configuration is now available for 569 euros, 50 euros more expensive.
It is worth noting that in January, Apple has increased the minimum prices for software in the App Store to 1.19 Canadian dollars in Canada, to 0.79 pounds in the UK and 0.99 euros in EU countries.
By the way, in Russia due to a sharp drop in the ruble against the major currencies Apple adjusted the prices of their products upward twice – in late November and in December last year. Then, in April 2015, against the background of strengthening of the Russian currency the company lowered the price a bit.
In Europe and Canada has risen Equipment Apple
updated:
May 20, 2015
author: