Kinesis Freestyle2 Blue: Keyboard with instant switching between the three devices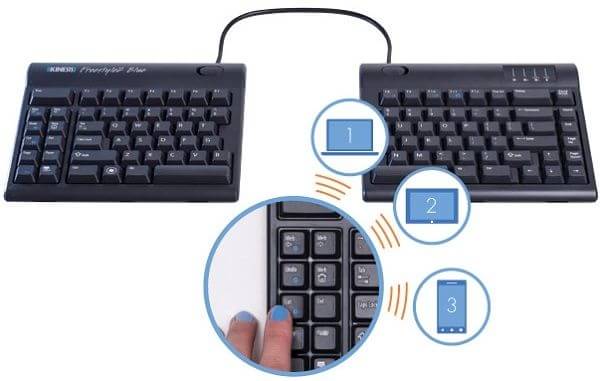 Kinesis Corporation Company added to its range of new keyboard Freestyle2 Blue. The version for PC and Macintosh. The main feature of novelty is the function Multichannel, which allows you to instantly switch between three Bluetooth-enabled devices.
Keyboard to improve ergonomics is divided into two parts. This product is aimed at business people who are used to carry multiple computing devices. It allows only a single keystroke to switch to a smartphone for a set of SMS, a tablet computer for reservation of rooms at the hotel and just as easy to go back to the main job of a laptop or desktop computer. Director of Sales and Marketing Kinesis John Biggs (Jon Biggs) notes that the number of employees, often switching between devices is constantly growing.

Among the technical features of the new products stand out support for Bluetooth 3.0, capacious battery, capable of providing six months of battery life with the active typing for 2 hours a day, hot and multimedia keys. To increase the convenient use of optional accessories are also available.
Kinesis Freestyle2 Blue: Keyboard with instant switching between the three devices
updated:
February 12, 2015
author: