Intel's ISSCC'15: about 14-nm chips and prospects 7-nm process technology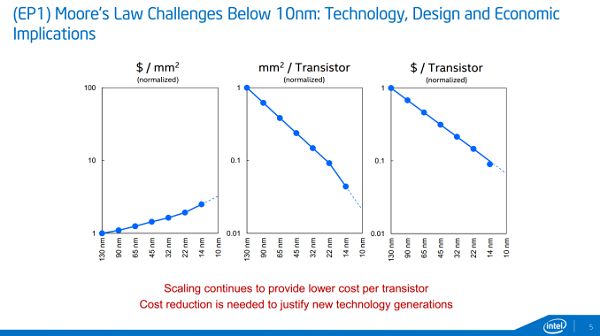 During the annual conference of the International Solid-State Circuits Conference (ISSCC 2015), which is being held in San Francisco, Intel will talk about their achievements in the development of new technological processes. In particular, it will introduce the world's smallest chip SRAM, and shared his plans for the transition to 10- and 7-nm design rules.
In one of the reports, Intel plans to talk about SRAM-chip with an area of ​​0.05 mm2 cell, which has a density of 14.5 Mbps data / mm2. At a supply voltage of only 0.6 In this memory using 14-nm process technology, operates at speeds up to 1.5 GHz (Intel talks about the possibility to increase the frequency up to 3 GHz). Memory capacity is 84 Mbps (10.5 MB), but it can be scaled up to 100 Mbps or higher. This SRAM-chip Intel will actively use in their future SoC-solutions, particularly in modems for smartphones, as well as a variety of embedded devices.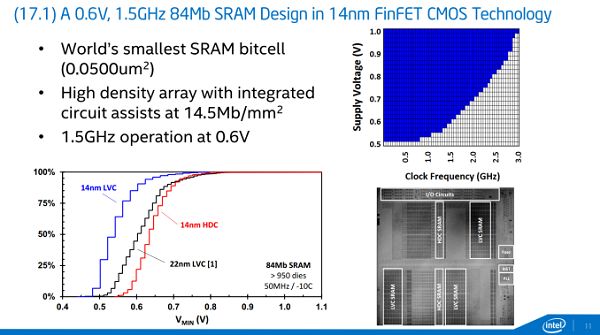 In addition, the company will introduce 14-nm trёhzatvorny SerDes-transmitter (serializer-deserializer), which is capable of transmitting signals at speeds up to 40 Gb / s NRZ modulation using or PAM-4. When the chip area of ​​only 0.03 mm2 this transmitter is the smallest in the world, capable of transmitting data at speeds of more than 25 Gbit / s. Another achievement Intel – 14-nm serial communication controller with PCI Express bandwidth of 10 Gbit / s. It consumes only 59 mW and has an area of ​​0.065 mm2.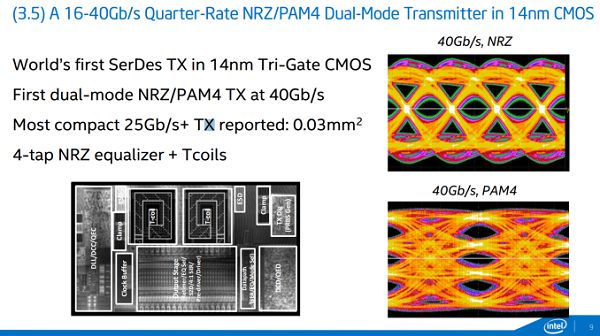 Separately will be organized a round table between the major industry players such as Intel, Qualcomm and others. During the event, Intel will talk about the technological and economic challenges associated with the transition to 10- and 7-nm process technology. The company says that during the development of 10-nm process technology it will shorten the time-to market by 50% compared to 14 nm, which has undergone many delays. In this case, Intel hopes that it will be able to do without the use of EUV-lithography. But the transition to the 7-nm rules already require new materials and technologies, the details of which the company does not disclose.
Intel's ISSCC'15: about 14-nm chips and prospects 7-nm process technology
updated:
February 24, 2015
author: