Intel publishes new plans to release Skylake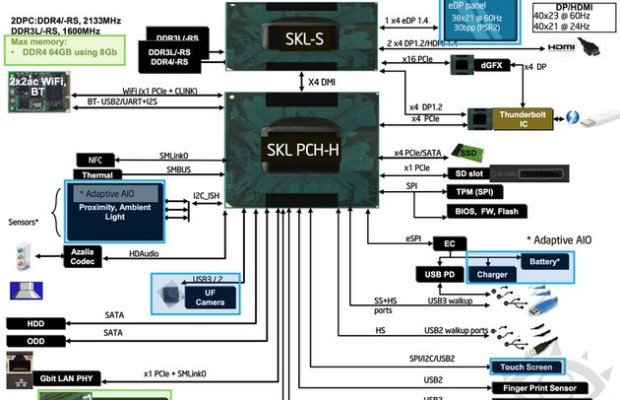 Intel has updated its plans for the issuance of new 14-nanometer processors Core M architecture-based Skylake. Under the new plans, the processors will be launched later this year. Compared with the existing version of the Core M new model will demonstrate higher performance and lower power consumption, and thus open the way for new interesting design compact devices. As stated in the new plans, processors Skylake-Y will have a dual core x86 architecture and support for Hyper-Threading, graphic core class Intel GT2 (Gen8) with 24 execution units (each unit comprises two units SIMD floating point), 3 or 4 megabyte cache and system logic on the package kernel.
Of course, there is support for vPro and TurboBoost, as well as all modern actual instruction sets, including AVX 3.2. In addition, the chips with the architecture Skylake will contain a number of specialized units accelerators, such as hardware decoders HEVC and VP9, memory protection mechanisms MPX, expanding the SHA-1 and SHA-256, the new expansion ADX (multi-precision add-carry instruction extensions) and other innovations. Due to the low power devices based on Skylake can be made thinner and lighter than ever, or extend battery life, and in both cases, these decisions should be fine for serious work and demanding entertainment applications.
Such devices will support wireless charging standard Rezence, WiGig (codenamed Pine Peak) and optionally contain a modem 4G / LTE in a series of Intel XMM726x. Speaking of Skylake-Y, Intel has high hopes for Microsoft with its new operating system Windows 10, which is officially to be released in the second half of the year. Of course, at Skylake will be possible to launch Google Chrome and Android, but, as a rule, devices with x86-compatible processors are designed for the use in the calculation for Windows.
Intel publishes new plans to release Skylake
updated:
February 16, 2015
author: