Micro PC Intel Compute Stick is available for pre-order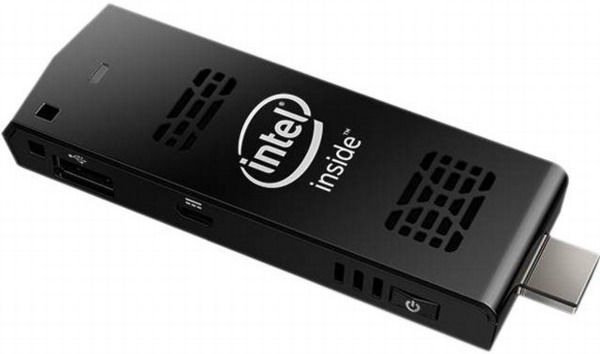 Intel launched accepting pre-orders for its new computer Compute Stick running Microsoft Windows. This is not a unit, not a laptop or even Nettop – a microcomputer size of a stick, which is connected directly to a monitor or TV.
By tradition, the connection Intel Compute Stick to the screen occurs via HDMI plus requires external power supplied to microUSB. For the first time the computer was introduced in January of this year at CES 2015 so that the characteristics of it until it is quite relevant. It includes 2 GB of RAM, 32-gigabyte drive and processor Intel Atom, which also replaces the graphics subsystem. Anywhere Wi-Fi and Bluetooth are also available. Already today it is possible to order a new computer Intel Compute Stick, the release of which will take place before the end of spring this year. It can be purchased for only $ 150 at once, complete with full OS Windows 8.1, because that can be upgrade to Windows 10. If you wish, you can save 40 bucks and buy Intel Compute Stick for $ 110, but, in this case, the computer will be offered to you with an alternative OS kernel-based Linux.
Intel Compute Stick is not the only computer of its kind – the first time they appeared a couple of years ago in China and worked on Android, possessing weak processors ARM. Such models have now, but now demand a micro-computer with full OSes and x86 processors.
Micro PC Intel Compute Stick is available for pre-order
updated:
April 7, 2015
author: