Experts iFixit disassembled Apple Watch and appreciate their maintainability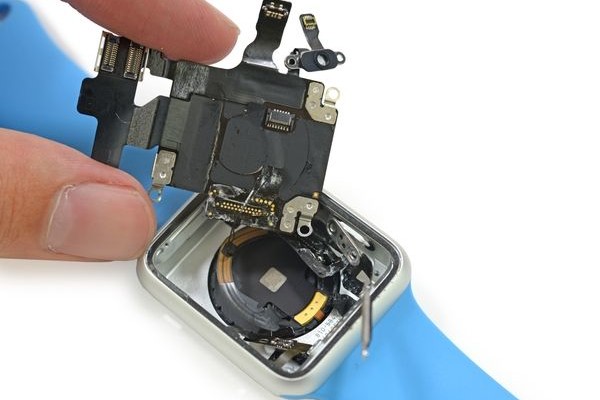 Experts familiar repair shop iFixit disassembled to the last screw and appreciated maintainability smart hours Apple Watch, which went on sale on Friday, April 24th. To do this, they needed a special knife, tweezers, and a set of plastic instruments.

In the hands of the guys from iFixit got 38-mm model Apple Watch Sport blue sports strap fluoroelastomer. Did not go unnoticed absence of external screws, because of what the experts had to abandon the traditional tools and screwdrivers, which they use for "autopsy" technique and arm tweezers and special plastic tools. Under the hood Apple Watch they found a tiny lithium-ion battery capacity of 205 mAh, which, according to Apple, will provide up to 18 hours of battery life in mixed mode. For comparison, the Motorola Moto 360 and Samsung Gear Live installed battery 300 mAh. Also located in the housing Hardware Platform System-in-Package S1, which includes the processor, RAM and flash memory, and other components. Found heart rate monitor, speaker and Plastic AMOLED display manufacturing LG.
Assessing the maintainability Apple Watch on a scale, experts iFixit gave him five points. The main disadvantage of hours is the very system S1, which will have to change to a new one in case of failure of one of the components included in its composition. But easily replace not only the strap and the screen and a battery.
Source: iFixit
Experts iFixit disassembled Apple Watch and appreciate their maintainability
updated:
April 26, 2015
author: